For any website, menu items plays important role to help customers navigate your store & find their product quickly. And the question will be raised "How to Create Menu in PrestaShop 1.7" & you can got a lot of ways in the internet. Not all are suitable for you. Here is "A Quickest Way to Create Menu Item PrestaShop 1.7.5 by using Leo Mega Menu PrestaShop Module".  This tutorial, you will get:
Login Admin Dashboard -> Module (under Improve) -> Leo Mega Menu Configuration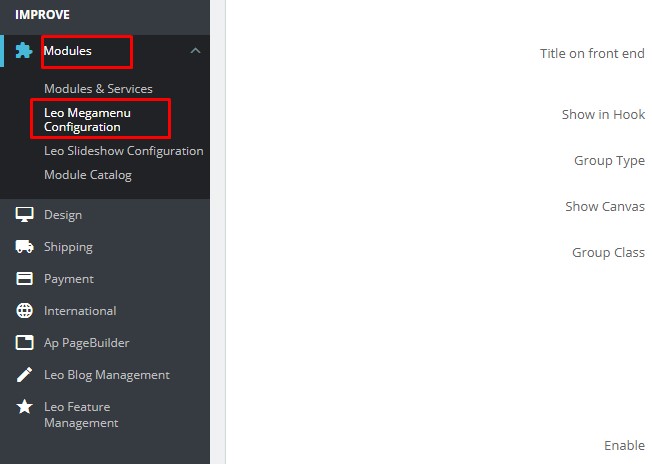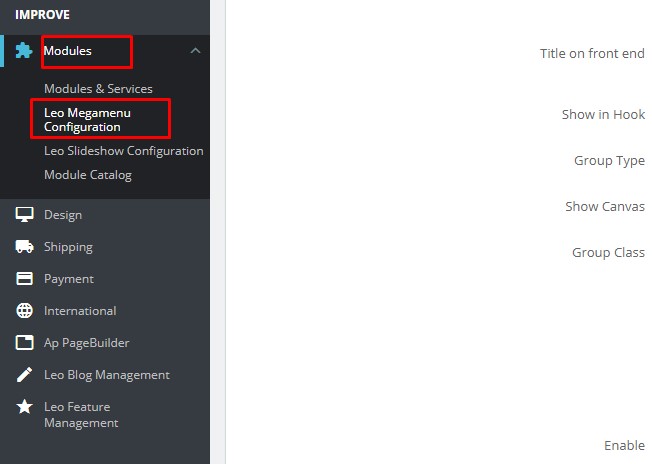 Click "Add New Group" to create new one: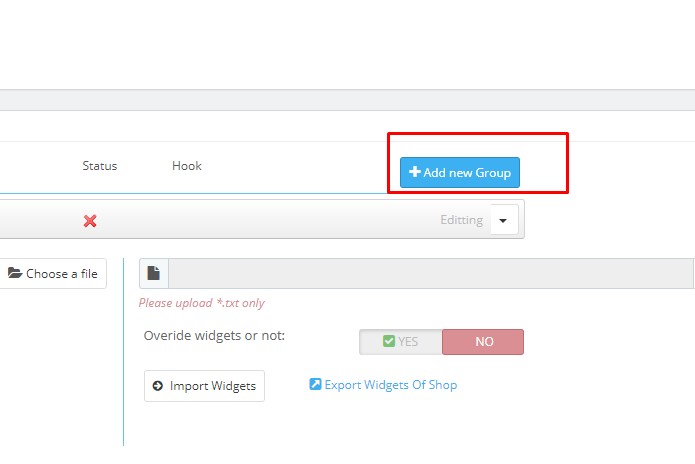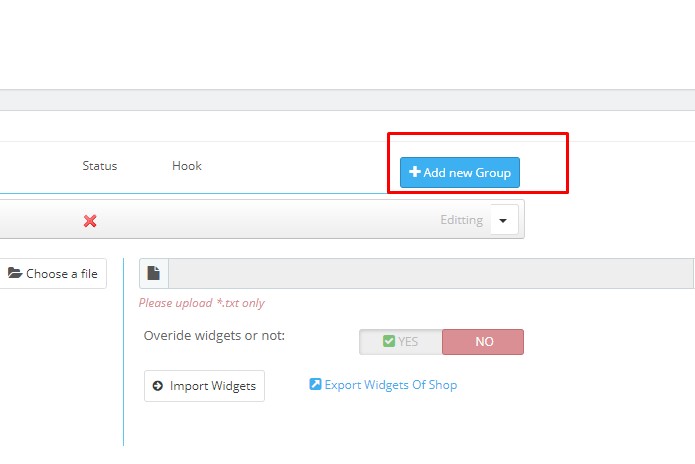 Group Name: Name of menu group
Title on front end: Title of Menu group which is displayed on frontend
Show in Hook: Choose position of menu group which are shown on Frontend.
Group Type: Choose menu types: Horizontal & Vertical Type. If you want to create horizontal menu PrestaShop 1.7 or Create Vertical Menu
Show Canvas: Canvas menu is only shown off on small screen as mobile or tablet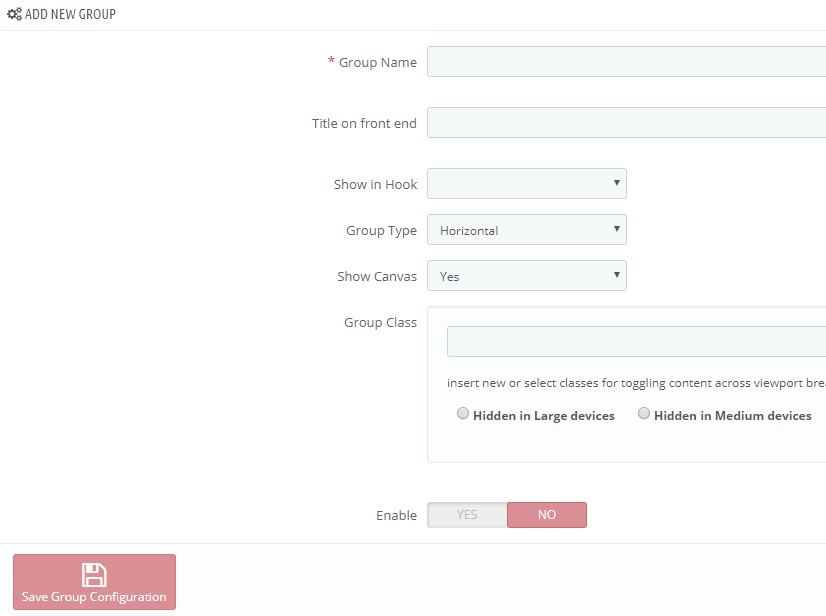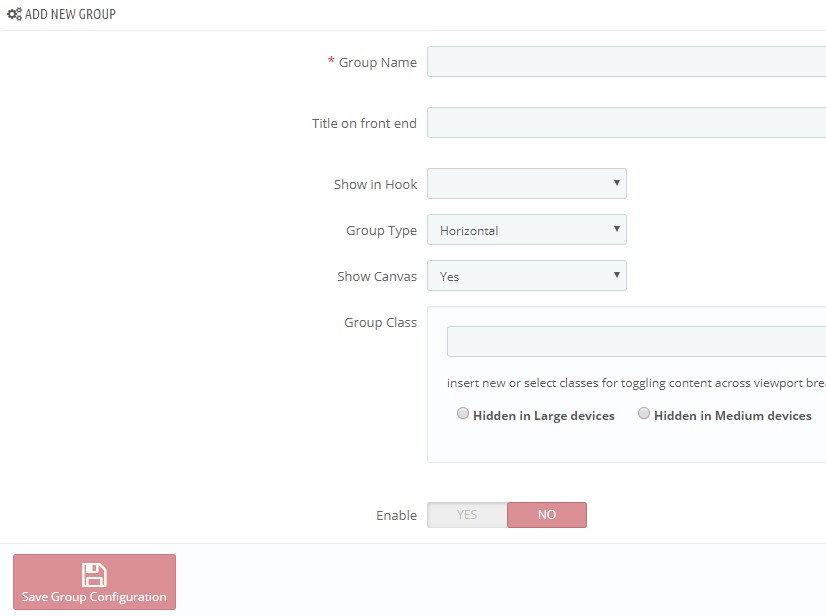 Choose "Yes" or "No" to enable "Canvas menu"
Note: If you choose "Group Type" is vertical, you will see options of "Type Sub" – Auto, Right & Left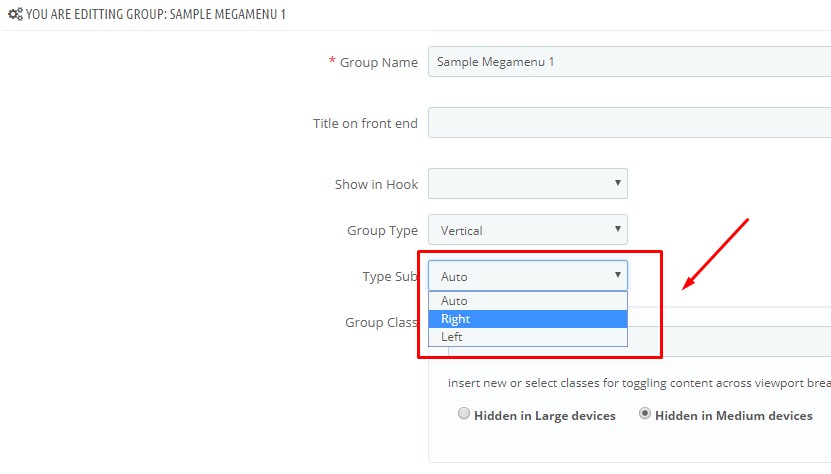 Group Class: This field let user add more class to configure style of group menu. You can choose given selection for your group menu:
+ Hidden in Large devices
+ Hidden in Medium devices
+ Hidden in Small devices
+ Hidden in Extra small devices
+ Hidden in Smart Phone
Enable: After fill all menu group information, you can click at "Enable/Disable" to active menu group for your store.
Then click "Save Group Configuration" to save the change.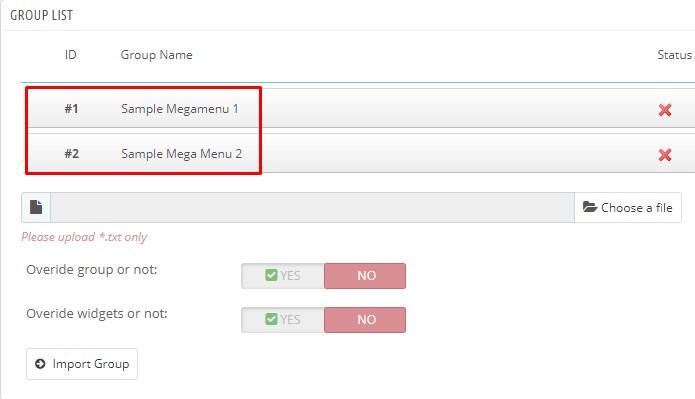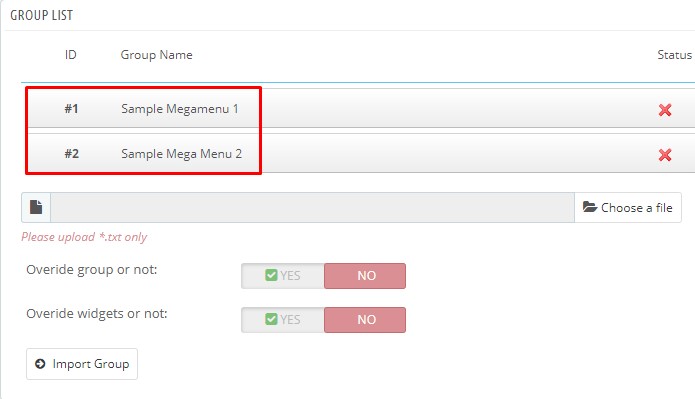 If you want to edit any content of your group menu, you can do it with our Leotheme ( all already included Leo Mega Menu Module ). At each group menu, you can choose "Edit" to change your group menu content easily & quickly.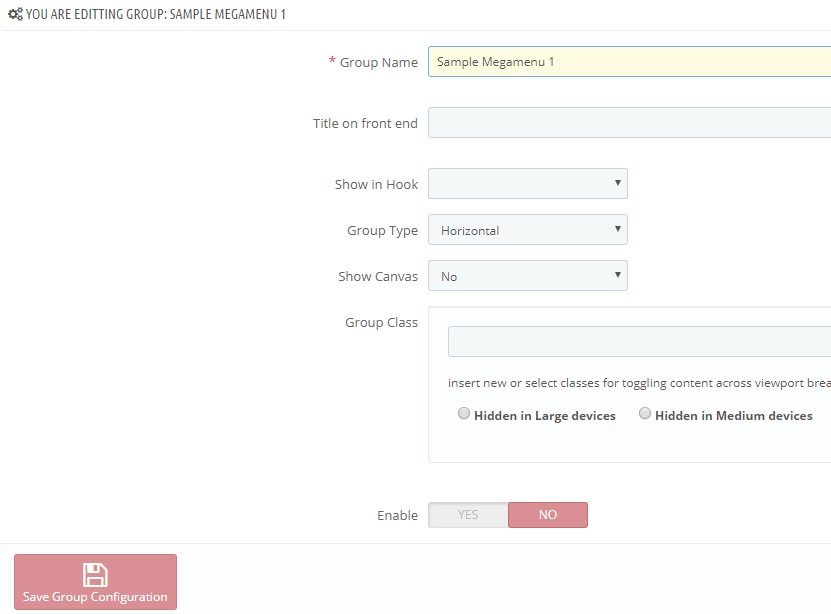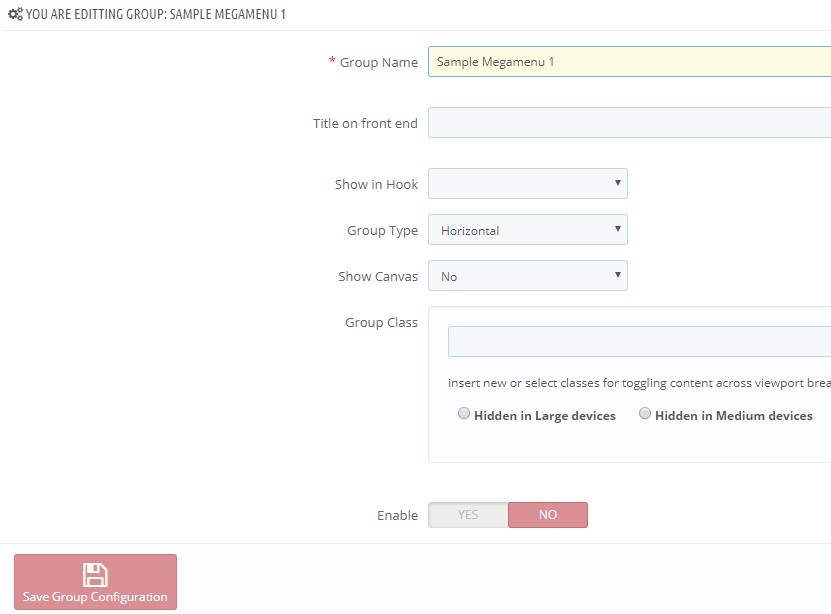 Right Click at Menu Group, you will see "Delete/Duplicate/Export Group with Widgets/Export Group Without Widgets"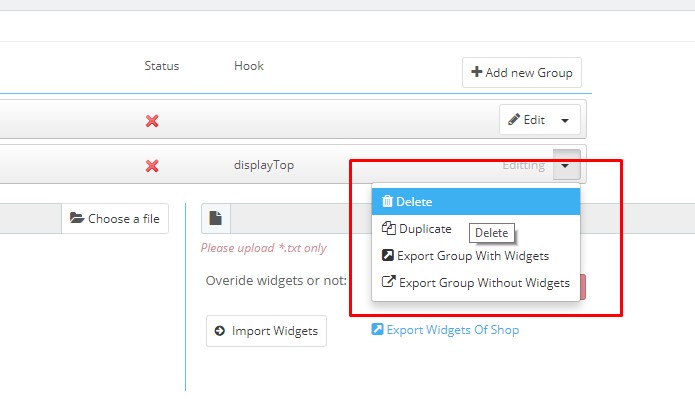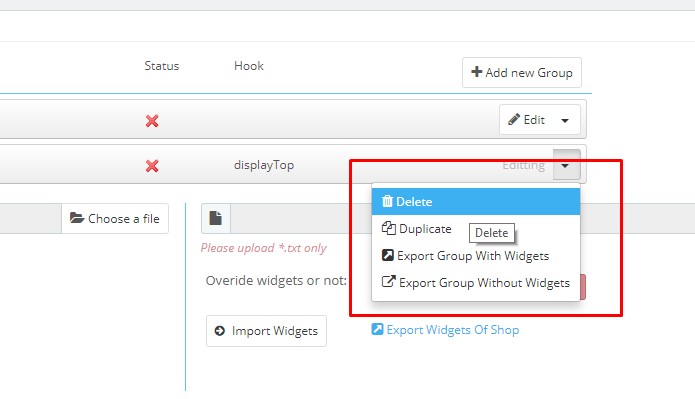 Then "Save" the changes.
After creating new group menu, you can create menu items by fill all the following information:
Title: Title of menu which is shown off at frontend.
Sub Title: Display menu name as description.
Parent ID: Level of menu
Is Active: Choose "Yes" or "No" to active menu
Show Title: Yes/No
Show submenu with: You have 3 choices:
+ None: This is default setting, if you don't choose any option, Leo Mega Menu will choose is "None" as default. As a result, there is no submenu in frontend.
+ Submenu: Display menu and submenu in frontend. How to create submenu: We need to create a menu item section, after that user drag the item to the list contains submenu.
+ Widget: Display follow "Widget" style: It means that our module will get data follow widgets.
Menu Type: Select a menu link type and fill data for following input.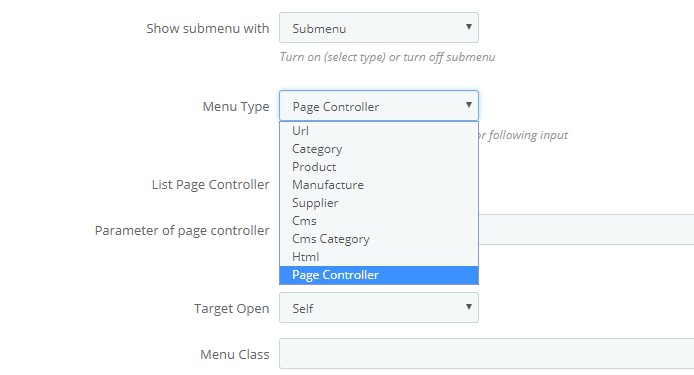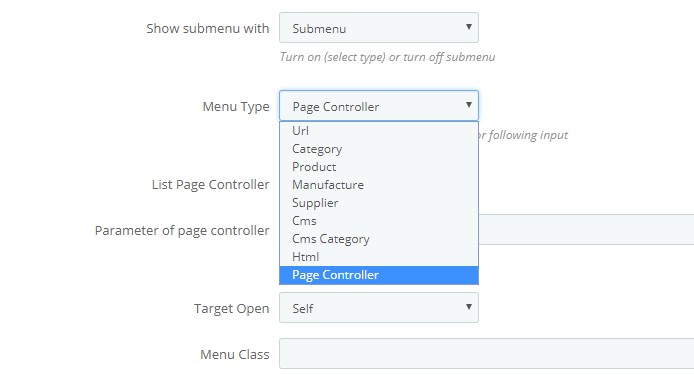 Target Open: User can choose display links into new tab.
Menu Class: This function let user add more class to display different styles.
Menu Icon Font:
Or Menu Icon Image: To display icon, you should to click button to upload images.
Group Submenu: To Turn ON or OFF, to display sub menu. If you want to show sub menu, you choose Yes when you however it will be always displayed.
Column: Set each sub menu item as column. For example: If you choose the number of columns = 2 as our image.
Group access: Let user know about Visitor, Guest, Customer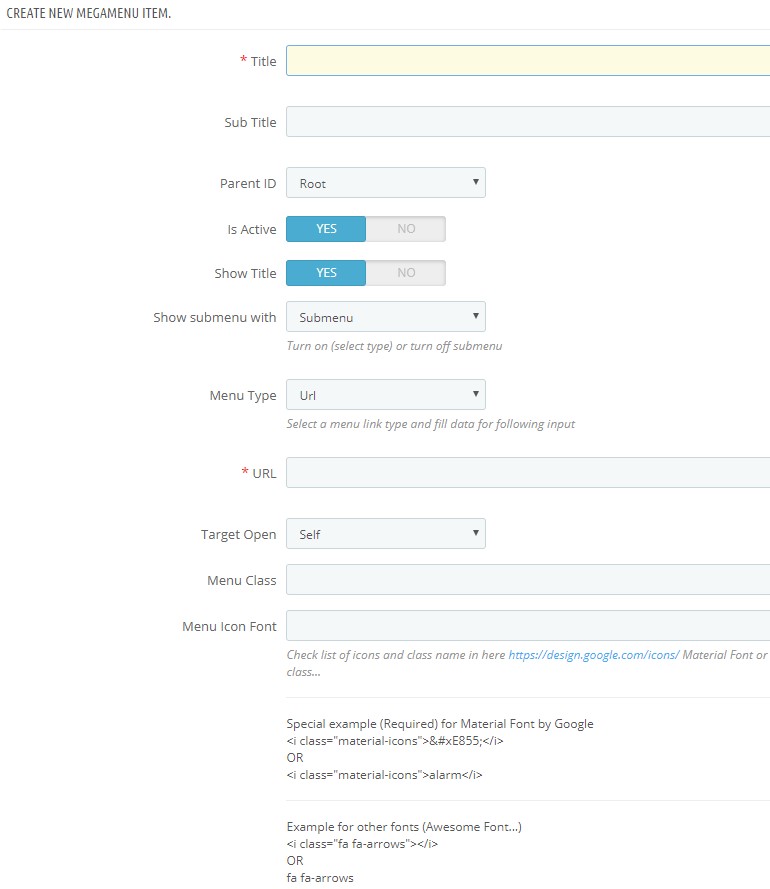 And "Save Menu Item"
This is the end of tutorial "How to Create Menu Item PrestaShop 1.7 ". Hope that this blog will help you well.
Related Prestashop Tutorials: