Leotheme PrestaShop Email Template brings a wide range features with new appearance & interface for email template. This prestaShop 1.7 for email template is easy to use & customize. After installing template for your store, you can config template for your email sending for order, contact, download, payment…
Hence, before experiencing the detail step by step to config PrestaShop Email Template, you can visit video tutorial for How to Use PrestaShop Email Template – Leotheme Tutorial.
*** How to Use PrestaShop Email Template – Leotheme
Login Admin Panel -> Module Catalog ( under Improve) -> Install PrestaShop Email Template Default Module -> Locate PrestaShop Email Template ( purchased at Leotheme) to Install –> Then Configure.
*** Configure PrestaShop Email Template – Leotheme.
After clicking on Configure, you will see available template for email template. Choose "Use this template" to Configure.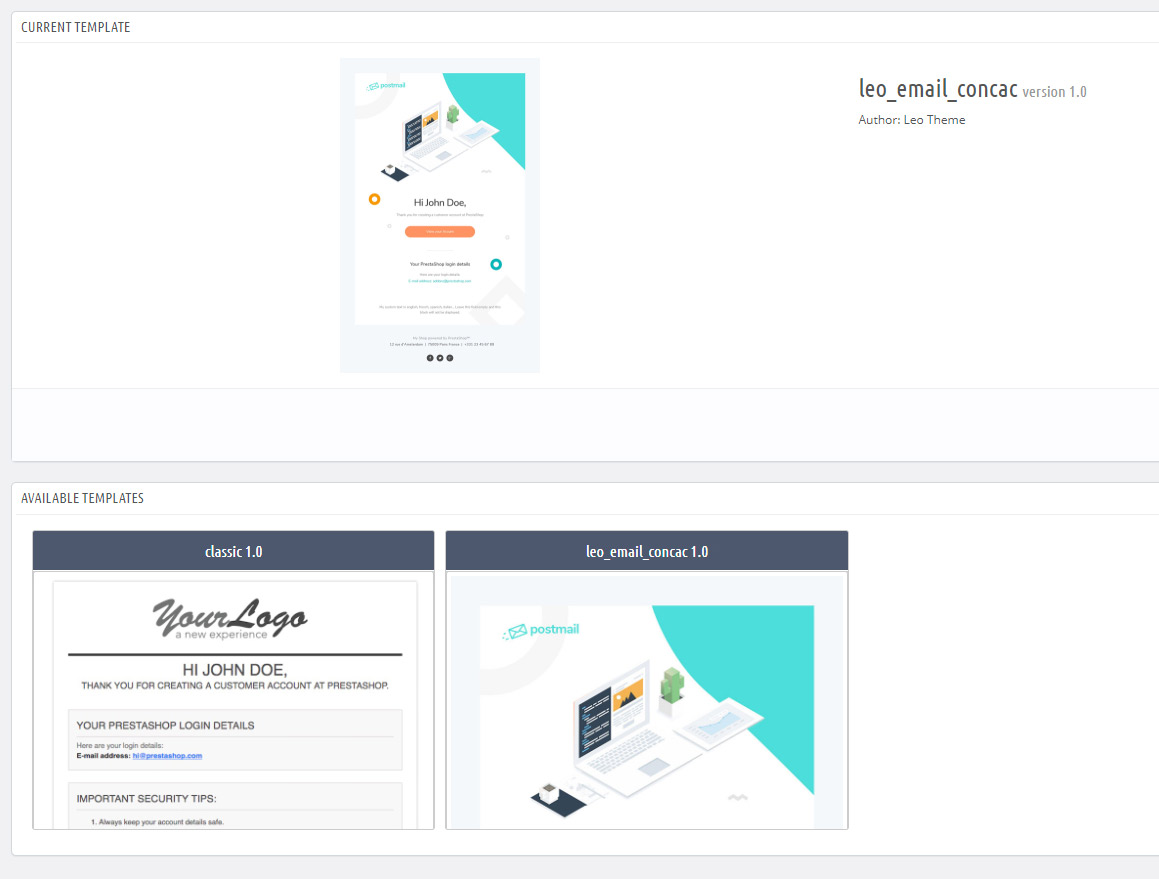 Background Color: Set background color for email background
Color Text General: Set Font for text general
Google Font name: Choose Google font for email
Font Size Text: Set size of text on email
Width Container: Set width container for email
Color Title: Set color for email title
Color Sub Title:  Set color for sub-email title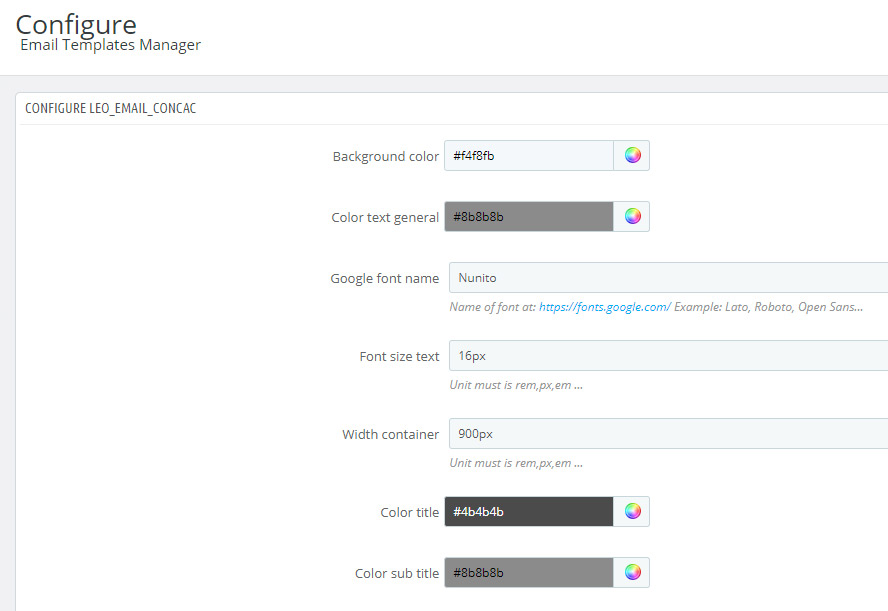 Color title hero
Color link email: Set color for link in email
Table border color: Color for table border
Table background color: Color for table background
Table color caption: Set color for email caption
Table color: Color for table
Background color header: Color for background header
URL background image header: Insert image url link for background header
Color custom text: Color for custom text
Custom text
Background color content: Set background color for content
URL background image content: Insert URL background image content
Background color footer: Background color for footer
Color copyright: Color for copyright at footer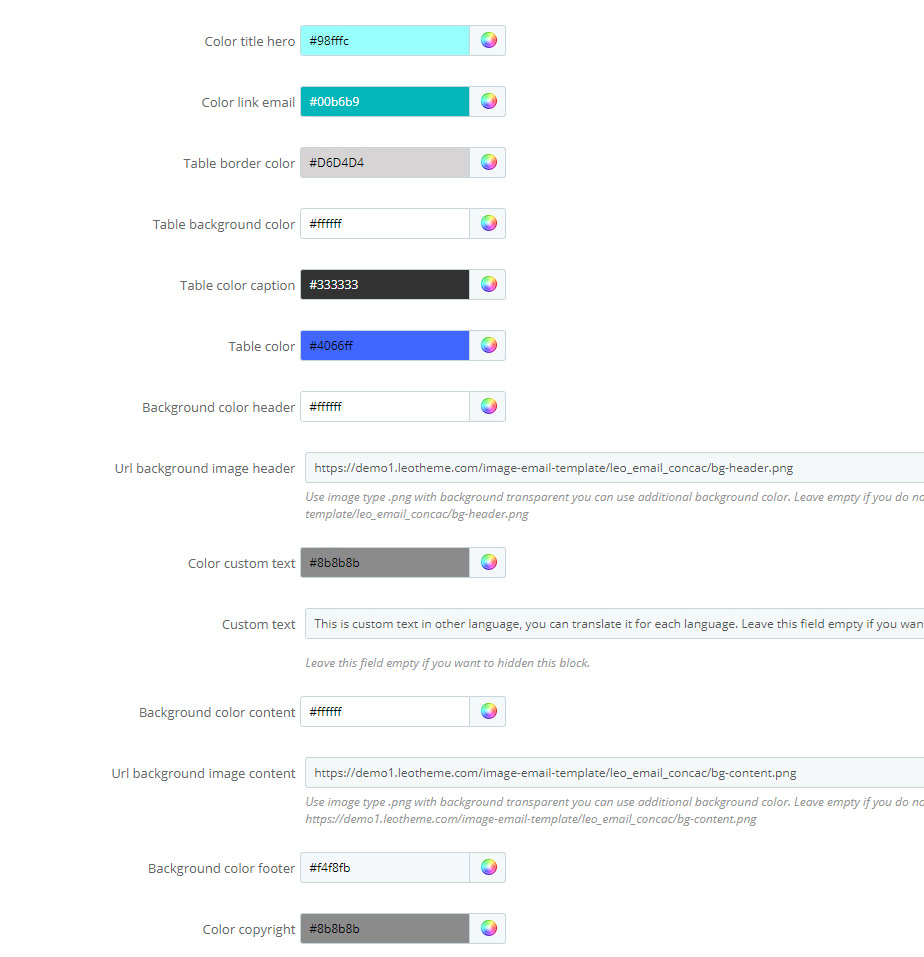 Text contact footer: Choose text font for contact part
Color contact footer: Set color for contact footer
Facebook: Insert Facebook link of shop
Google Plus: Insert Google Plus link of shop
Instagram: Insert Instagram link of shop
Pinterest: Insert Pinterest link of shop
Twitter: Insert Twitter link of shop
Youtube: Insert Youtube link of shop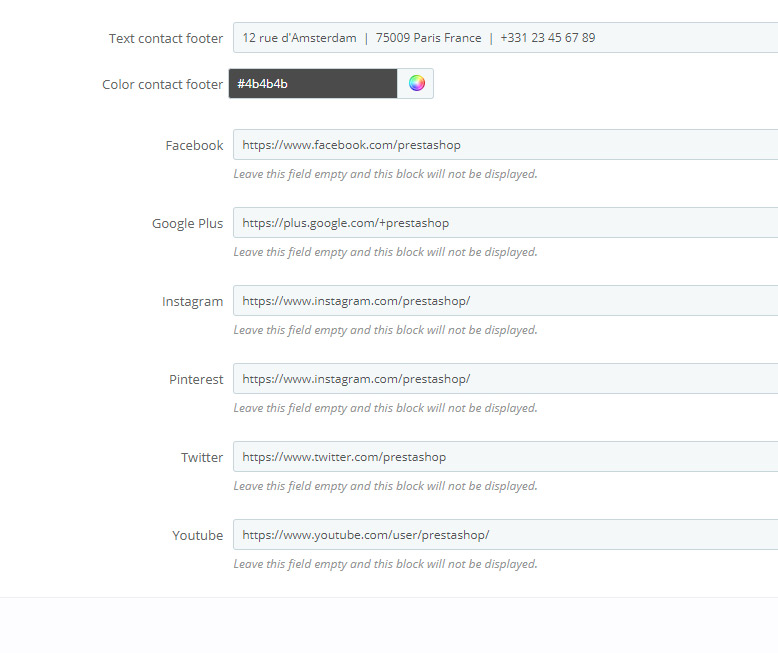 After configuration, you can see the appearance of email template: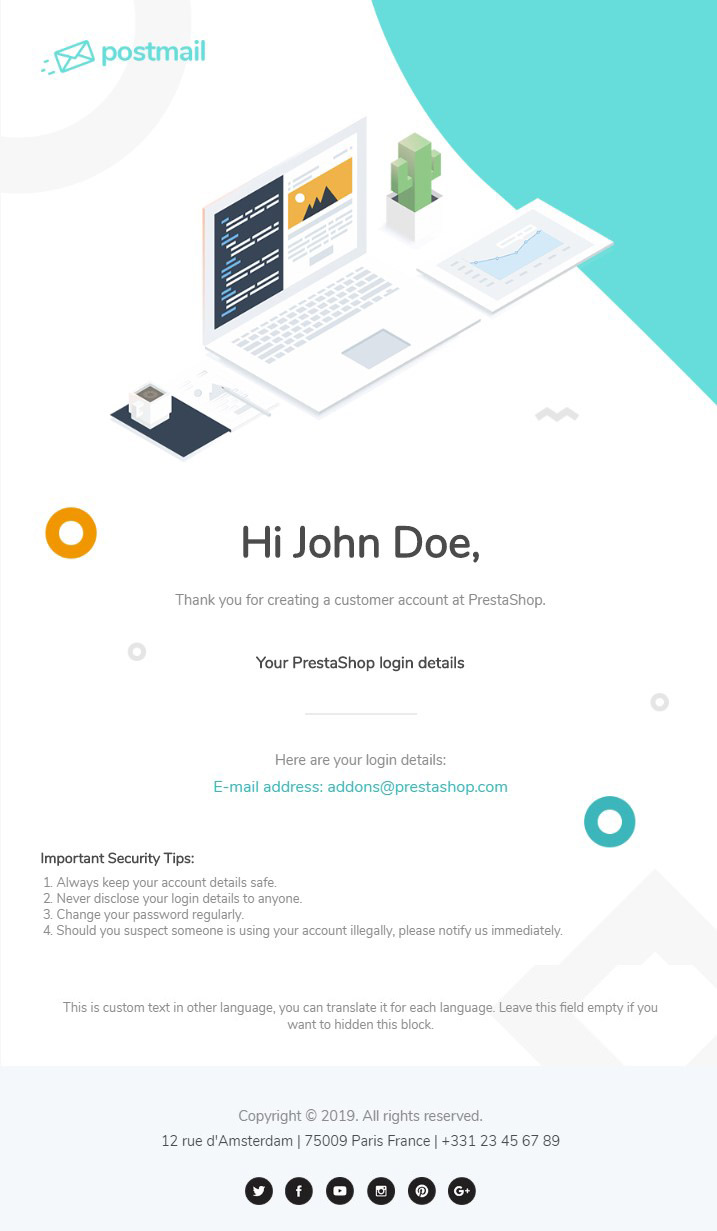 Now, you can use available template for your email in your PrestaShop.
Congratulation! This is the end of PrestaShop Tutorial: How to Use PrestaShop Email Template. Hope that this tutorial can help you well.
Related Prestashop Tutorials: