Online store is constantly booming over the world. And there are millions of products sold daily in all Ecommerce Industries as Fashion, Watches, Real Estate, Jewelry, …. Luckily, we've hand-picked a list of Watches PrestaShop Themes for your watch store, you need to check out. Because the fashion industry is so diverse, keeping your website bang up to date in more important than ever. Do you have new hot items in stock? Show them. Create a professional website to show off your luxury watch designs and give information about your brand.
If you've interested in selling online items as watches store, here are your choices with all "Hottest & Best Watches PrestaShop Themes for Online Store in 2019".
They are all responsive, stunning designs for watches store, accessories, jewelry store. Specially, it is free to customization. Unlimited customization will let you modify any part of website to make it more awesome & different from others & raise more brand identity. Moreover, all of them are easy to create awesome content & layouts for all pages ( homepages, shopping pages, detail pages ) thanks to the support of dragging n dropping page builder & other PrestaShop Modules in Leotheme Framework – powerful theme framework for PrestaShop.
Here are all Best Watches PrestaShop Themes – Leotheme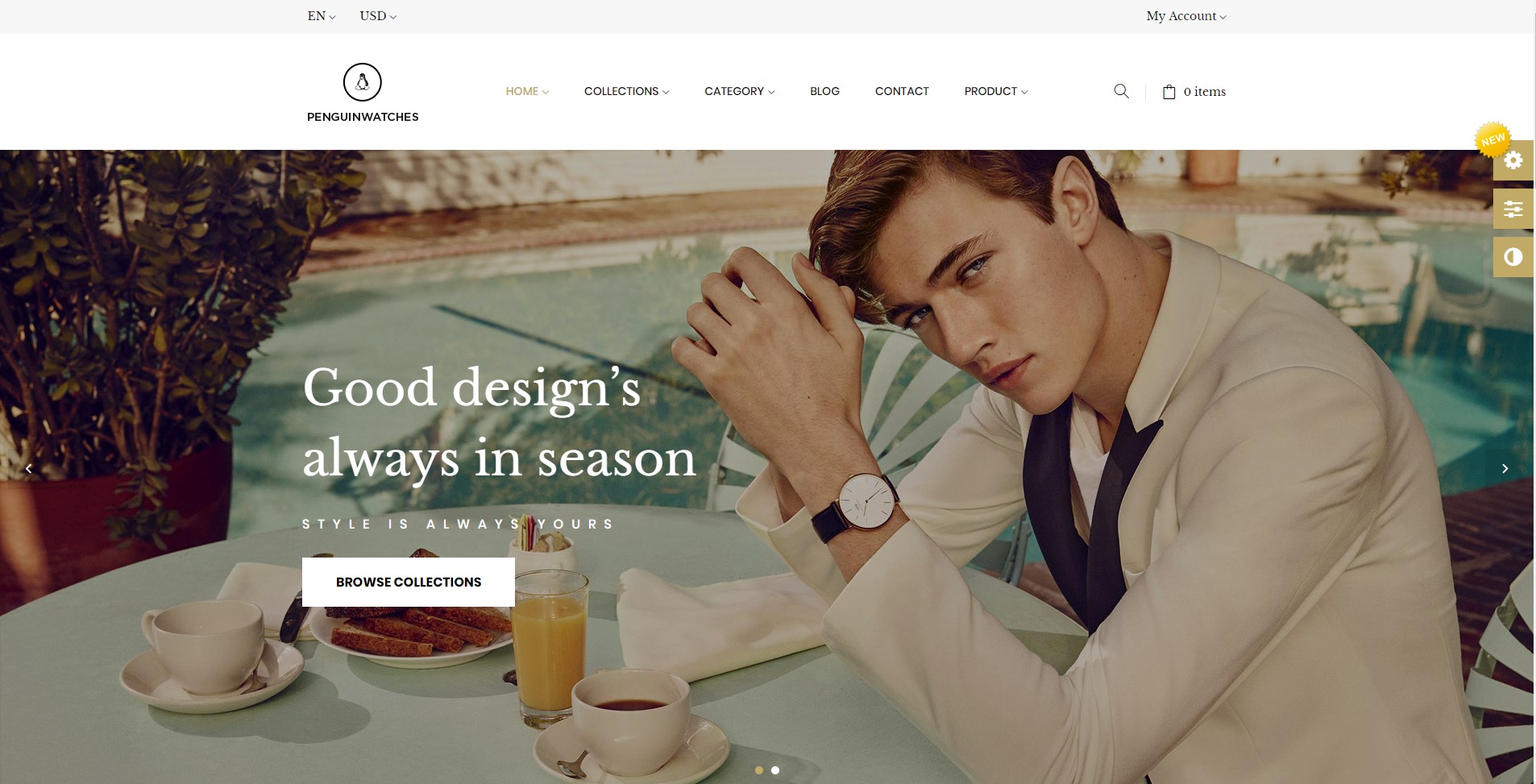 Leo PenguinWatches is a perfect ideals & solution for Watches Store Online. The best watches PrestaShop themes that comes with a simple, beautiful design. Being integrated by a plenty of PrestaShop Modules as Ap Page Builder, Leo Mega Menu, Leo Blog, Leo Slideshow, this PrestaShop Theme helps to create website & start selling just in minutes. Because by 1 click installation import, it's fast & efficient tool to import all demos content & layouts for website as demos. Even, you can customize endlessly for website. With 05+ homepages in flexible layouts & styles, Leo Penguinwatch is well-suited any kinds of online store selling fashion, accessories, hand watches, bag, shoes, clothing, apparel, eyeglasses, cosmetics.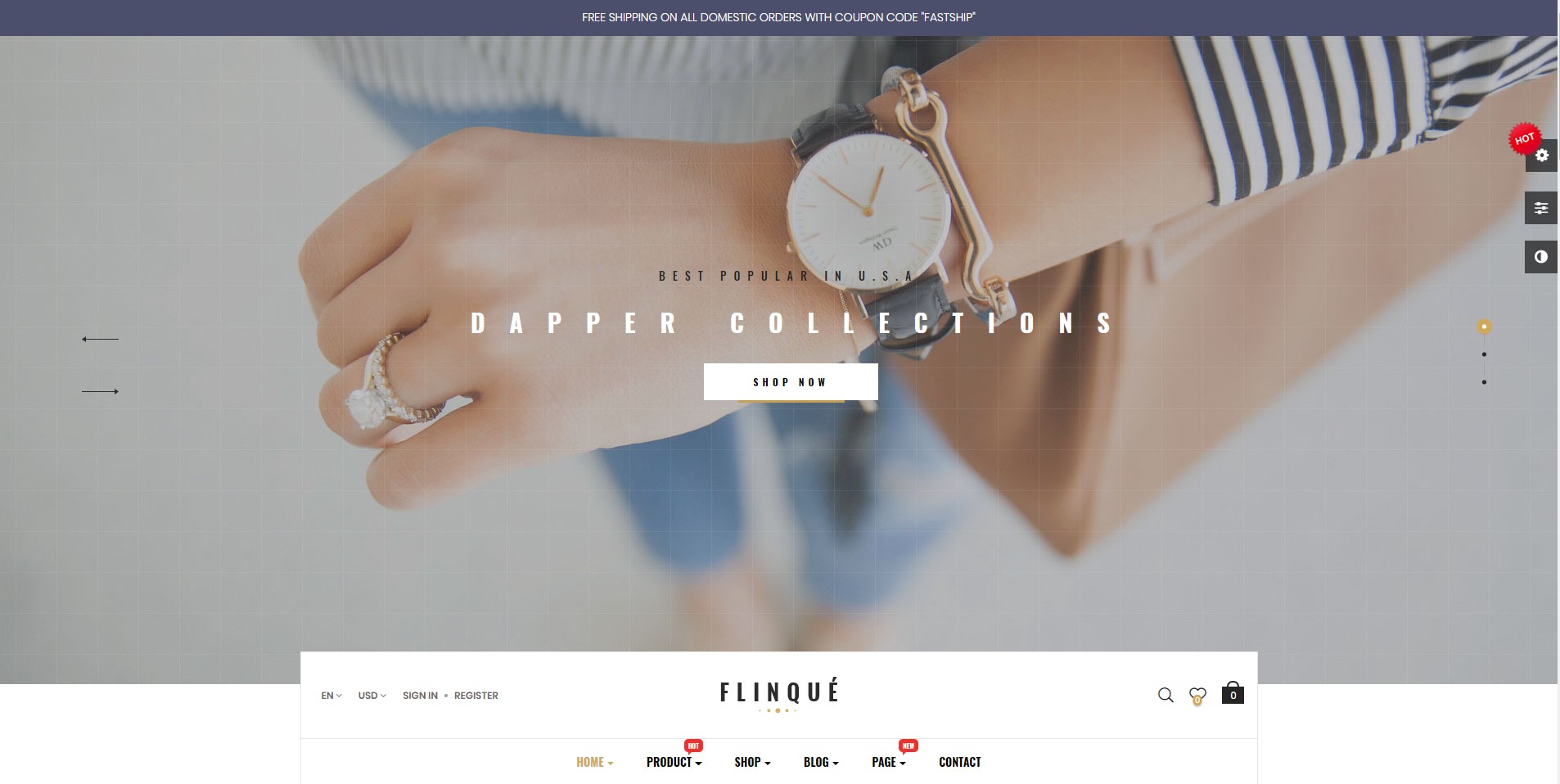 Designed with the focus on the high aesthetic beauty & design, Leo Flinque – excellent PrestaShop theme for watches store that sticks out a mile. Flinque is a modern, attractive and responsiveness, the theme is completely suitable any jewelry online store & expensive watches shop. By installing the watches PrestaShop Theme, you can start selling your watches or services in minutes. Beautiful design & flexible layouts in PrestaShop 1.7, the fastest theme comes with all outstanding features in new improvements & top-notch technologies. In case if you want to make any changes for website, please enjoy easy & smooth customization with the less coding requirement. Furthermore, Leo Flinque, brings with the powerful mega menu in horizontal style, which allows you to add categories, subcategories, images, text, videos to improve navigation for your site. Large sliders permit you to show hot trend products or items to approach your web-visitors right at the first look, attract them to continue scrolling down to discover your hand watch shop.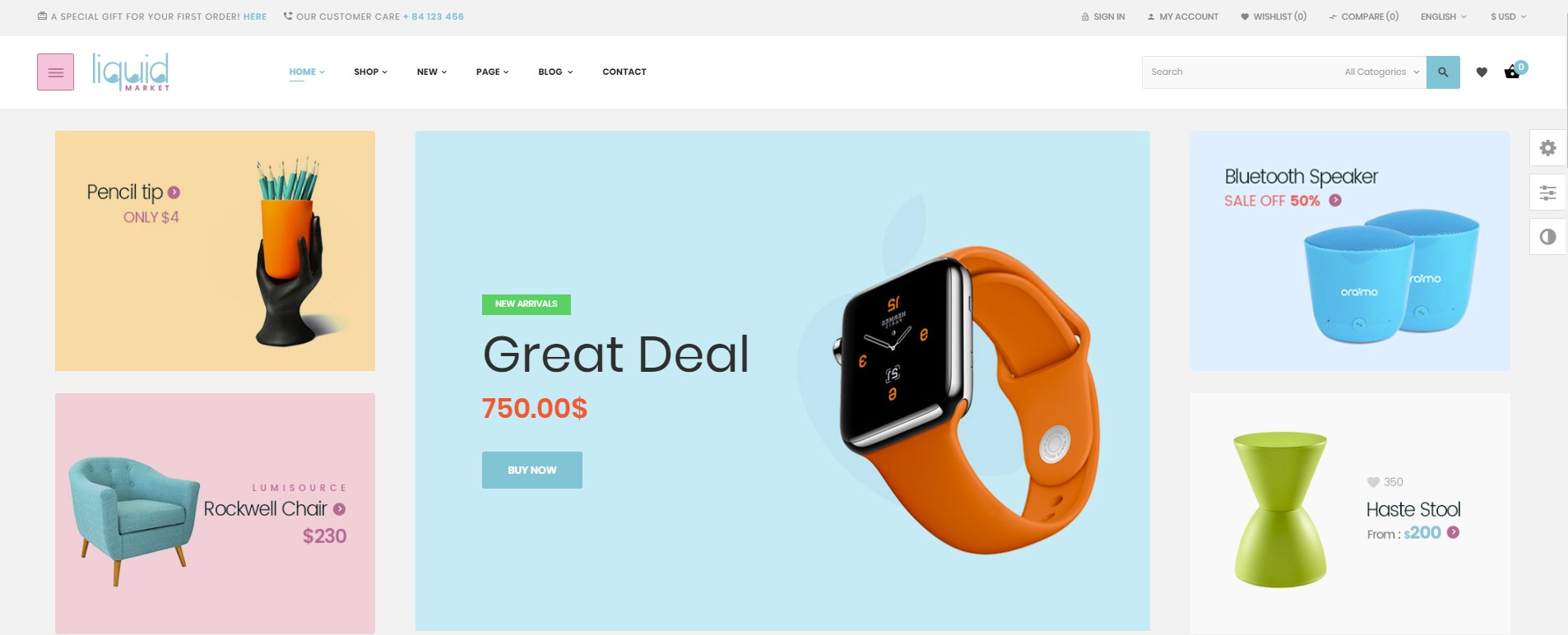 Attractive appearance, design and amazing product image are all that's necessary criteria to catch the customers' attention and make purchase. Let's spend your time on discover Leo Liquid. This premium PrestaShop themes for Watches Store fits any Fashion ecommerce store, jewelry and watches selling shops. Hence, the PrestaShop Theme offers 05+ beautiful homepage samples to get started with. It's easily make any changes you need with the help of powerful PrestaShop Builder ( Ap page builder). It's time-saving & cost-saving. Able to build content & layouts for all pages. Everything can be done by simply dragging and dropping. Besides, you can showcase a huge ranges of menus, blogs, beautiful slideshow for website to better customers searching & experience on that. Also, the theme helps to promote products & selling items easily. Plus, Leo Liquid becomes one of the best Watches PrestaShop Themes in 2019 brings with clean, modern, user-friendly, SEO optimized, just like a giant supermarket, allows you to sell any products from Gadgets and Digital, Hi-tech, Health and Beauty, Material and Tools, Fashion and Accessories, or Furniture. Therefore, no matter what products you sell, Leo Liquid is the one that perfectly matches your business.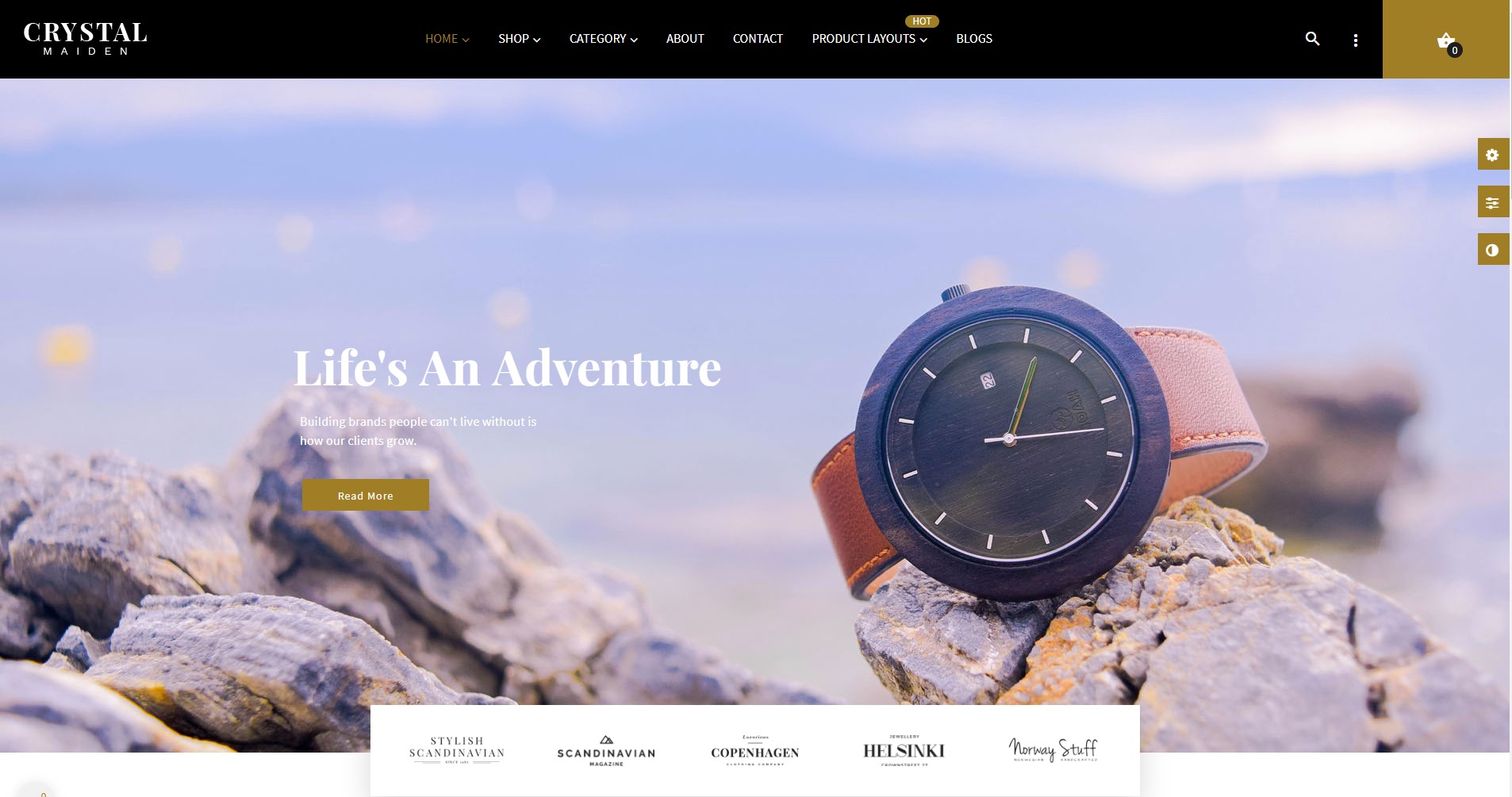 With Leo Crystal Watches PrestaShop Theme, customers will be impressed on the high-quality slider watches images & your messages on slider. The theme specially designed for hand watch is a multi-purpose PrestaShop theme with 5 different homepages, which gives you a variety of alternatives for your website's interface. With the creative and modern design associated with powerful modules from Leo Theme, Leo Crystal brings you a fully-functioned template that fits all requirements of any online store. The unique features will surely satisfy you.
Interestingly, Leo Crystal is optimized for SEO, Speed & Conversion rate. Perfect SEO ranking, high speed & conversion rate that increases the ability of search your product, so the sale can be boosted sharply. RTL Languages & Multiple Linguals and mobile friendly allows to search & experience by different languages & devices everywhere.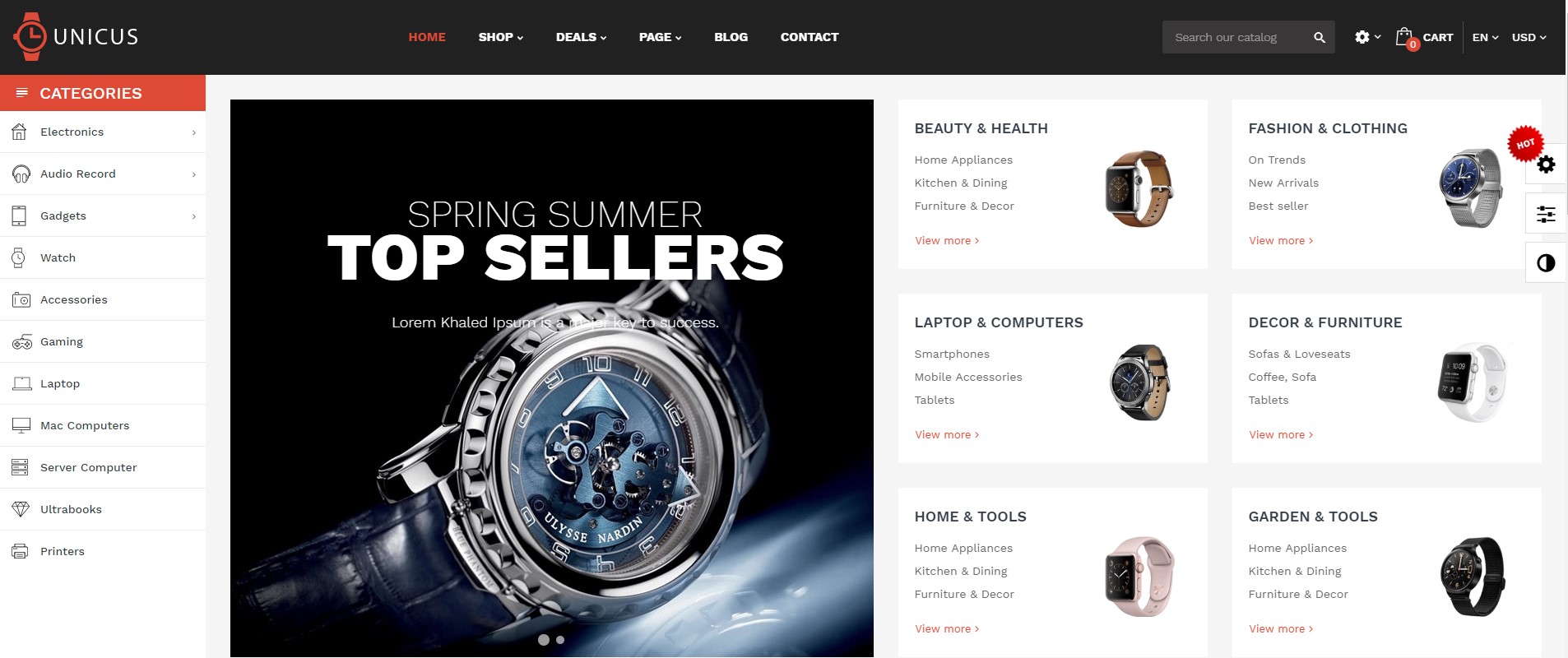 Leo Unicus is the next PrestaShop Themes for Watches. The wonderful PrestaShop Theme comes with full features & functionalities of the online store. It is designed for diversified commodities as watches store, accessories store and multiple stores. Leo Unicus is store is suitable for any e-commerce sites. Leo Unicus is totally responsive so it is completely adjustable for any devices (desktop, laptop, tablet, mobile phone) highly customizable Prestashop theme.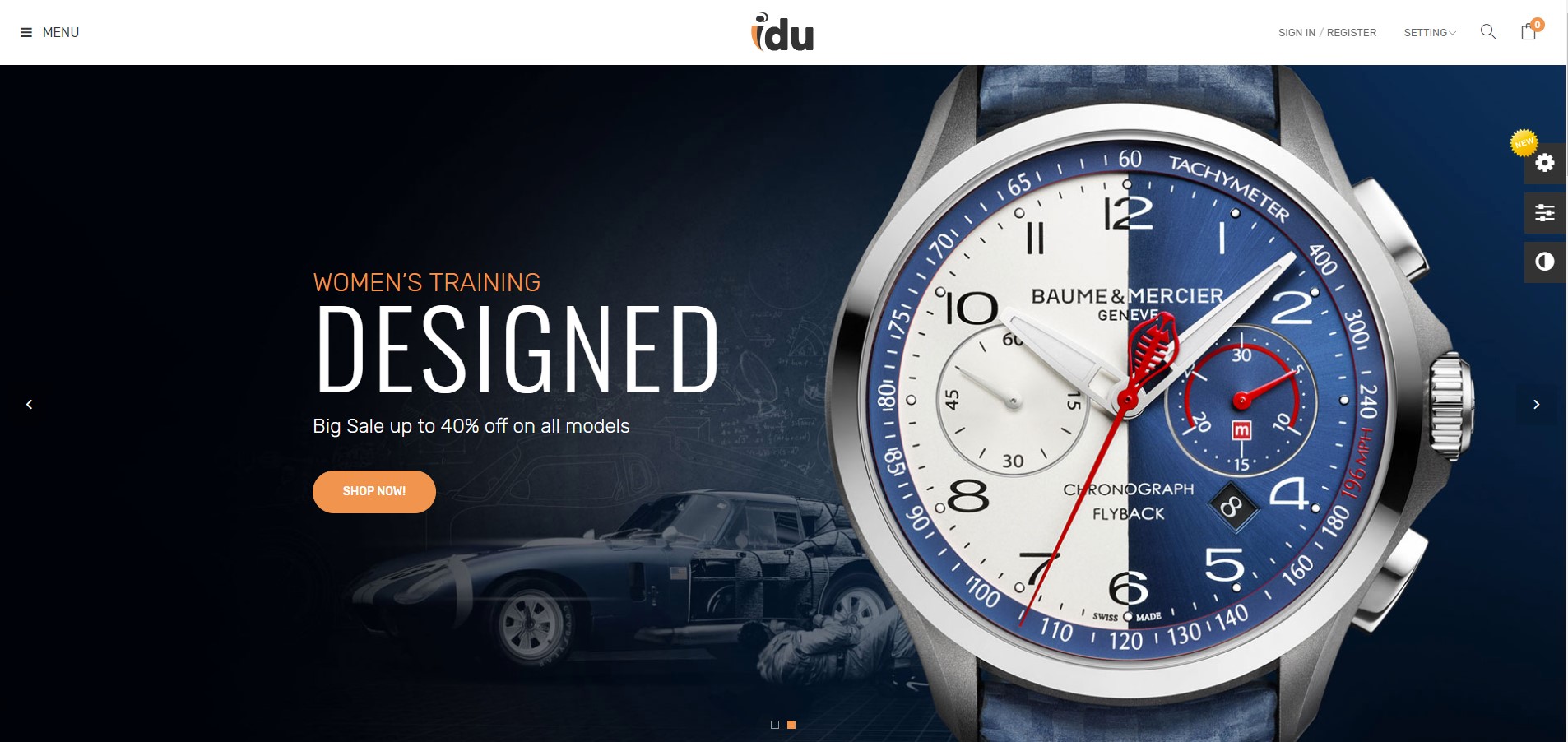 Next, Bos Idu is a beautiful, dynamic and stylish responsive Prestashop theme majoring in Fashion field, born to be an intuitive toolkit that helps to simplify the website building and designing process. It is perfect for any web owners from any background to craft a quality website in minutes without code-requirement. Bos Idu is designed for fashion and accessories store, shoe shop, hand-watches store, school bags, eyeglasses, hats, high-end fashion store, etc.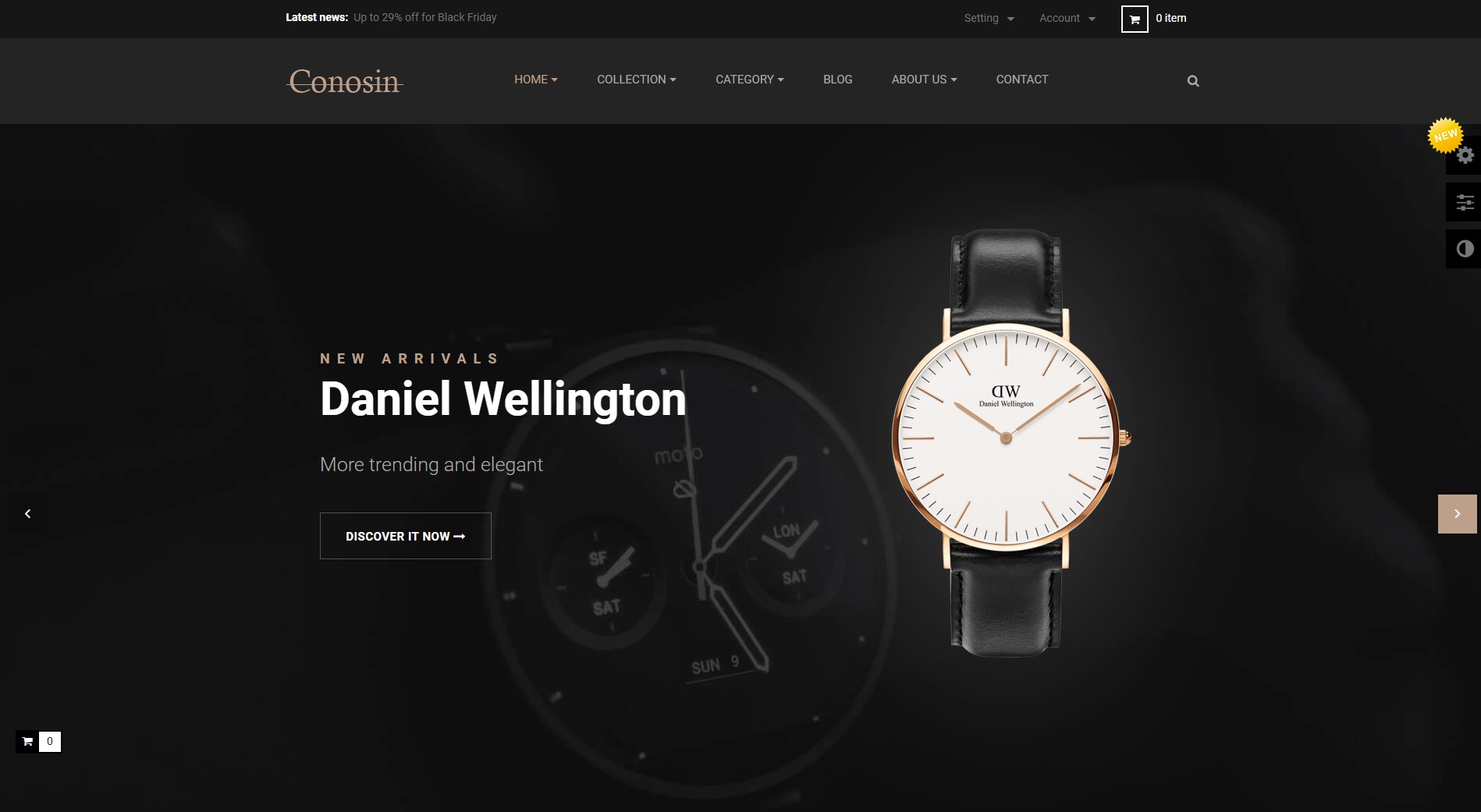 Leo Conosin Responsive Prestashop Theme is a wonderful theme with 5 different homepages. It is designed for diversified commodities as Watches Store, Christmas stores, Souvenir store and multiple stores. Conosin is suitable for any e-commerce sites. Conosin is totally responsive so it is completely adjustable for any devices (desktop, laptop, tablet, mobile phone) highly customizable prestashop theme.
Here is the ends of "Best Watches PrestaShop Themes in 2019". Hope that you can pick a suitable PrestaShop Themes for your watches store & selling perfectly for your watches.
In a notable way, these beautiful PrestaShop Themes are in PrestaShop Membership at Leotheme.com. You can join in PrestaShop Membership with just $99 to get 300+ PrestaShop Themes for any Ecommerce.
Related Post:
The Instagram Widget allows you to display your latest Instagram photos in your site's sidebar. This blog will tutor you step by step to Add Widget Instagram in the Backend in Ap Pagebuilder Prestashop Module. You might first want to know what you need to prepare before executing.
Client ID
User ID
Access Token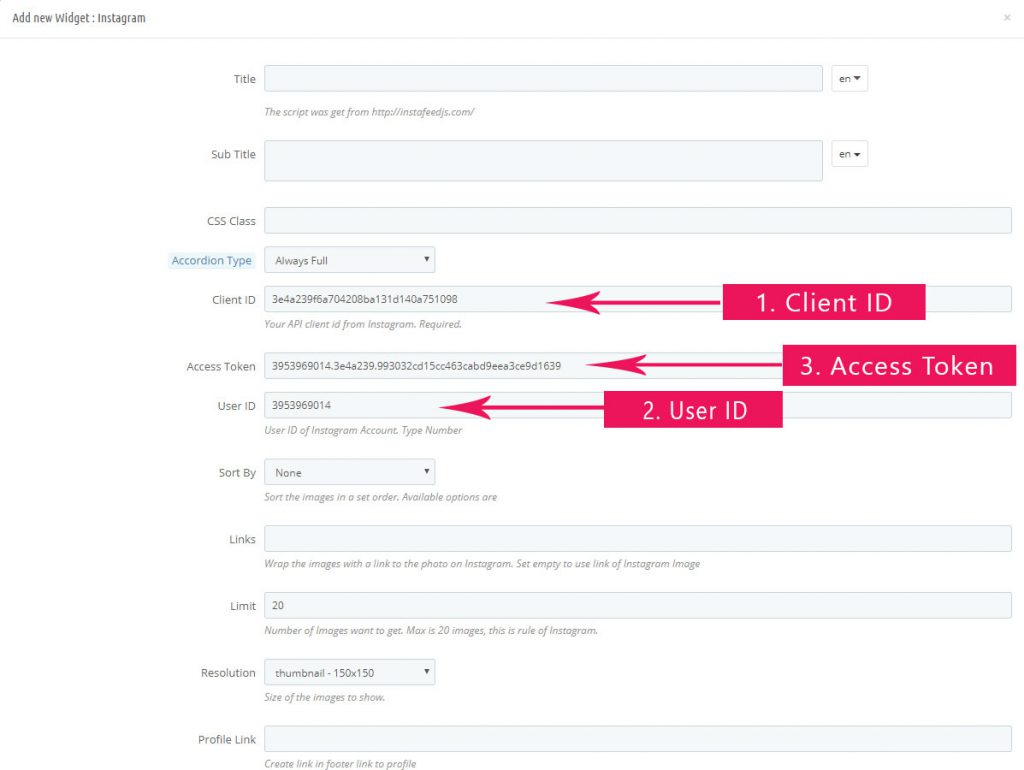 1.Client ID
The very first thing that is required is the Client ID – Your API Client ID from Instagram. To get this ID, please login with your Instagram account then access Link  Here 
Then follow the guide in the below pictures: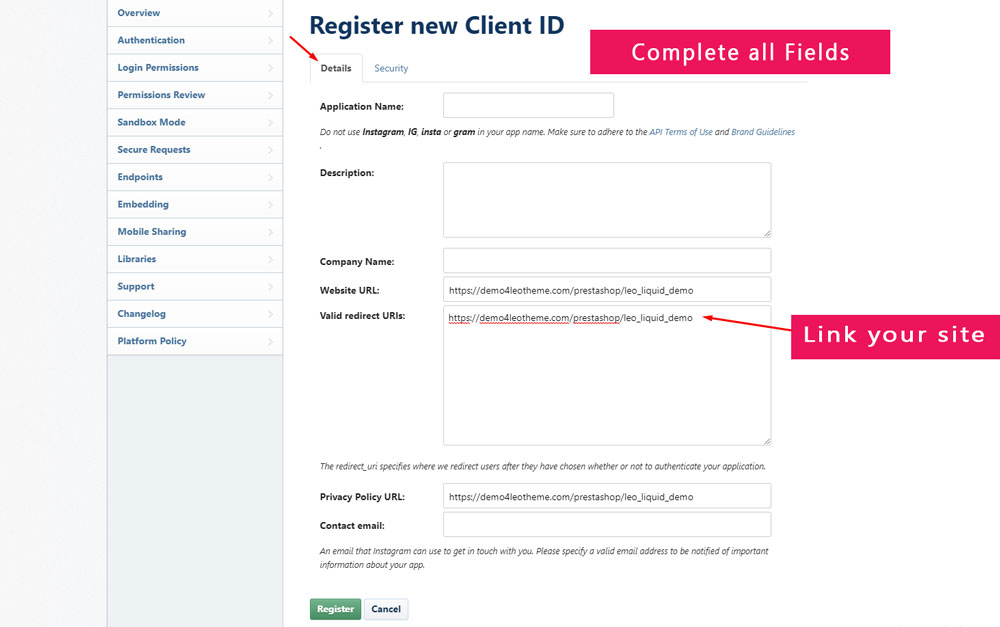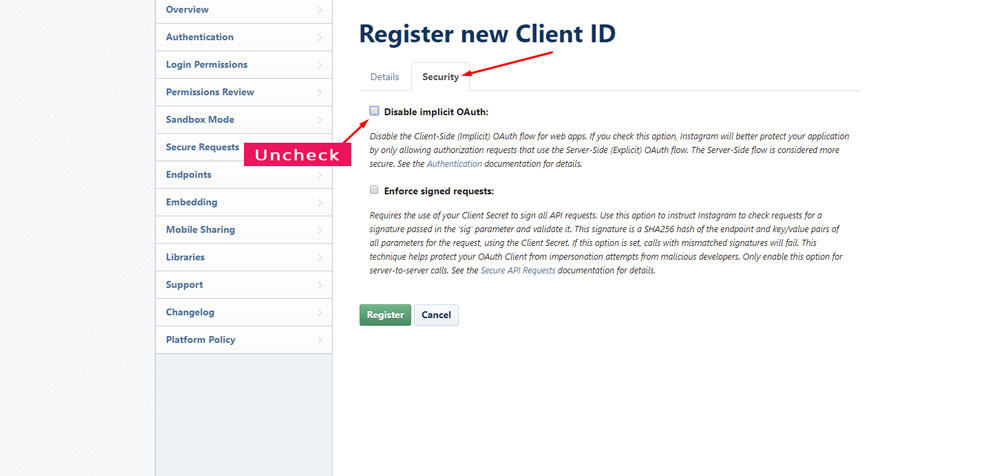 Then click on Register to finish the registration 

Get Client ID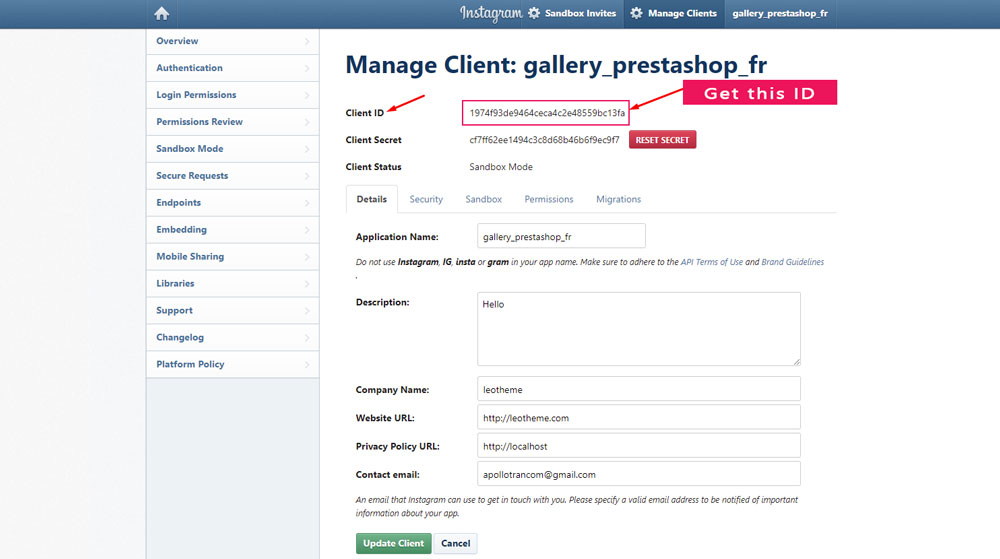 User ID
User ID – User ID of Instagram Account.
-Option 1: You open your Instagram then F12 on your browser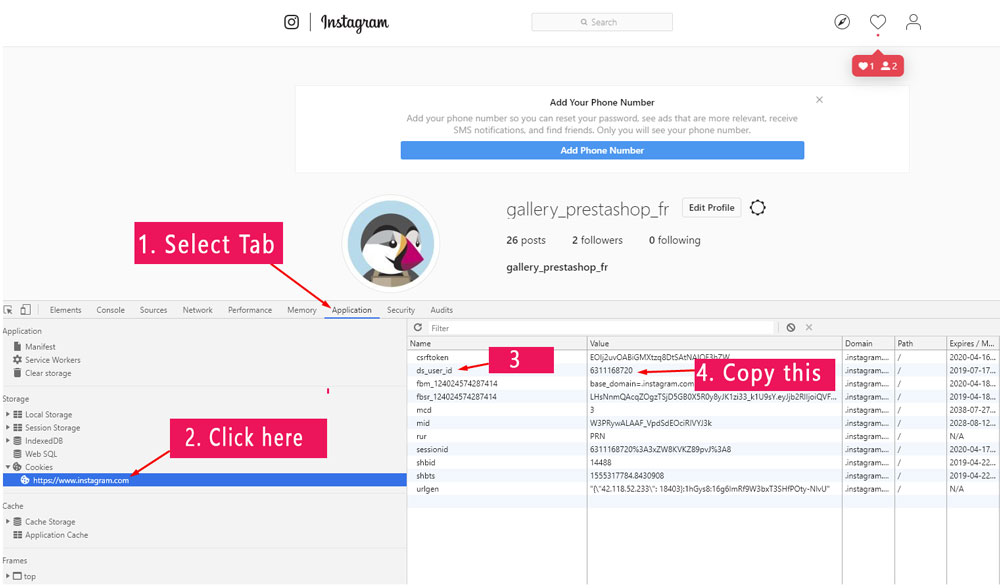 -Option 2: You access Link
Then copy username of your account and find User ID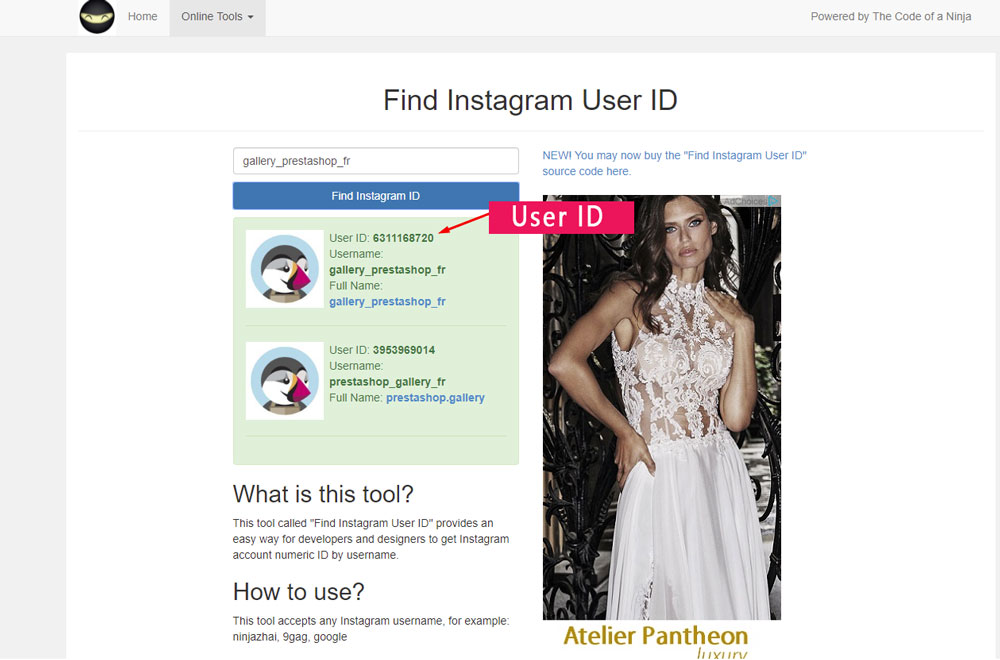 3.Access Token
Please open Link
Access link to copy Client_id and REDIRECT_URI
https://www.instagram.com/developer/clients/manage/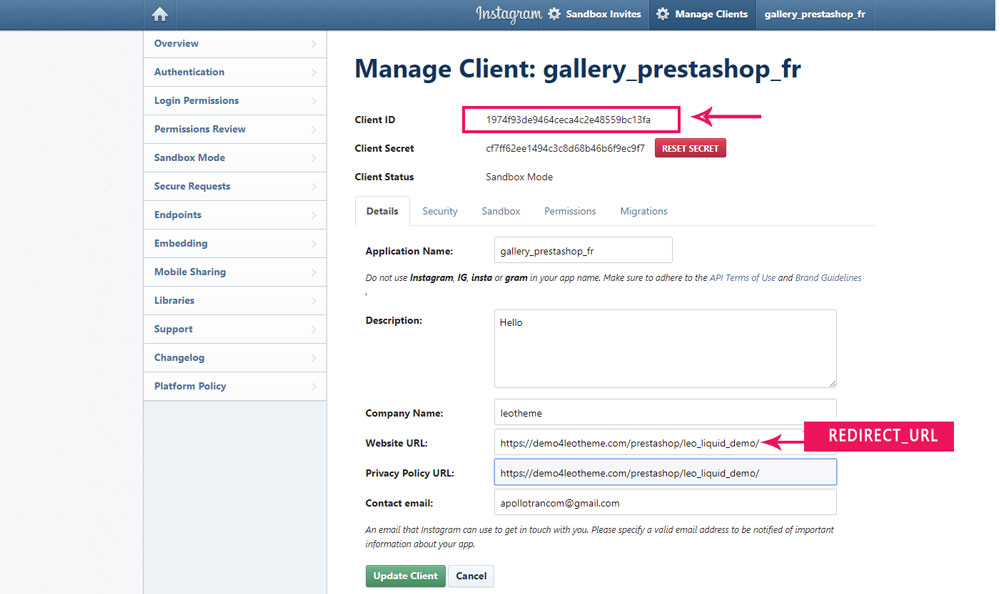 Replace  your Client_id and REDIRECT_URI on URL

Now you have Link after replacing Client_id and REDIRECT_URI on URL

Then run link, you will get the Access Token

Now you have Client ID, User ID, and Access Token. Just add 3 information in the Instagram widget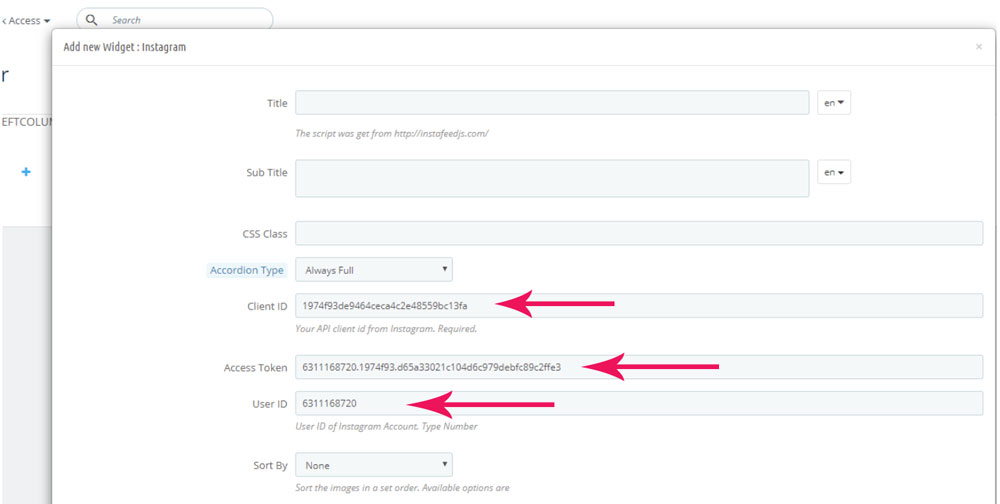 I believe that this detailed tutorial will be helpful for you to add Instagram Widget into your site. However, If you have any trouble, feel free to contact our dedicated support team at leotheme@gmail.com. We will be available within 24 hours.
Related Post: