For any store or company, you have to invest a lot of things. So saving-cost & time are the highest requirements. If you are developers or development company, PrestaShop Theme Membership is smart choice. This PrestaShop Theme Membership allows to get access to the huge number of beautiful theme with extremely reasonable price, eye-catchy theme layouts. Furthermore, at each website, you can see a lot of affordable packages which ranges a jew bucks of dollars you can choose. Plus, you can get free updates, lifetime support, detail documentation & full PSD file, …
Is it interesting?
Let's discover the best PrestaShop Theme Membership Website in 2020. They are collected by our professional experts Below, you will see the list of the best ones which are collected based on the following criteria:
High-quality & Flexible Themes Layouts
24/7 & Dedicate Support
Frequently updates, Theme updates (specifically for compatibility with new versions of PrestaShop)
One-time payments to join the club
SE0 Friendly & High Conversion Rate
Fully Customization
Powerful PrestaShop Themes
Design trends 2020
Here are Top 5+ Best PrestaShop Theme Membership Websites for All Customers in 2020:
(Highly Recommend)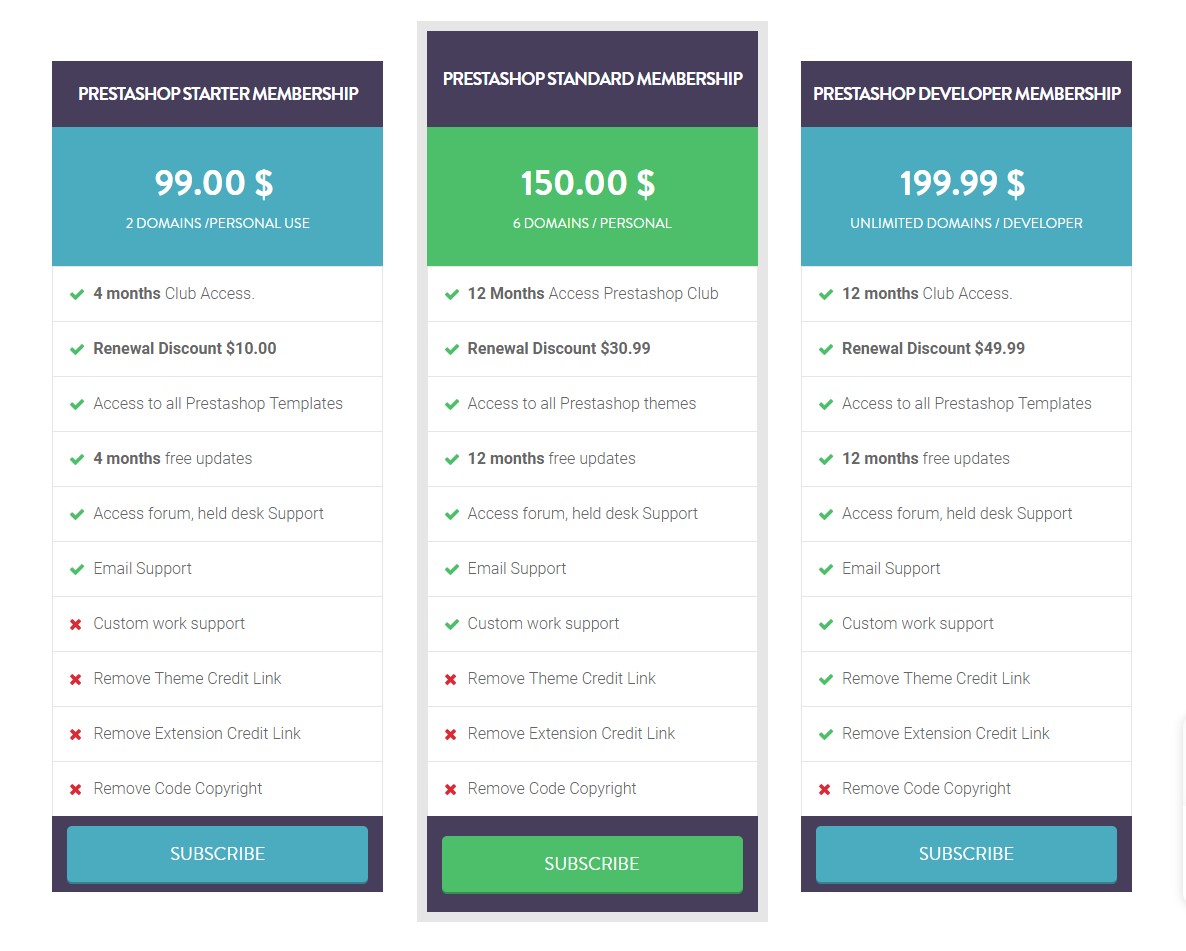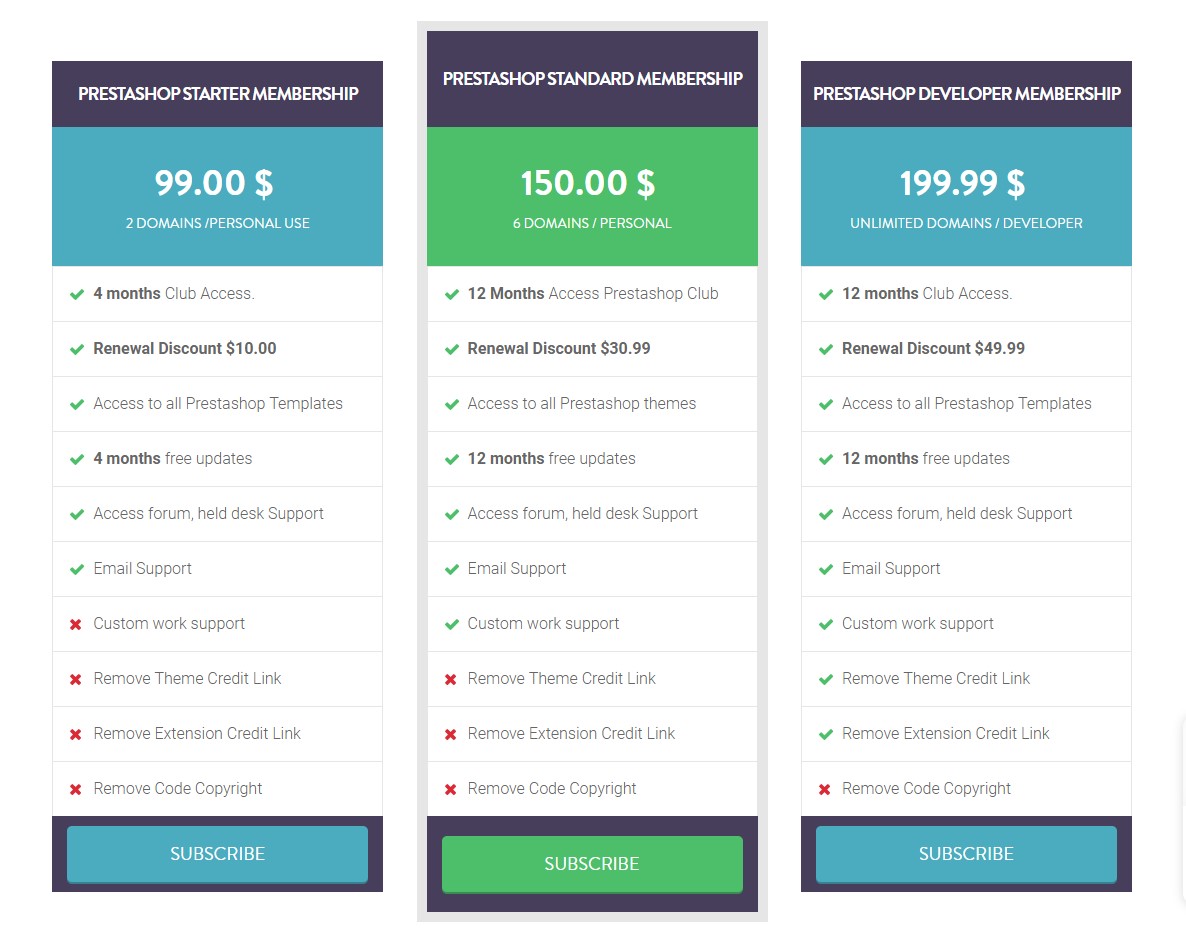 Starting with only $99, you are able to get access to all beautiful huge number of 300+ PrestaShop Themes at Leotheme. It's one time payment when joining in PrestaShop Theme Club. In addition, new themes released monthly are listed in PrestaShop Theme Club.
To specify, Leotheme PrestaShop Membership, there are a lot of advantages you can get :
Just $99 for Starter Membership – the cheapest price on Leotheme. You can get total 300+ PrestaShop Themes. Money can be saved a lot if you purchase single PrestaShop Themes on the PrestaShop Market Ecommerce. However, the theme quality & design are the same with single theme
Beautiful 300+ Prestashop Themes  & new monthly updated theme
Up-trend design & more choice to get more attractive
Ease to use theme & edit content website thanks to integrating numerous Powerful Modules and Widgets
24/7 Dedicate Supports, Access forum, held desk Support
Leotheme is found the best marketplace for Web Application as PrestaShop, Shopify, Joomlar, … The website is developed for multipurpose Prestashop Themes. They are all fully Responsive and trending design. Your website looks professional display.  Leotheme PrestaShop Theme is available 3 membership packages. You can renew your membership packages easily with attractive discount. The standard and developer options both offer an annual duration. With the standard membership you'll get access to all of the themes for $99 per year, which saves money a lot.
Moreover, all PrestaShop themes are built on Leotheme Framework. Thanks to great of PrestaShop Modules Integration at Leotheme PrestaShop, customers can create their website at ease. For both content & layout. No matter who you are. Developers & Newbies are good. They are updated with new technologies and compatible with the latest PrestaShop version. All amazing features are packed in order to impress customer at the first sight and make your Prestashop store outstanding from the competitors. All themes included VIP Support & PSD File. Moreover, several new themes are added every month; thus, you'll never run out of great themes. Last but not lease, you can get Huge Renewal Discount for renewal.
In addition, at Leotheme, they offers a lot of custom services. Services are available for customization, company development,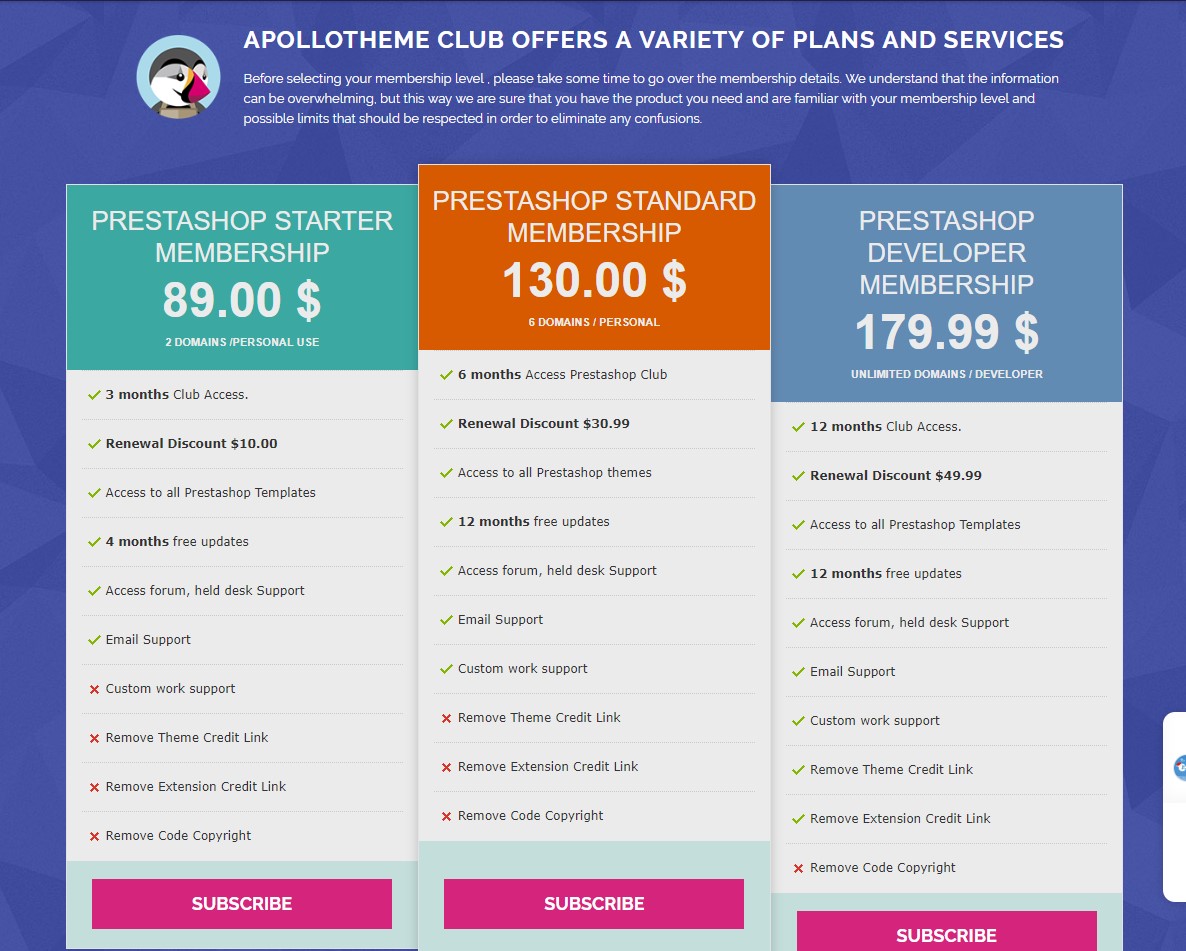 Apollotheme is the second PrestaShop Theme Membership in the list. As you know, Apollotheme is the best Web Application for Shopify & PrestaShop. You have 3 options for membership packages to get access all 120+ PrestaShop Themes. The membership cost is a bit lowers than Leotheme. By contrast, the quantity of themes at Leotheme is approximately 3 times. So the price $99 is not expensive, isn't it?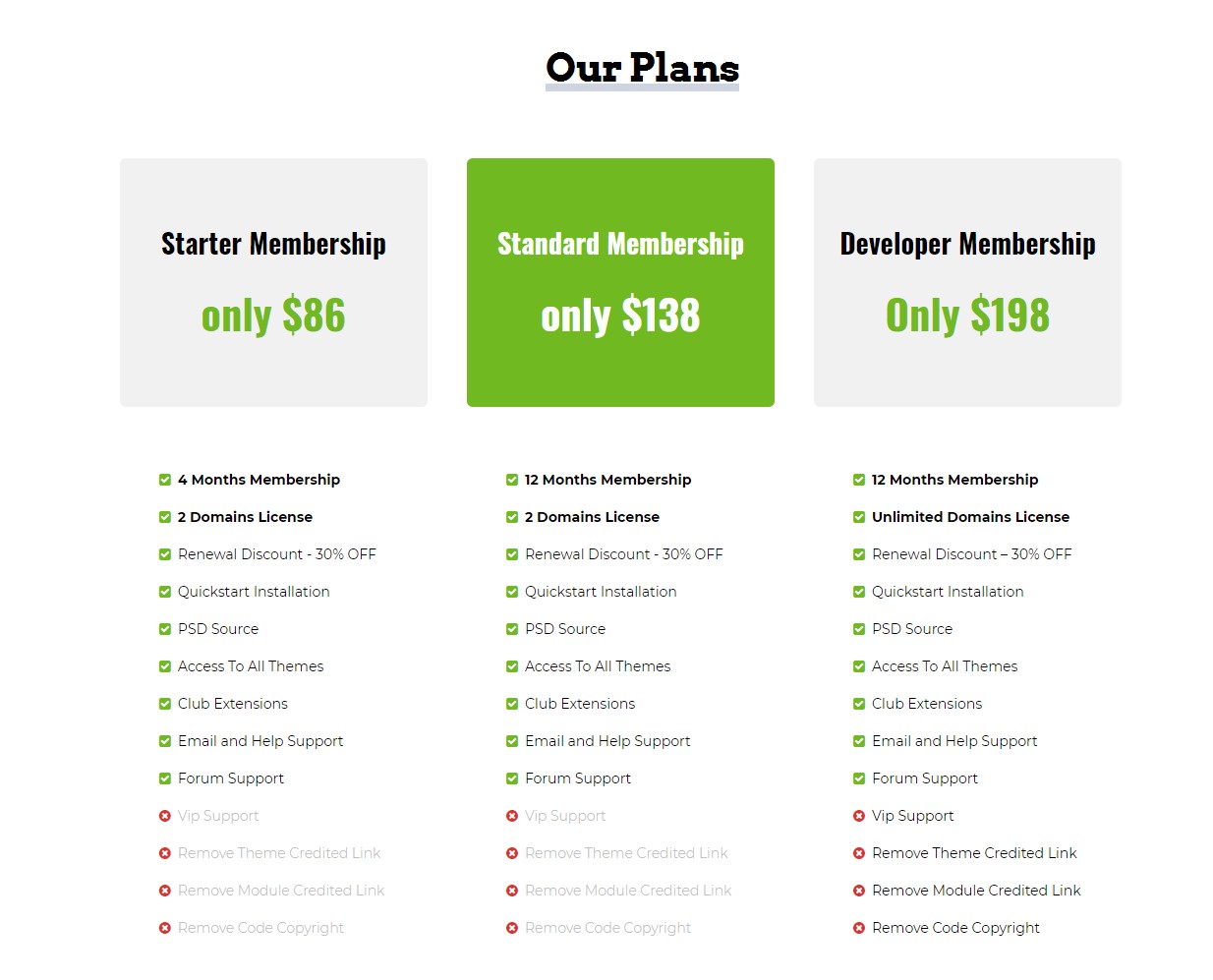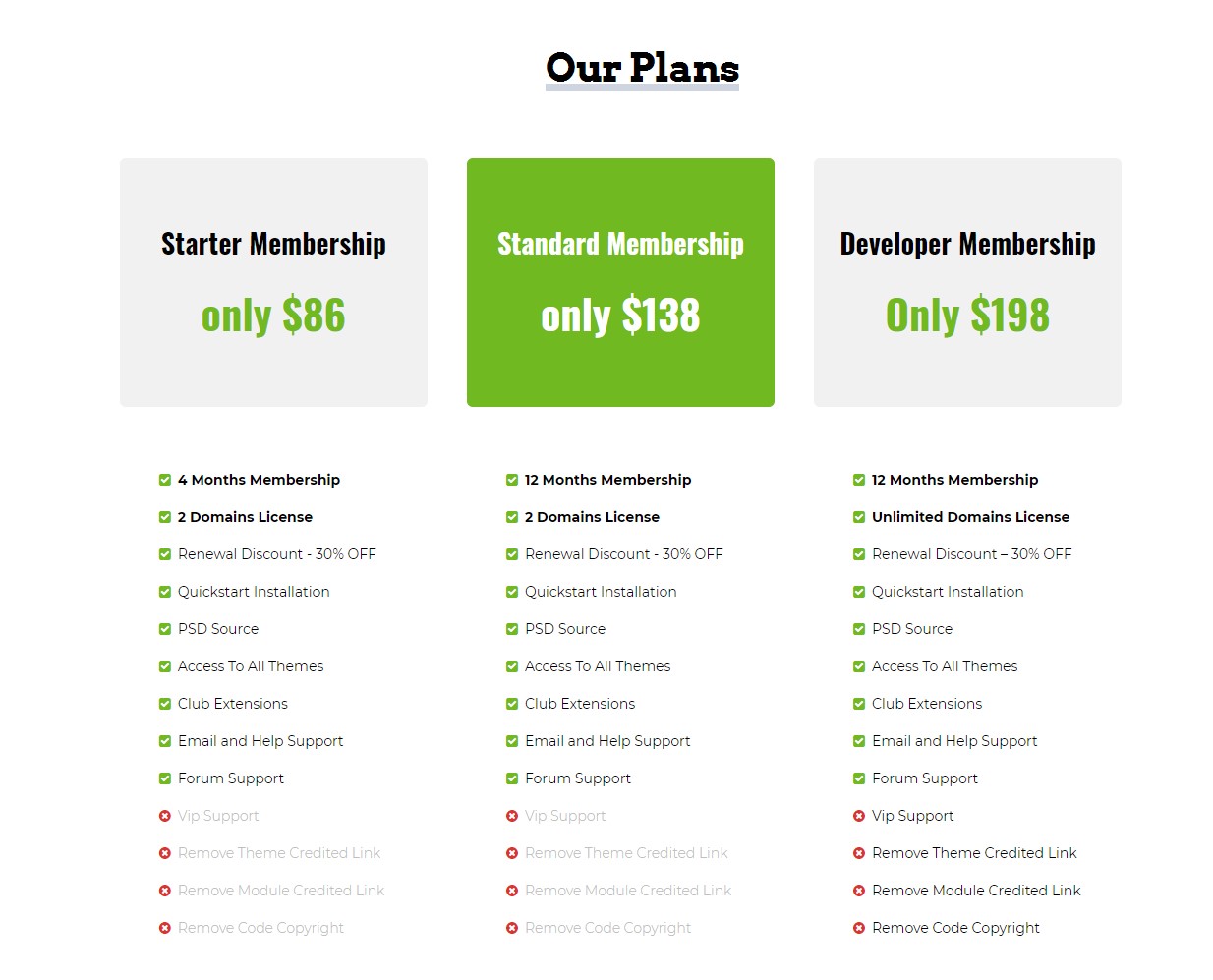 Prestabrain is the next company for PrestaShop Membership Theme, which I would like to recommend. You can take part in PrestaShop Theme Club with just $86 to get access all high-quality PrestaShop Theme. Moreover, they have release new themes frequently.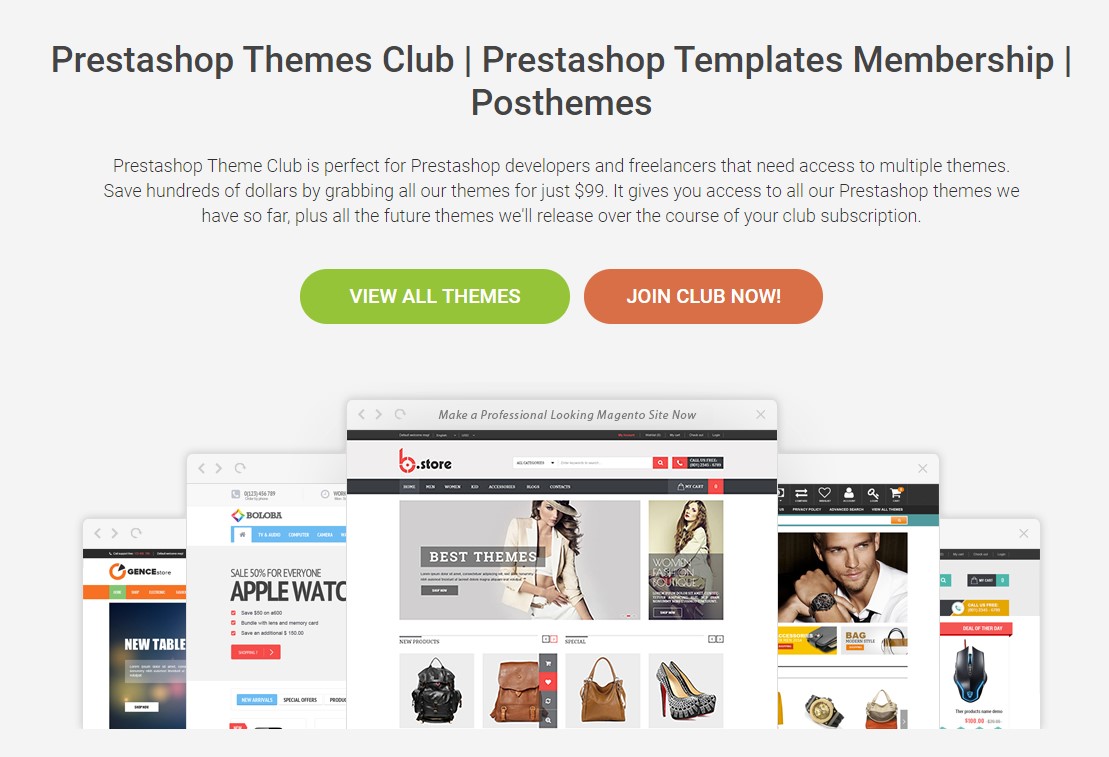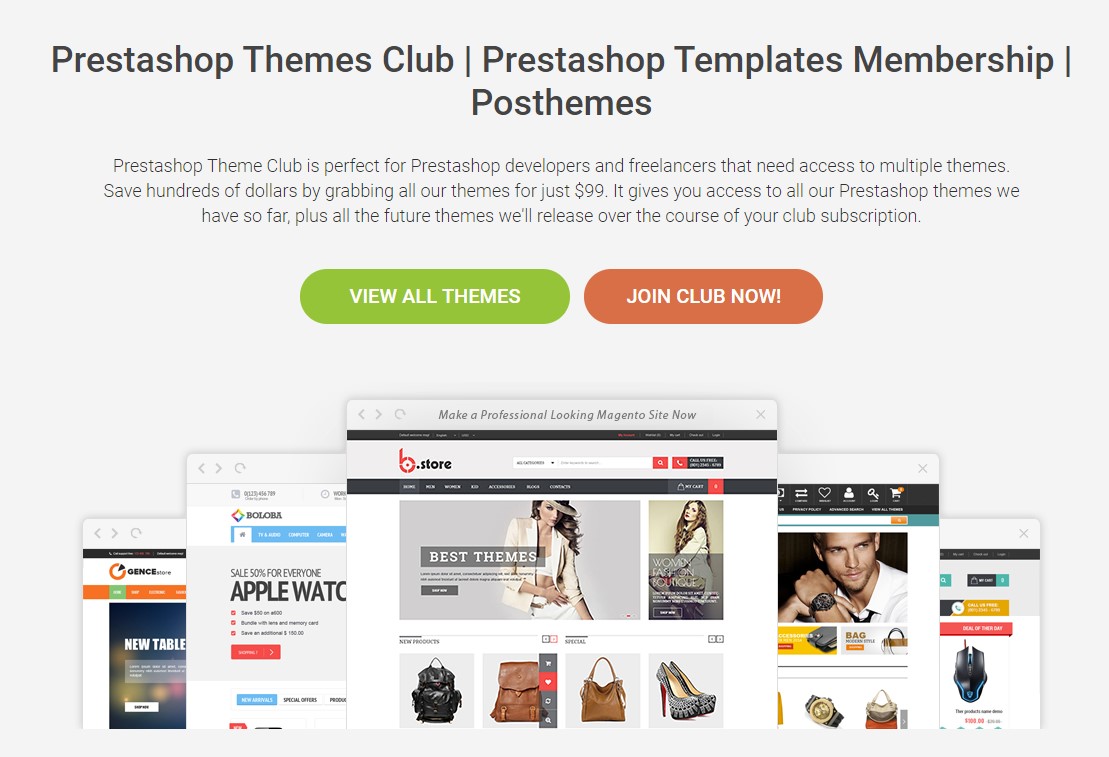 For $99 for three months you get all of their themes (currently 20 prestashop themes) and PSD files. One Domain license is allowed. From $179 to $349 ( Gold and developer package), you also get access to full Prestashop themes with longer duration(6 months, 12 months).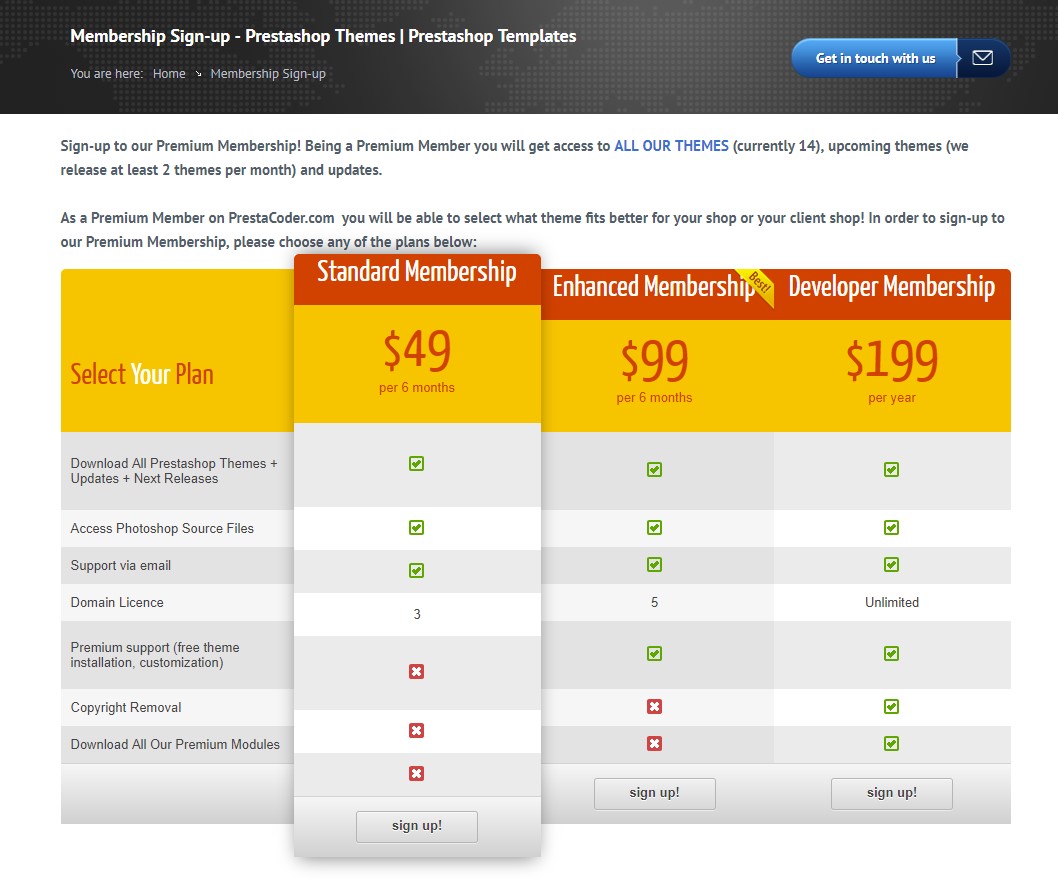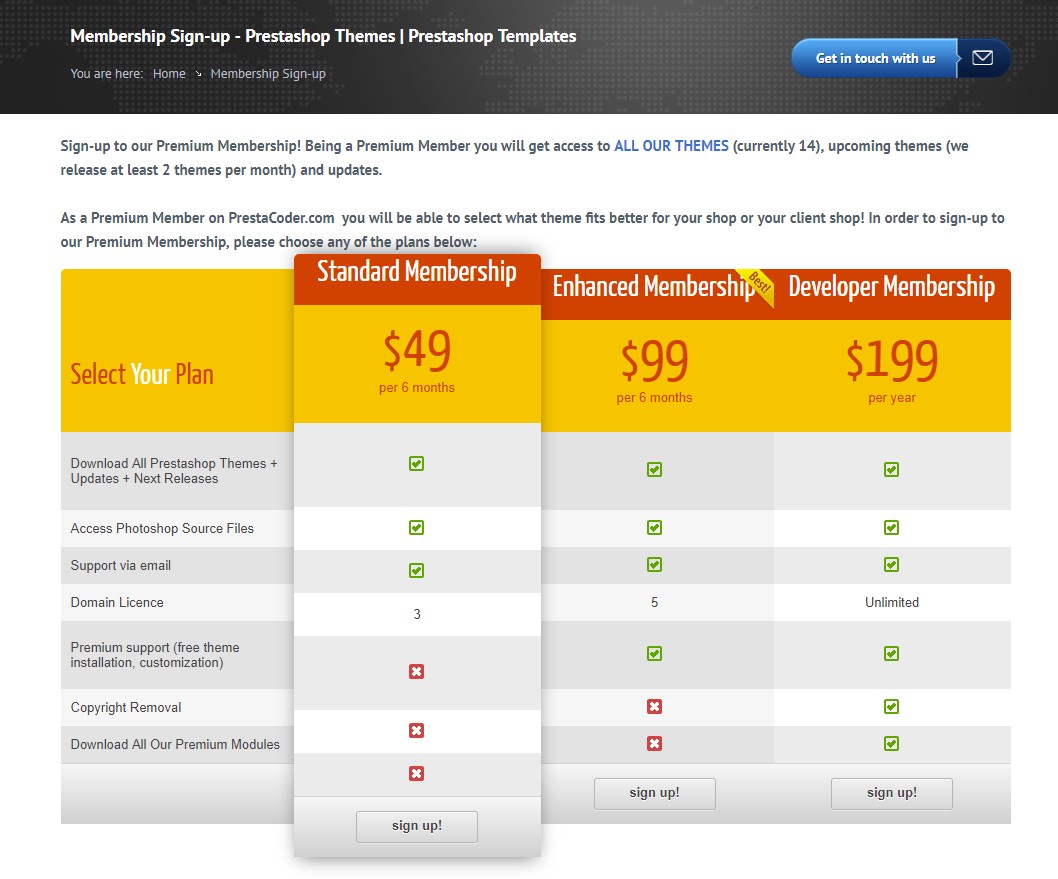 PrestaCoder prestashop theme club ranges from $49 – $99– $199( standard package, enhance package, developer package). Purchasing standard package, you can get Skype Support; meanwhile; Remove Code Copyright is added in the developer package.
This is the ends of the blog "Best PrestaShop Theme Membership 2020". Hope that you can choose suitable PrestaShop Template Club for your projects.
Related Post: