You are running a business and looking for an open source platform to launch your online store? If that's your case, Prestashop is probably one of the best option. In this Prestashop reviews, we are going to review Prestashop with its all main features then you can define if Prestashop is the best solution for your eCommerce website and your business. Now, let's start our comprehensive Prestashop reviews!
I. Prestashop reviews: overview
What is Prestashop?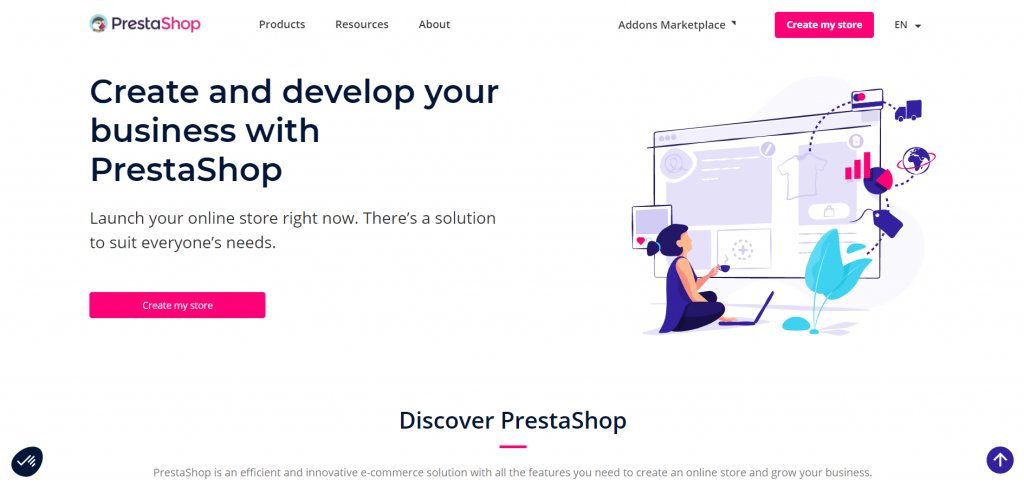 Prestashop is an effective and innovative e-commerce solution with all the features you need to create an online store and grow your business
Being launched in 2007 in France, Prestashop was built to be an open-source eCommerce platform, and has become the most famous shopping cart solution used by over 300,000  users. This platform is free to download, feature-rich, user-friendly, and you can modify it in many ways as you wish. Since the beginning of 2021, Prestashop has introduced Prestashop Ready version, which limits your access to code for modifications but more user-friendly.
Who should consider using Prestashop?
If you have customizable products and experience in PHP, CSS, and HTML or you have developer to support you, Prestashop is great fit for your business. It is zero-dollar cost with amazing built-in features and huge collections of modules and templates that you can choose to build up your online store.
Prestashop works best for small and medium enterprises.
II. Prestashop reviews: main features
Now, let go through the list of all key features that Prestashop offer!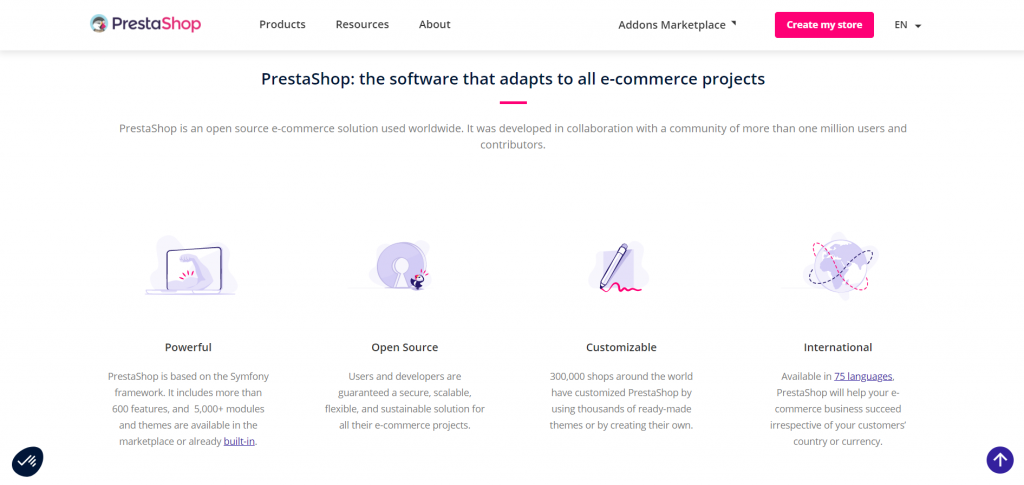 1. Prestashop Pricing
Prestashop open source is free to download and use for your online store. However, there are some unavoidable expenses to consider like Prestashop hosting, domain name, maintainence, and security. The prices are various depending on a number of factors and your choices. Specificially, while it might cost you just a few dollars for a cheap or shared Prestashop hosting, a dedicated site hosting can cost you $100 per month. A domain name can cost you around $20 per year. The security costs a few hundred dollars per year.
      Read more: Best Prestashop hosting providers for your online store
Moreover, although Prestashop's built-in features are impressive, many Prestashop users go for Prestashop add-ons for a more stunning-looking and effective eCommerce website. Compared to some kinds of add-ons for Shopify, those Prestashop add-ons, modules or extensions will not cost a lower price, the price range might be from $30 to hundred dollars.
In addition, Prestashop is an open-source platform, you will need to code your website some times. While Prestashop isn't the easiest software on the market, it is great if you have technical knowledge or experience in PHP. But if you don't, you will need to hire a Prestashop developer, web expert, or web designer to support you. And the price can range from $50 or more per hour.
Hire Prestashop developer or expert
Although Prestashop might be free at first, if you are not careful, you might end up with an enomous expense. So, when you are building your eCommerce website, you can check the free demo version of Prestashop online beforehand. Then, you can get a feel how the platform works, and what kinds of technology you want to stack onto your online website then you can hire a professional to code for you.
2. Ease of Use
The Prestashop setting up process may take you a bit of time if your tech expertise is limited. But don't worry, Prestashop provide the demo online to take you go through the whole process. Once you complete the setting process, it's time to decide which Prestashop modules you want to stack onto your online store. You might need a Prestashop developer or expert to support you. After all these technical tasks, you can reassure all other steps are so simple to handle by yourself like creating product lists, managing orders, managing inventory, etc.
3. Prestashop Themes/Prestashop templates
Among tons of things you will have to do with Prestashop open source, making sure a good-looking presence for your website is on top priority. Luckily, on the Prestashop store and markets, there are thoundsands of pre-made Prestashop themes and Prestashop themes free. With Prestashop themes premium, you will have to pay extra money for those themes. The free options is availabel in defaults but it doesn't look great. You can make somes changes from the default theme by using the Editor. Changing website layout, logo, social media links, etc by yourself without changing code.
Because Prestashop is an open source site platform, you and your web expert can completely access the web code, customize the website to look and feel as you desire.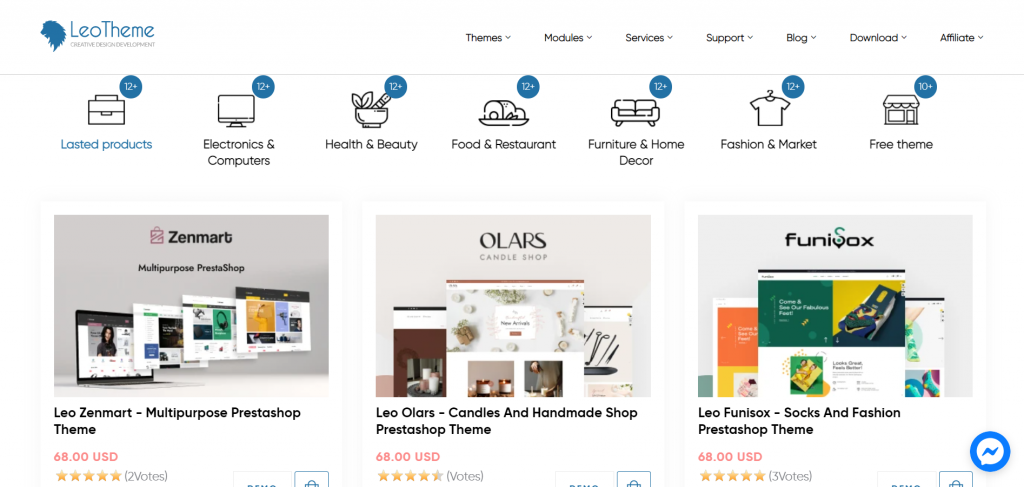 With thoundsands  Prestashop themes on the markets, choosing an pre-defined template from a trusted Prestashop theme providers for your website will be the easiest way. By this, you will not need to worry about the code but more expense. Luckily, there are also many Prestashop themes free for you to download for your online store before deciding to make a purchase for the premium Prestashop theme.
4. Prestashop Performance
Website performance greatly depends on the server and hosting of the site. Prestashop's performance and loading time is not so impressive as other similar open source platforms like Shopify or Bigcommerce. However, this can be solved by many Prestashop add-ons. Many Prestashop modules are made to improve the website performance and maximize the website's speed.
Prestashop Speed Optimization Module
How to install Prestashop speed optimization module – Leo Speed for your website?
5. Prestashop Customization
Prestashop is highly customizable. This is considered a selling-point of Prestashop. With a great capacity of customization, Prestashop allows you to scale up your website's functionality, make any changes for your needs. This advantage of Prestashop gives you the ability to create and modify your store, customize your product to sell online.
6. Prestashop eCommerce features
Prestashop provides hundreds of built-in functions that all merchants need to get start. Below are typical Prestashop eCommerce features
Prestashop comes with a clean and well-organized dashboard, which gives you an easy access to where you want to build or customize your website.
Prestashop doesn't limit your product lists. You can add many products as you want. Create product categories, subcategories, physical or digital products, etc and track each product inventory, filter or sort orders to get an overview of supplies.
With the same admin pannel, Prestashop allows users create and manage multiple stores and connect with social networks at the same time.
Prestashop supports to translate your frontstore to 75 languages, RTL languages, and multiple currencies. Make your checkout process compliant with Europe laws.
Prestashop checkout is fully compatible with  all regulations, including GDPR. With one-page checkout, your customers will not be redirect to another page when processing their checkout. Choose location, payment method, shipping carrier and many more.
Manage and track product inventory and get alerts for restocking.
Prestashop provides a variety of built-in marketing tools. Some can be named in this Prestashop reviews: email marketing, special offers, discount mode, coupon codes, cross-selling, upselling, free shipping, gift wrapping, affiliate programs
Prestashop SEO. Prestashop comes with plenty of built-in SEO tools to make your website visible on the TOP search results like SEO titles, meta description, URL links, etc
You can start the payments with a merchant account or a third-party payment processor. You can find more than 250 options on the Prestashop Addons marketplace for card or wallet payments, bank transfer payments, invoicing, POS, recurring payments and many more traditional online payment gateways.
PrestaShop is also a partner with ViaBill and Stripe. Other avialable options include PayPal, Amazon Pay, Stripe, Apple Pay, Klarna, Skrill, Authorize.net, Google Pay, Square, and more.
7. Prestashop Modules & Adds on
There are a lot of Prestashop modules that you can find on Prestashop market to customize your online store. More than 3000 Prestashop modules and Add-on including free Prestashop modules and paid modules that helps you build a professional eCommerce website, increase conversion rates, build customer's loyalty, optimize your website's performance, etc.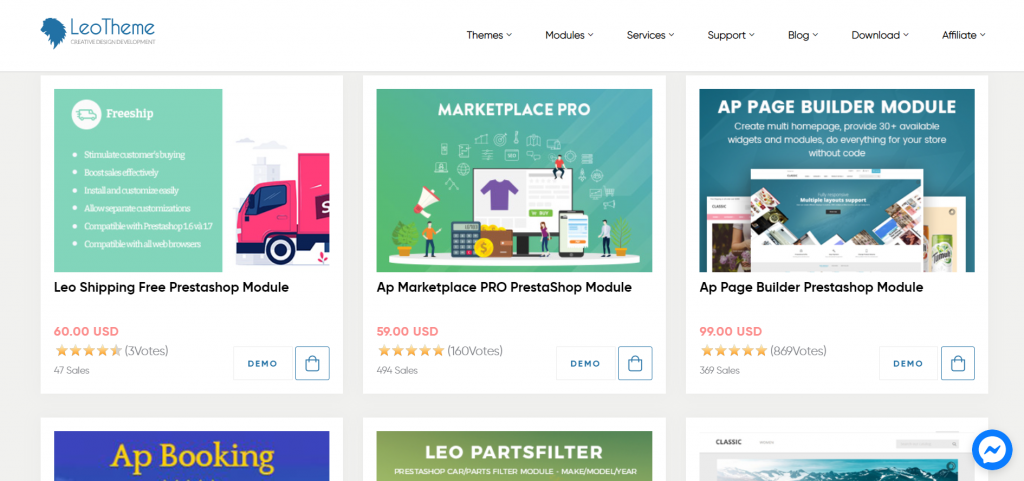 8. Prestashop Technical Support & Customer services
Whenever we talk about open source platform, expecting support is always neccessary. With multiple themes and modules you use for your store, the support are different. Prestashop host a diverse user community that comes together to solve problems via forum. In this Prestashop reviews, there are many types of support that you can access to Prestashop support: Quick start support, web ticket, help center, community forum, guides, videos, tutorial documment, support plan, training, find an advisor, social media, Prestashop services.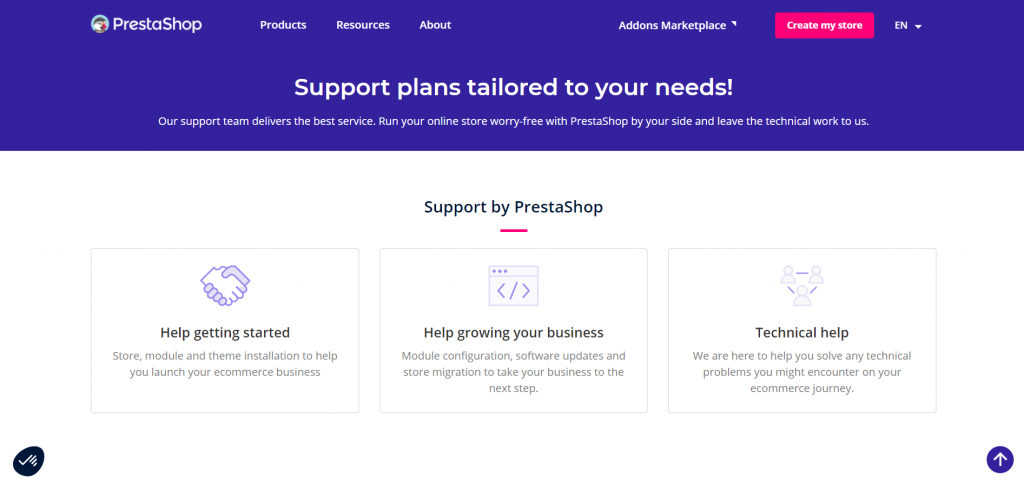 9. Prestashop security
Prestashop is PCI compliant-ready. This mean your store is well secured when you do the process yourself. You'll need to buy an SSL certificate and regularly check in on security patches. On the other hand, the PrestaShop Ready version has its security accounts already updated for you. This is because it's hosted on the Google Cloud platform that includes a free SSL certificate.
III. Prestashop reviews: conclusion
Prestashop is a free, open-source platform that you can use and operate your online store. While Prestashop is not well-suit for non-technical beginners, if you are familiar with CSS, PHP, HTML, or you can afford to hire a web developer, Prestashop is the perfect fit for your business. It has highly customizable dashboard, rich built-in features with expending collections of Prestashop themes and modules for you to build a stunning online store. Together with great SEO and marketing features, Prestashop is a great help to boost your sale. With all these advantages, Prestashop is worth trying for your store.
We have just provided you a prehensive Prestashop reviews. Hopefully, you can get an overview of What is Prestashop and its key features then define if Prestashop the best fit for your business. Let share your experience with your own review of Prestashop in the comment box below.
Related articles
Best Prestashop hosting providers for your online store
Top 4+ Books and Stationery Prestashop Themes 1.7| Perfect Book club and Office supplies store
15+ Best Men's Fashion Prestashop Themes 1.7 | Men's clothing & Accessory online store
Best Wedding Prestashop Themes Free & Premium| Beautiful Bridal Fashion & Accessories Store
Top 30+ Best Prestashop Themes 2018 – 2019 | Free & Premium
20+ Best Bootstrap PrestaShop Themes For Ecommerce & Creative Websites in 2018
20+ Top Best Furniture PrestaShop Themes 2018 for Home Decor, Interior Furniture & Manufacture Store