Nowadays the role of online shopping is becoming more and more important, especially when many parts of the world are still in the time of lockdown due to the COVID-19 pandemic. The growing demand for online shopping also leads to the need for e-commerce websites. A good and efficient online store can bring you incredible profits that can multiply over time. In the past, creating an online shop with many useful features was not an easy thing. But now with the advent of WordPress and shopping software, you can have a highly personalized e-commerce website with many utilities to serve your business in any field. Two popular and extremely effective shopping cart software on the current market are PrestaShop vs WooCommerce. So what's the difference between them? Should you use PrestaShop or WooCommerce? Together we will make some comparisons to answer these questions.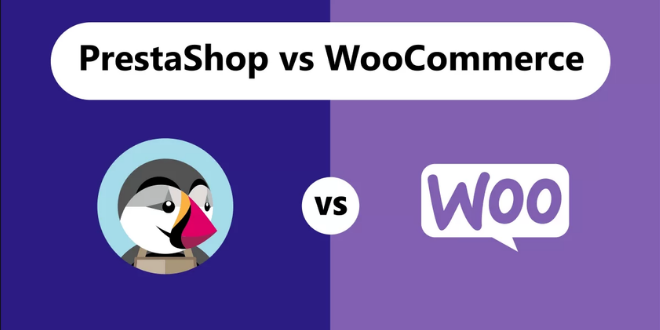 Overview
PrestaShop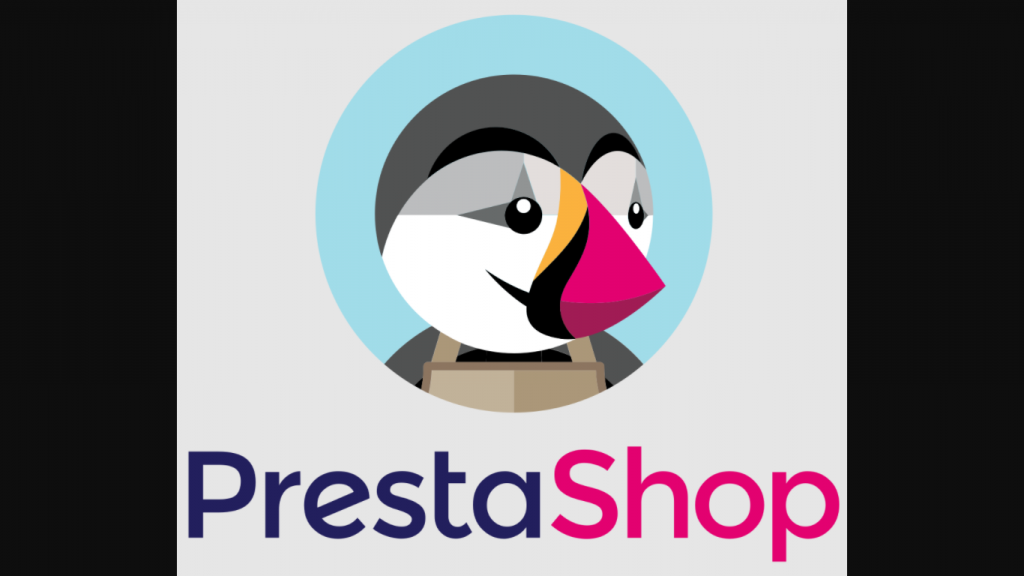 What is Prestashop? Unlike WooCommerce, PrestaShop is not a WordPress plugin but a standalone e-commerce software. This free open-source software was first launched in 2005 and the official company was founded in 2007. PrestaShop has become a favorite choice of many people because it is rich in functions and very easy to use. This user-friendly software is now used by more than 300,000 online stores around the world.
PrestaShop is scalable, allowing you to build an unlimited number of goods. Keeping track of product availability can be really simple thanks to the helpful inventory management solutions that PrestaShop provides. There's also the possibility to manage several stores from a single dashboard.
Since PrestaShop is an open-source platform, the design options are virtually limitless. You can buy non-default extensions to add more useful features to your online shop. SEO tools of this software are highly appreciated as they have helped thousands of websites get to the first page of Google search.
WooCommerce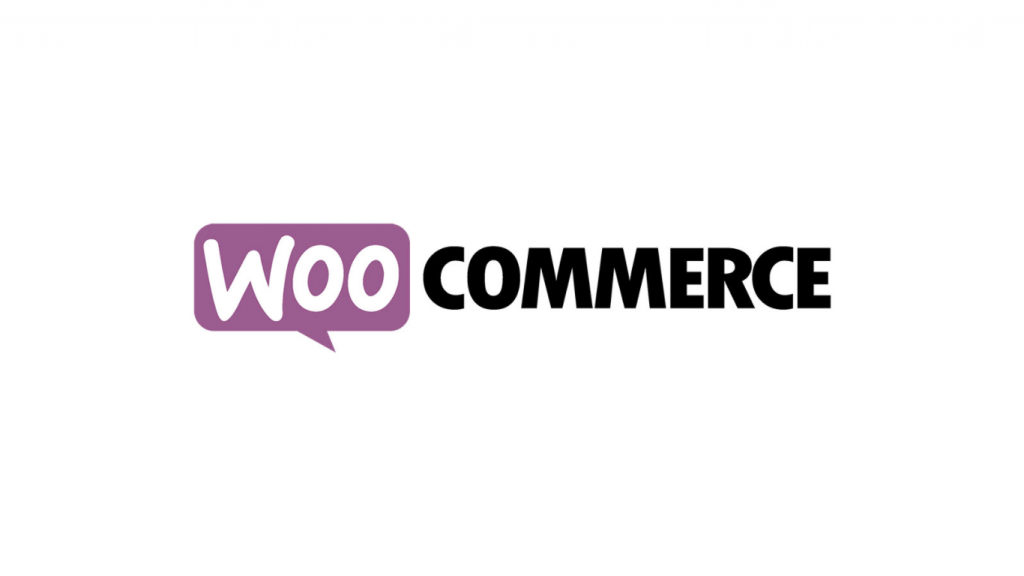 WooCommerce is a plugin for WordPress and it belongs to Automattic – the owner of WordPress. If you own a WordPress website, you can easily install the WooCommerce plugin and build various types of websites, especially online stores. This plugin includes plenty of useful tools that an online shop needs, for example, products, order management system, company reports, shipping options, customizing WooCommerce additional information tabs, payment methods, etc.
Besides, WooCommerce also provides many good features to optimize SEO, and content marketing. Since the plugin is usually updated, errors or bugs hardly appear. WooCommerce is quite easy to use and suitable for businesses of any size.
Comparison
PrestaShop vs WooCommerce: Dashboard interface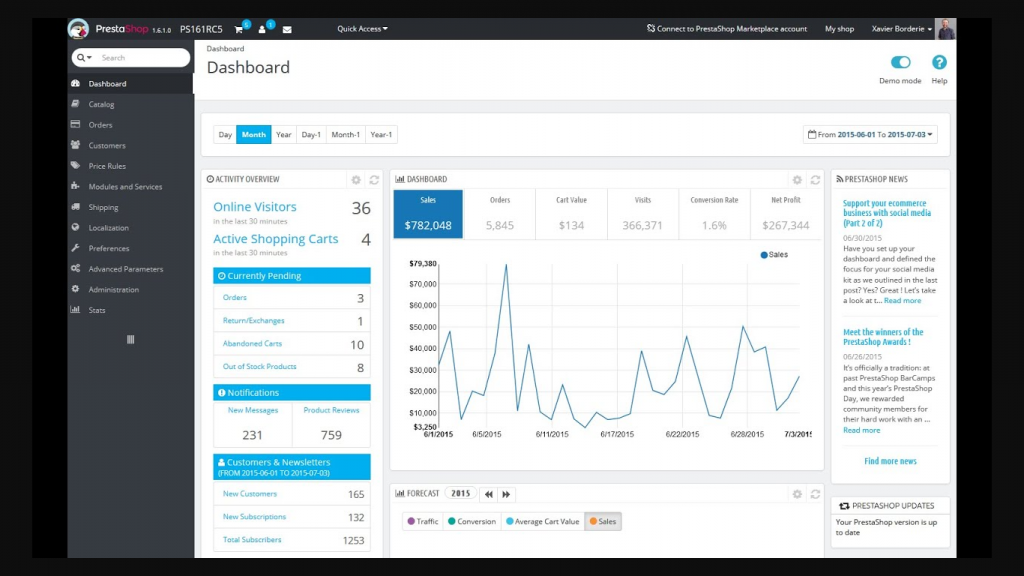 The PrestaShop dashboard displays all key management information as well as several tools for managing your items and catalog. The dashboard is based on facts and statistics, with the graphs taking center stage, giving it a highly modern appearance. All of the required sales, conversion rate, and visit statistics will be readily shown, and information like orders, managing clients, and shipping is also easy to find.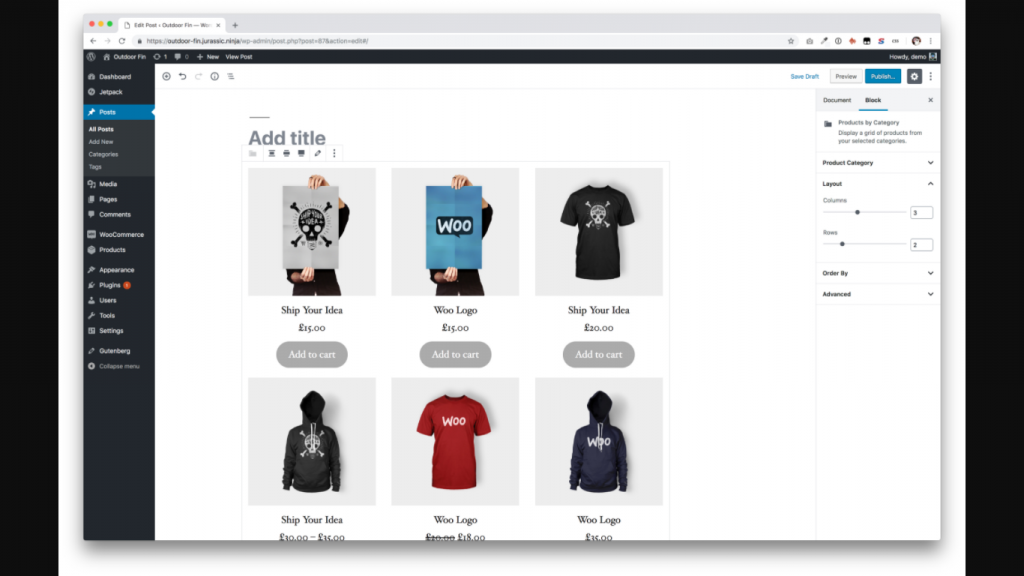 WooCommerce will let you utilize the same WordPress interface, making day-to-day activities a breeze. The WordPress interface is highly user-friendly, allowing even newbies to catch up easily.
Quick review: both software have a user-friendly interface. If you are familiar with WordPress, then WooCommerce will be very easy for you to get used to. The interface of PrestaShop is suitable for any user, even those who are new to WordPress. It also provides pretty intuitive business analytics which is a huge advantage for store owners.
PrestaShop vs WooCommerce: Features and plugins, add-ons, extensions
The first and foremost aspect that we need to consider when comparing WooCommerce and PrestaShop is their built-in features and plugins. This is important because it helps answer the question of to what extent the two software can help your online store to solve problems.
Both of them have the basic necessary features that you need to run an e-commerce website. Order administration, payment processing, import/export of items, or basic statistical/analytic tools are a few examples. They also enable us to build and manage bulk items (combinations of many products) and combinations (products with different variants). PrestaShop vs WooCommerce are both capable of selling both physical and digital goods. They also provide easy tools for managing products, analyzing data, and fulfilling orders.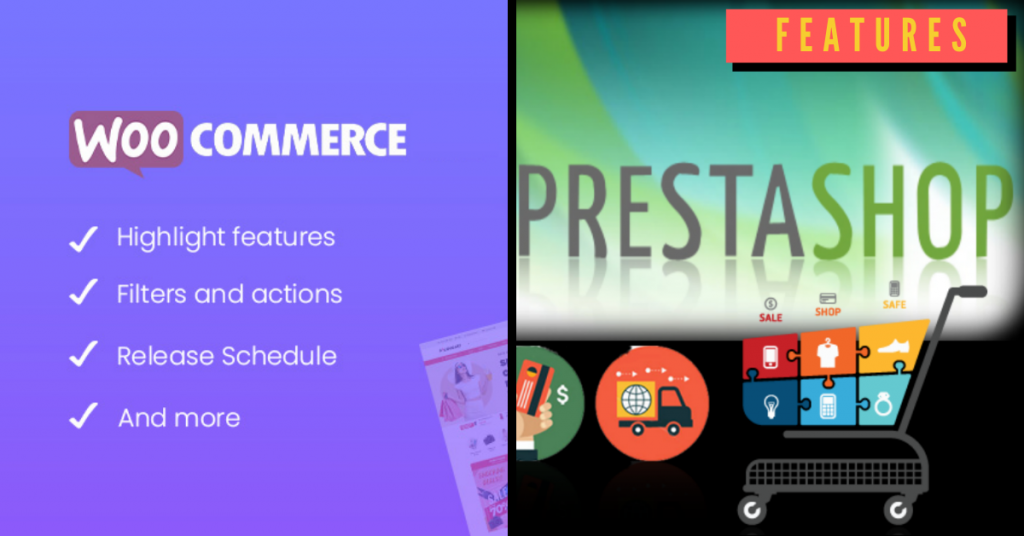 WooCommerce highlighted features:
WooCommerce appears to be more capable as a WordPress plugin when it comes to managing articles, media, pages, and blogging.

While using WooCommerce, it's important to apply various extensions or modules to boost the performance of your online businesses (bookkeeping, Email marketing, analytic tools, and so on.) Over 400 extensions created by the WooCommerce team or third parties have been hosted in the WooCommerce plugin store so far. WooCommerce can be readily linked with WordPress plugins as well.

WooCommerce can be used for affiliate marketing

WooCommerce is integrated with Paypal and Stripe – the top most popular payment gateways

With this plugin, You may change the shipping prices for each carrier as well as the taxes that apply

You can upload an infinite number of categories and products
PrestaShop highlighted features:
PrestaShop, on the other hand, excels in setting up and managing numerous stores (While this is a platform-wide capability, WooCommerce users must install a plugin to operate multiple businesses)

Currently, PrestaShop Addons has about 4,000 modules for you to choose from.

On PrestaShop websites, customers may select from a variety of carriers, including USPS, UPS, and FedEx, because the platform is linked with all of them.

You may add an unbounded number of items, pictures, categories, and product attributes to PrestaShop. You can also utilize inventory notifications and tracking to manage your inventory (you will need to add several extensions to have these features if you use WooCommerce)

SEO tools, like Google sitemaps, are included

Through a third-party payment processor, your customers will have the option of paying by cheque, wire, or credit card.

PrestaShop provides real-time statistics, but you can also use Google Analytics to track your store. You may also run promotions for selected goods and areas.

PrestaShop supports more than 75 languages by default (if you use WooCommerce, you have to install paid extensions to get this)
Quick review: Both platforms have many powerful features to help you build a good e-commerce site.
WooCommerce inherits many other WordPress plugins, so it will give you the flexibility to build a website. WooCommerce also has a lot of useful free plugins.
However, in terms of building a real e-commerce site, PrestaShop has undeniable professionalism. PrestaShop's mission is to help customers create an online sales platform that brings the highest business efficiency. More than 600 features of PrestaShop serve this purpose.
WooCommerce users have to find and install many different types of plugins to perform tasks like multi-store support, product comparison, pricing management, multi-language support, data importation, etc. Meanwhile, PrestaShop can complete all those tasks on its own.
PrestaShop vs WooCommerce: Themes
Because PrestaShop vs WooCommerce are both open-source platforms, they give us the power to customize our websites as much as we want. However, many people would prefer to use templates and themes since they are often built professionally for business purposes. You can use HTML or Javascript to change the theme codes as a way to customize the theme.
WooCommerce has only 35 default themes so far. However, WooCommerce is a WordPress plugin, and this means users can access the huge WooCommerce theme store of WordPress.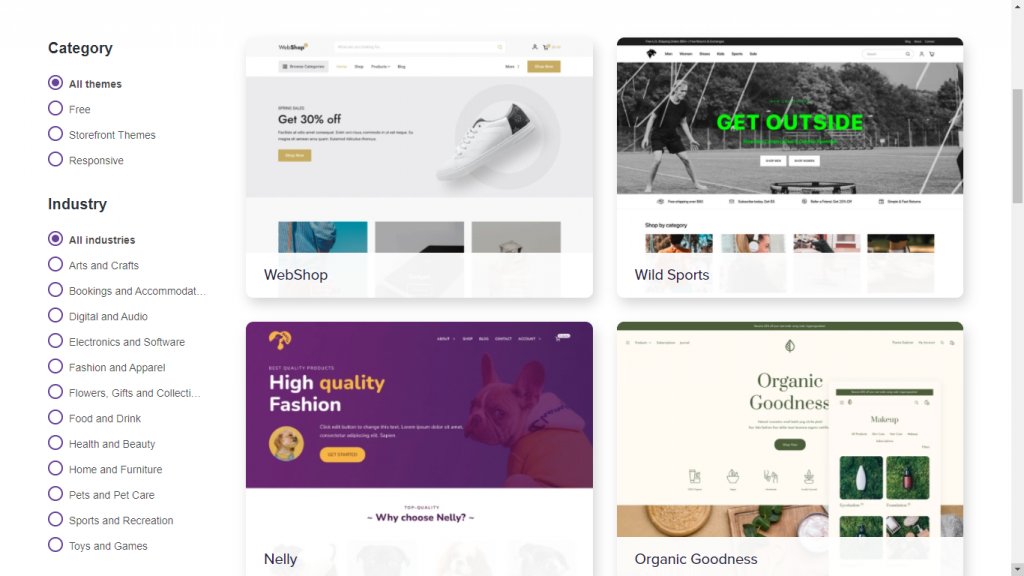 PrestaShop offers 2825 themes including both paid and free Prestashop themes. Users also often need to pay from 50 dollars for an add-on on the PrestaShop marketplace such as

Store Manager for PrestaShop

. Some add-ons are more costly (for example, Amazon or eBay integration).
Quick review: WooCommerce can give you access to WooCommerce's huge theme store. This can be considered as one of the most notable strengths of WooCommerce. Many WooCommerce themes are free, while PrestaShop themes are paid. But that doesn't make WooCommerce superior to PrestaShop at all.
We all know that PrestaShop is for people who want to seriously create high-converting e-commerce sites. While many WooCommerce themes cannot make your website look like a standard e-commerce, PrestaShop themes are ready to bring you a professional online store that can make a good profit.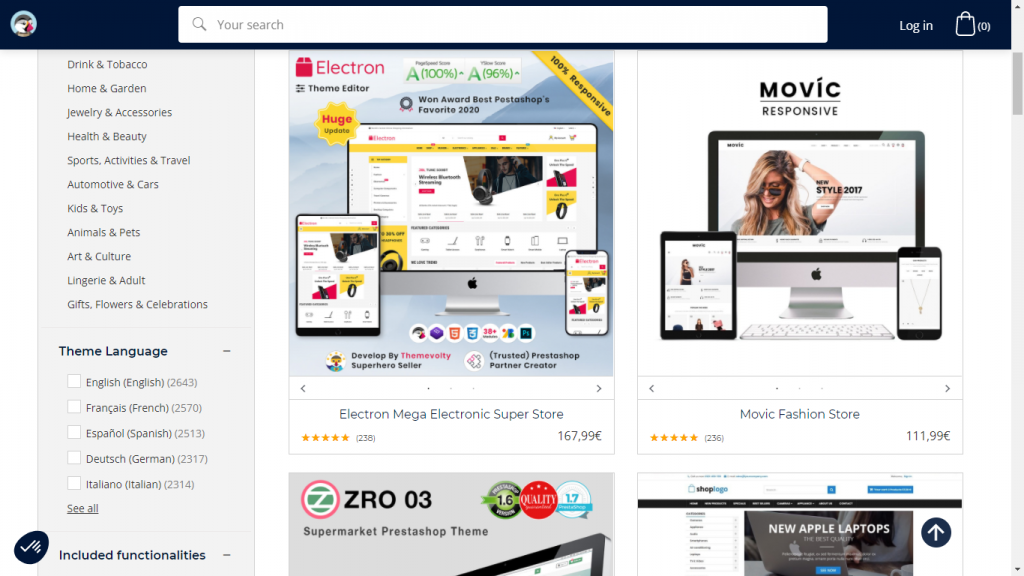 PrestaShop vs WooCommerce: Ease of use
Talking about the ease of use, we should first look at how we can install these two software.
If you already have a WordPress website, you can easily install WooCommerce as it is simply a WordPress plugin. In case you have never owned a WordPress website, you must deal with things like domain name registration and hosting first.
PrestaShop offers Manual Installation and One-Click Install. Of course, manual installation is time-consuming and more complicated. PrestaShop provides video tutorials as well as detailed instructions to carry out this process.
Meanwhile, using One Click Install may take only 5 minutes to complete. You just need to choose one of the best Prestashop hosting companies that have a one-click installation script. PrestaShop can be installed with a single click using one of three common script libraries: SimpleScript, Softaculous, and Installation.
Read more: Best Prestashop hosting providers for your online store. How to choose the right hosting for Prestashop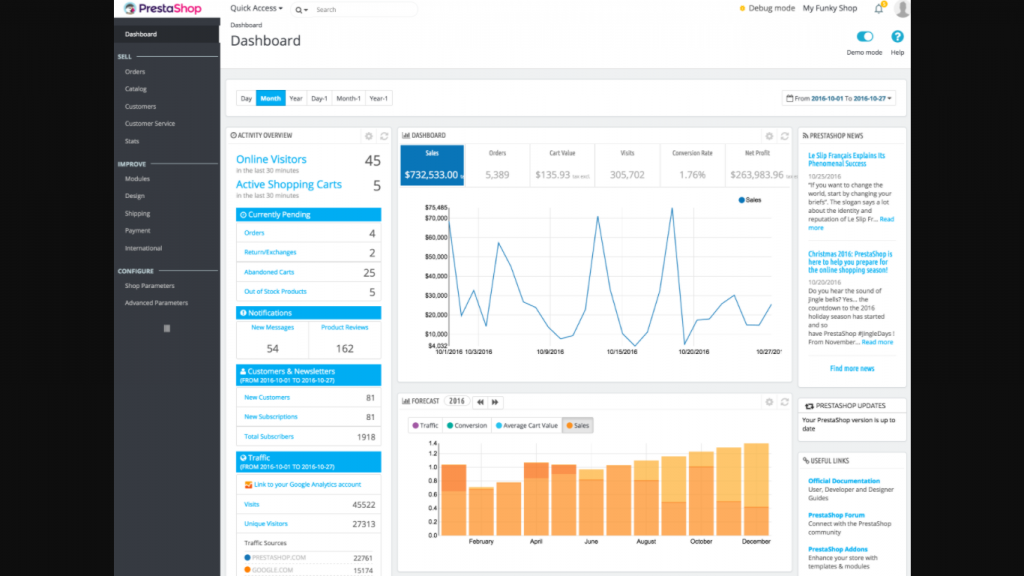 Next, we will compare the interface of the two to see which is easier to use.
A huge advantage of PrestaShop is that users will receive a birds-eye perspective of the store's performance from the dashboard's main page.
A product name, photos, and description may all be added using the editor of PrestaShop. You'll also discover several shipping choices, basic SEO settings, and other interesting things if you explore through the tabs.
Overall, setting up a new product in PrestaShop shouldn't take long if you have already prepared photos and a description. Everything else may be handled in a matter of minutes owing to the user-friendly interface.
After installing WooCommerce from WordPress, you'll see all of your setting options in a new tab, clearly separated from the WordPress default settings. You'll feel perfectly at home creating new WooCommerce items if you've ever built a WordPress post or page. There are some setting options that you may not have seen in WordPress, but there are plenty of tutorials on the Internet that can help you get familiar with them.
Quick review: Both in terms of installation process and user interface, PrestaShop and WooCommerce are easy to get used to.
If you have never installed WordPress before, the difficulty of installing WooCommerce will be the same as if you were installing PrestaShop manually. However, some web hosts have already done the setup work for you, so you can choose from these hosting options and install PrestaShop in 5 minutes (or less).
Although both platforms do not require as much programming knowledge as Magento, WooCommerce still requires strong technical skills in many cases. Meanwhile, PrestaShop is completely convenient for all users, even those who do not have a bit of programming knowledge. PrestaShop's professional support team is the obvious guarantee for this.
PrestaShop vs WooCommerce: Security
Since PrestaShop vs WooCommerce are open-source solutions, ensuring data security is on their users. There are three things users can do about this:
Regularly update the software

Choose a trustworthy hosting service

Purchase an SSL certificate
However, each software has some different strengths.
PrestaShop's downloaded setup file already complies with PCI standards. Because it is a European firm, it advises users to comply with the GDPR (General Data Protection Regulation) for data security reasons. This may be accomplished by installing a module called "Official GDPR compliance" in the Addons marketplace. It will cost you €99.99 for three months and will support numerous languages in the shop from version 1.5 to version 1.7. Your clients' personal information will be protected as a result of this compliance.
WooCommerce allows businesses to set up two-factor authentication by adding plugins like Duo or Two Factor Authentication. Users will be able to access somewhat better data protection thanks to this functionality. When merchants wish to access the admin site, for example, they must authenticate the user's identity using a code sent through SMS, phone call, or email. PCI compliance will be the responsibility of WooCommerce store owners. They must see the WooCommerce Docs about PCI-DSS Compliance for additional information and instructions on how to create a website that complies with PCI.
Quick review: At first glance, many people would think that PrestaShop and WooCommerce have a tie in terms of security since they are both open-source platforms. However, PrestaShop would still outperform WooCommerce due to its PCI compliance by default.
PrestaShop vs WooCommerce: SEO
One of the most essential aspects to consider when choosing a platform for your online business is SEO. Strong SEO helps your website reach more people by showing your products or articles on the first pages on Google. In this way, your brand will be more recognizable.
PrestaShop and WooCommerce provide various options to help you improve your website's SEO as they are both SEO-friendly software. Some of them are URL redirects, SEO-optimized product descriptions, SEO-optimized product titles, building the sitemap, etc. Furthermore, both of them will allow you to simply connect SEO and analytics tools.
PrestaShop also has efficient SEO-related modules for you to choose from. They are mostly paid versions. The products and categories are all optimized for SEO.
Many WooCommerce plugins may help you to improve nearly every element of on-page SEO. These plugins assist you to get more reach for your business in addition to improving organic positioning.
Quick review: In terms of Search Engine Optimization (SEO), both WooCommerce and PrestaShop give you the ability to optimize your website for SEO and help it achieve higher rankings on Google. WooCommerce inherits the features of WordPress, so it is quite strong in this aspect. PrestaShop has a pretty powerful system of plugins and modules to help improve SEO. Because PrestaShop provides paid plugins, their users will receive effective official support from many parties.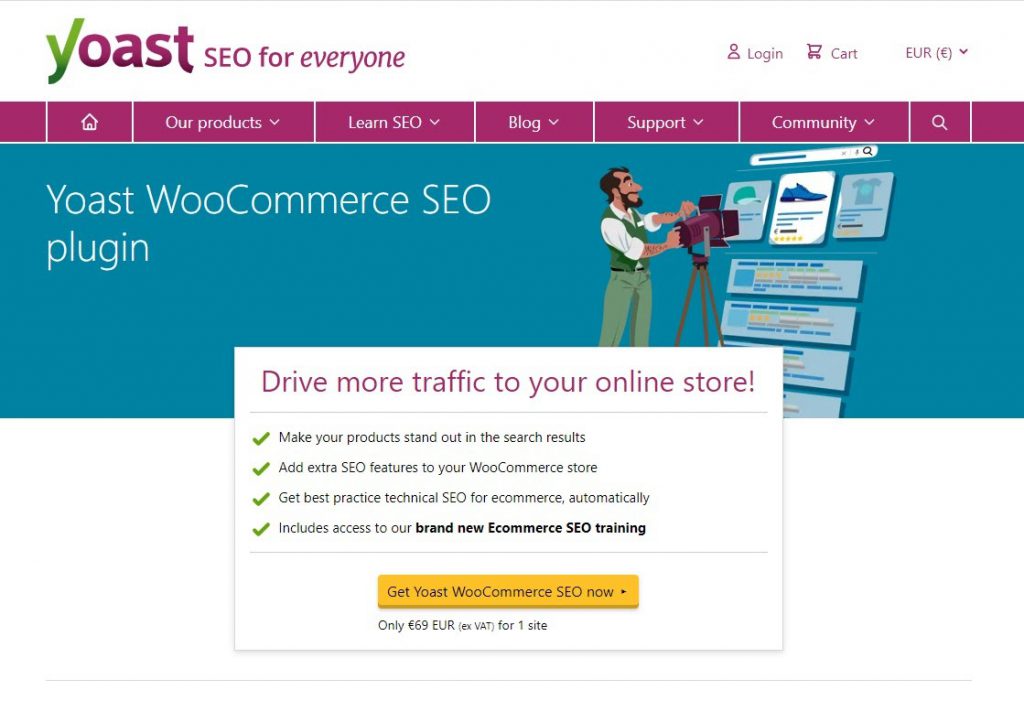 PrestaShop vs WooCommerce: Payment gateways
Payment gateway flexibility and variety may be a huge benefit to any online company. Users of both PrestaShop and WooCommerce may automatically link their stores with major payment gateways like Paypal or Stripe. However, let's look at the distinctions between PrestaShop and WooCommerce payment methods.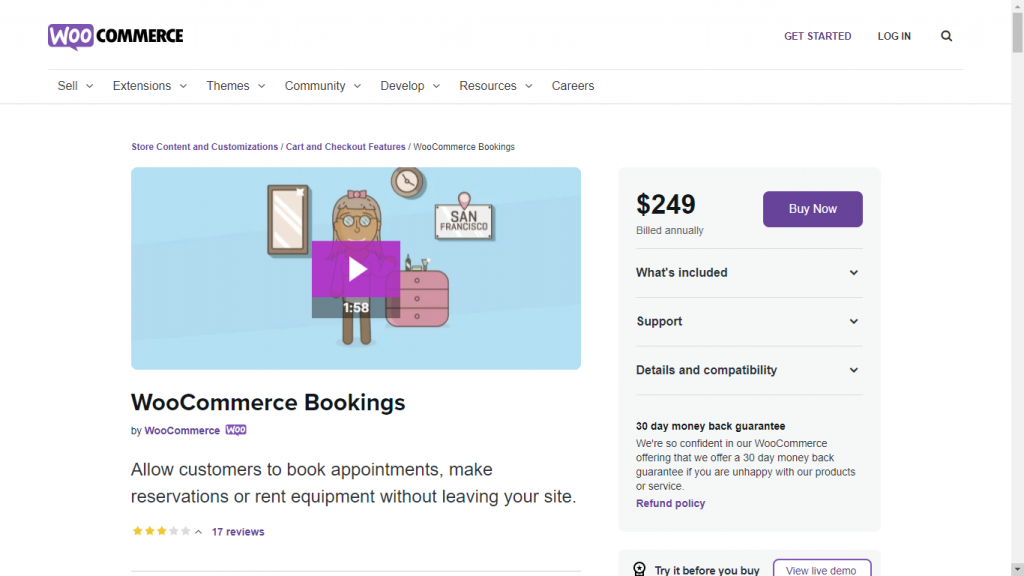 Users may pick from 250 third-party payment processors on the PrestaShop marketplace. PrestaShop and Paypal cooperate to launch a payment module – PrestaShop Checkout. When using PrestaShop Checkout, your clients don't have to move to another site. This is good for website loading speed and UX. Furthermore, PrestaShop Checkout complies with all rules, including the General Data Protection Regulation (GDPR).
WooCommerce not only has over 100 payment gateways (both free and premium plugins), but it also has its free payment gateway. WooCommerce Payments allows you to accept debit and credit cards securely. It can help improve conversions because it allows your customers to check out without having to leave the site.
Quick review: Payment gateway systems of both PrestaShop and WooCommerce have their own strengths to satisfy users. PrestaShop Checkout and WooCommerce Payments are equally powerful weapons that make these two platforms stand out from the rest. One strong point of PrestaShop over WooCommerce in this aspect is that the platform offers up to 250 options while WooCommerce only offers over 100 options.
PrestaShop vs WooCommerce: Pricing
PrestaShop is a free open source software so you don't have to pay to install and use it. Every business will incur continuous costs. Furthermore, you have two alternatives for creating a better store: build themes and extensions by yourself, or buy themes and plugins from PrestaShop marketplaces. The average annual cost of PrestaShop themes and modules is approximately $54.99 per year.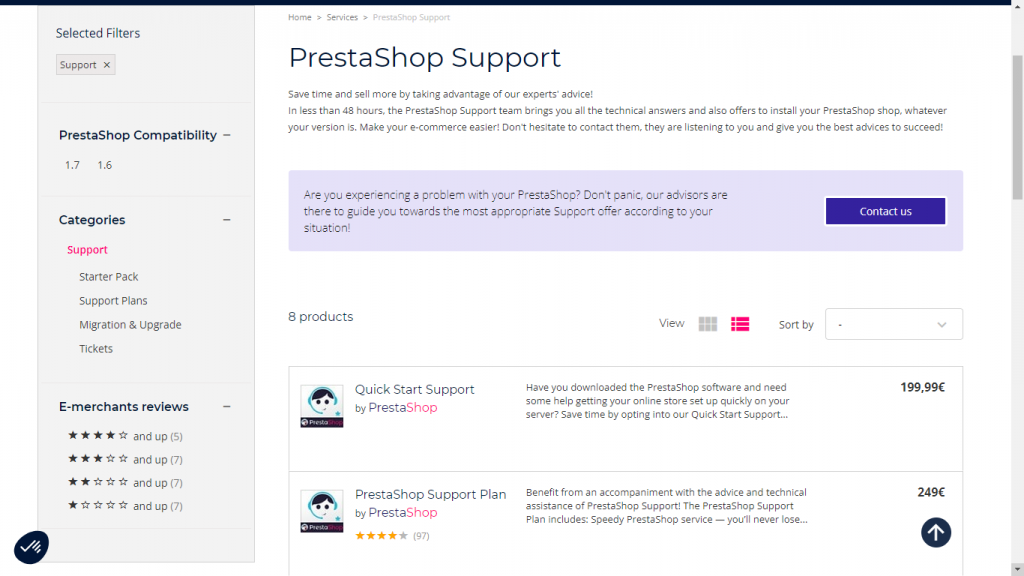 WooCommerce is a free plugin and you'll just need to worry about the other essentials of maintaining a website. To begin, you'll need to pay a monthly hosting cost, which may be as low as $4 per month depending on the size of your website and monthly traffic. Second, you'll need to get a domain, which costs around $10 per year on average.
After you've paid for the basics, you'll need to consider the additional extensions you'll need to acquire for things like SEO, payment gateways, and other features. The cost of extensions varies, however it is generally between $49 and $79 in most cases. Because you're basically on WordPress, you have access to thousands of free plugins.
Quick review: Both PrestaShop and WooCommerce are free to install and use. However, the difference is that WooCommerce has a lot of free plugins to help you improve your website. This makes it suitable for a company with a professional technical team or a small business that wants to create a basic sales website.
But as we have analyzed before, besides many Prestashop free themes and Prestashop free modules, PrestaShop's paid modules, extensions, and add-ons are all worth paying for. That's because they work extremely well on the PrestaShop platform in the process of creating a true e-commerce website. Although PrestaShop may cost more than WooCommerce, many companies still choose it because of its business-oriented mechanism and professional support.
PrestaShop vs WooCommerce: Support
PrestaShop provides two types of support: PrestaShop Online Assistance and PrestaShop Technical Assistance.
Users may access a variety of free materials, including FAQs, tutorials, guides, and training courses, in the first choice (for developers and merchants). If you can't find what you're looking for in these resources, go to the PrestaShop forum and talk to the users there (the PrestaShop community contains over 1.2 million members and many solved issues).
PrestaShop Technical Assistance is the second choice. In comparison to other platforms, PrestaShop offers this as a one-of-a-kind service. Online retailers will speak with a PrestaShop professional over the phone to fix their problem in just 15 minutes.
When problems emerge, WooCommerce does not provide direct assistance to users. In truth, businesses can't fix their problems over the phone or through live chat; instead, they may turn to a vast community of people who are eager to help. Aside from that, tools such as tutorials, tutorials, and documentation are provided to help visitors navigate the site and solve difficulties.
Shop owners can also get assistance by submitting a support request on the WooCommerce website. The time it takes the WooCommerce team to support you will vary depending on the intricacy of your issues.
Quick review: It is clear that PrestaShop provides much more effective help when FAQ, documentation, paid support plans, and other professional support services are available. 
Since WooCommerce has almost no official help when something goes wrong with your website, you have to find a solution yourself with the documentation or seek support in the forums. This sometimes works and sometimes it doesn't because in many situations you just don't know exactly where the problem lies. The advice in the forums sometimes contradicts each other so that you can't make a decision on what to do next. 
That's when you need enthusiastic official support to solve your problem quickly and make your website as profitable as possible again. And that's what PrestaShop does pretty well so far.
In Conclusion
PrestaShop vs WooCommerce can both turn your simple website into an impressive and effective online store.
WooCommerce is suitable for a diverse audience. From a small individual business to a large company, WooCommerce is still not a bad choice. WooCommerce allows beginners to build a pretty good and attractive sales website. A large business with a professional team can also make good use of WooCommerce.
PrestaShop is suitable for small and medium businesses. PrestaShop customers are definitely those who want to build an effective online store from the ground up with the best support. PrestaShop is not about building a cool and interesting website with many unique features, but a powerful eCommerce website ready to bring in the most profit.
Choosing a good platform on which to launch a business is not as simple as we would believe. Hopefully, this comparison of PrestaShop vs WooCommerce in many respects will provide you with the information you need.
Related articles:
Prestashop vs Shopify: quick comparison and FAQs
Prestashop reviews 2021: What is Prestashop and Its main features
Best Prestashop hosting providers for your online store. How to choose the right hosting for Prestashop?