If you are considering various eCommerce platforms, Prestashop vs Shopify might be the two options that you put on the scale. Since these two eCommerce platforms are popular and come with many features, including both similarities and differences, different sort of users or businesses need to seriously consider. You might easily find rich soures of information regarding of Prestashop and Shopify features out there. However, in this blog, we will provide you with quick and brief comparison between Prestashop and Shopify and go over frequently asked questions regarding these platforms. Then you can find out Which is better Prestashop vs Shopify? or Which solution better suits your business?
To have comprehensive knowledge about Prestashop, you can read Prestashop reviews 2021: What is Prestashop and Its main features beforehand.
Now, let's explore Shopify and Prestashop!
I. Overview of Prestashop vs Shopify
1. Prestashop
Prestashop is an open source platforms that requires users to have a little bit knowledge about coding or HTML. But you don't need to worry much as the knowledge to use Prestashop is not too advanced and you can find the information you need in the Prestashop forums. It is well-known for its high levels of customization and personalization to give users the full control of their online store. Moreover, Prestashop comes with a wide ranges of pre-made Prestashop modules and addons to scale up your online store's functionalities. Currently, Prestashop is used by almost 330,000 online store owners.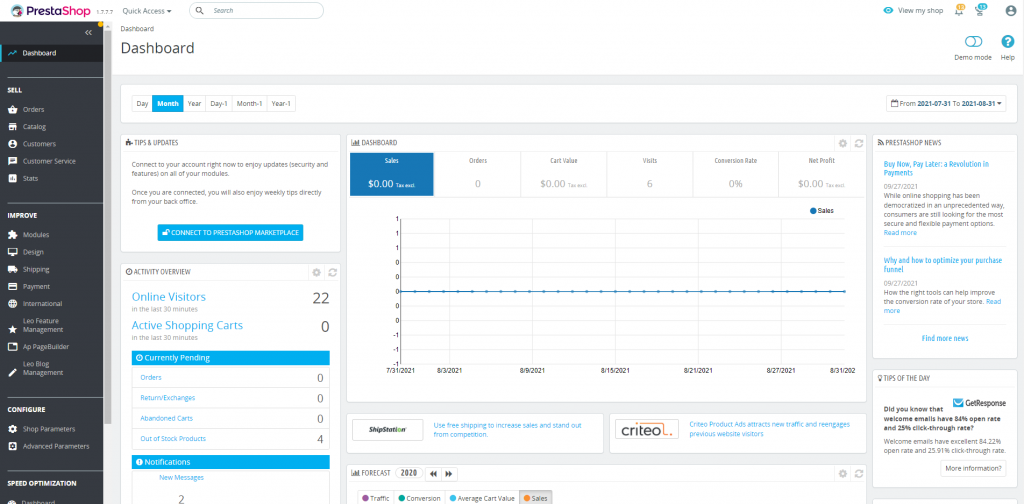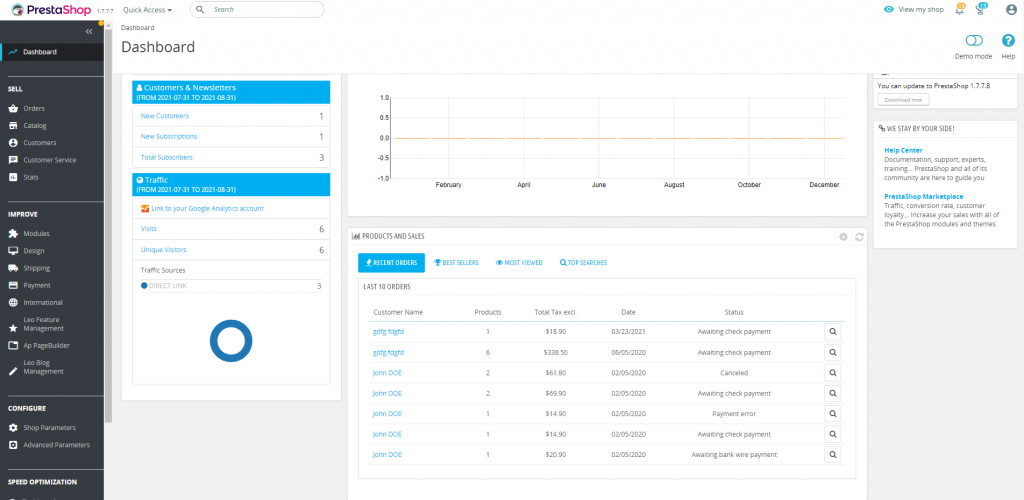 To have comprehensive knowledge about Prestashop, you can read Prestashop reviews 2021: What is Prestashop and Its main features
2. Shopify
Shopify is a hosted platform designed for users who don't have any background in setting up or running an online store. What strikes most about Shopify is its clean and linear interface that is really easy to use and set up. This is propably the reason that Shopify is the choice of almost 3 million users, which is impressive.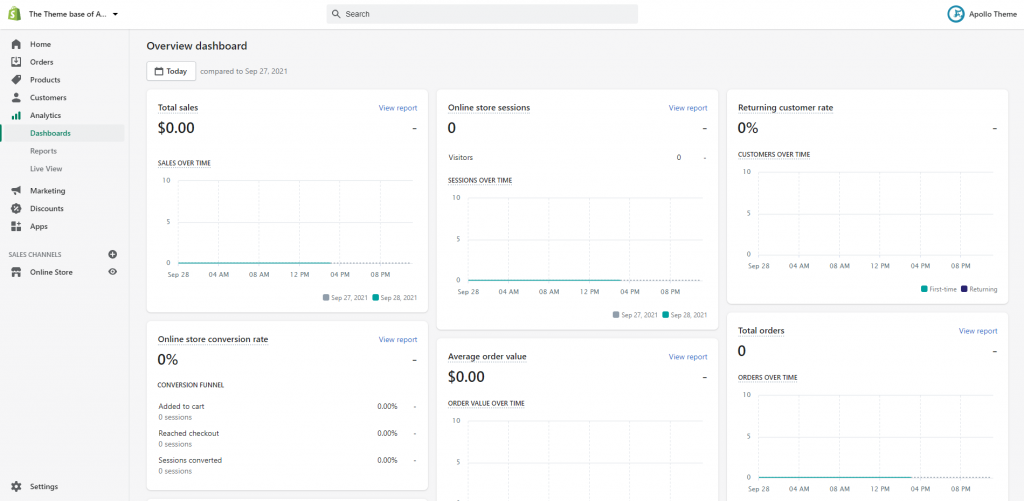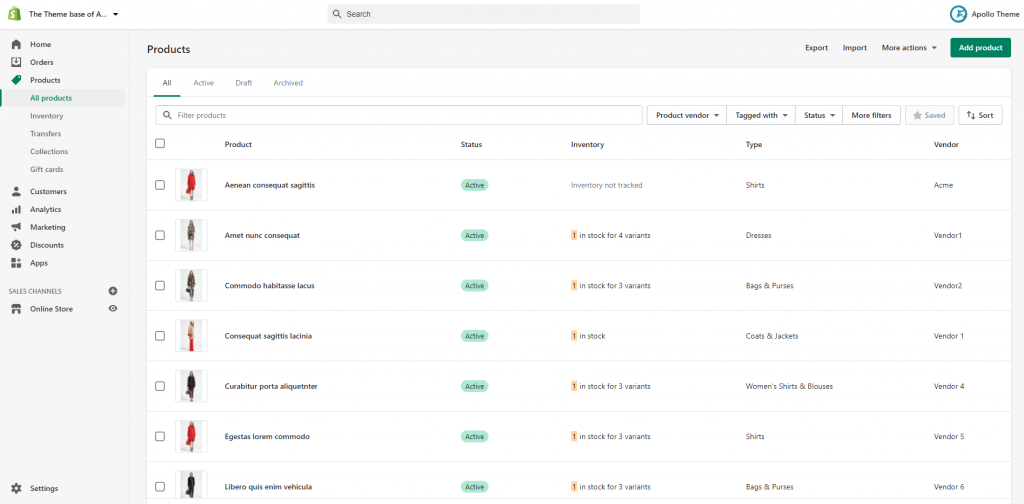 II. Prestashop vs Shopify Comparison
Since both two platforms are so popular, they share some similar and different eCommerce features. The comparison table below will summarize key characteristics that you all care about when choosing a platform for your online store.
| | | | |
| --- | --- | --- | --- |
| No. | Features | Prestashop | Shopify |
| 1 | Pricing | Free download and install on a private hosting, no monthly fees | Subscription plan free from $29 to $299/month |
| 2 | Commission per sale | No commissions on each sale | Commissions from 0,5 to 2% |
| 3 | Theme design | 2,500+ themes | 260 templates |
| 4 | Modules/Add-ons | 4,000+ modules (paid and free) | 4,000+ modules (paid and free) |
| 5 | Customizability | can access to core file | no access to core file |
| 6 | User-friendliness | user-friendly, need some coding knowledge to make the website changes | user-friendly, clear dashboard, no coding knowledge needed |
| 7 | SEO | SEO-friendly website and easy to edit | weak SEO (required paid module installation) |
| 8 | Multiple languages | 75+ languages in backoffice | 21 languages in backoffice |
| 9 | Multi-store management | Yes | No (require paid module installation) |
| 10 | Marketplace | Yes | Yes |
It's apparent that each platform has its own strengths and weeknesses, and both have amazing features for users to open an online store. So for whatever platform you go for, you can't completely wrong. Just pick up the platform that meets your highest priority requirements and fits your online store.
III. Shopify and Shopify FAQs
1. Is Shopify free?
No. you will need to pay for Shopify pricing plan monthly. Depending on the Shopify pricing plan, you will have to pay from $29 to $299. Currently, Shopify provides 3 plans namely Basic Shopify, Shopify, and Advanced Shopify.
One thing to keep in mind about Shopify pricing is all payment gates require transaction free. It costs you from 0.5-2 % revenue depending on the Shopify monthly plan.
2. Is Prestashop really free?
Yes. Prestashop is 100% free. No monthy fee
3. Who uses Prestashop?
Prestashop is most often used by small and medium business.
4. Is Prestashop easy to learn?
Although Prestashop's setting up is quite complex at first, its beginner-friendly interface is suit even non-technical users. You just need a while to understand what each part of admin interface does.
5. Which is better Prestashop vs Shopify?
If you want a predictable, easy-to-use and zero-code requirement platform, Shopify is a better option. But if you want a highly-customizable platform with ability of selling internationally, Prestashop is your right option.
Related articles
Prestashop reviews 2021: What is Prestashop and Its main features
Top 4+ Books and Stationery Prestashop Themes 1.7| Perfect Book club and Office supplies store
15+ Best Men's Fashion Prestashop Themes 1.7 | Men's clothing & Accessory online store
Best Wedding Prestashop Themes Free & Premium| Beautiful Bridal Fashion & Accessories Store
Top 30+ Best Prestashop Themes 2018 – 2019 | Free & Premium
20+ Best Bootstrap PrestaShop Themes For Ecommerce & Creative Websites in 2018
20+ Top Best Furniture PrestaShop Themes 2018 for Home Decor, Interior Furniture & Manufacture Store