Update Feature – Hide and Show  Group, Column, Widget in Desktop, Tablet, Mobile in Ap Page builder Module version 2.3
I. Update Ap Page builder Module 2.3: Enable Group, Column, Widget on Desktop, Tablet, Mobile 
In the previous versions, to hide a Group, Column, Widget in screens like desktop, tablet, mobile, you have to add class or use code CSS.
Update Ap Pagebuilder Prestashop Module version 2.2.8
Create Mobile theme and Tablet theme on Prestashop – Ap Pagebuilder Module
New Updates Ap Page Builder Module version 2.2.7
Now,  the new update feature's added in the editing section for the profile of our Ap Page builder module. You can easily hide or show a Column, Group, or Widget on devices just by one click.
To experience the new feature, firstly you need to download the latest version 2.3 of Ap Page builder Module
Now, you access the BackOffice, go to Ap Pagebuilder and Ap Profiles Manage

You are in Ap Profiles Manage, Click on View to edit profile.
In each  Group, column, widget, there will be icons for desktop, tablet, mobile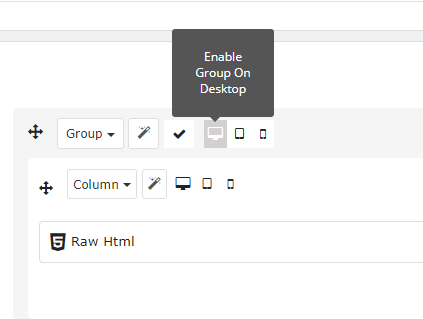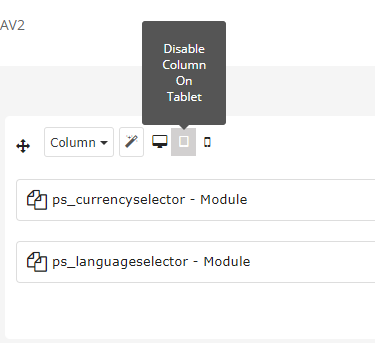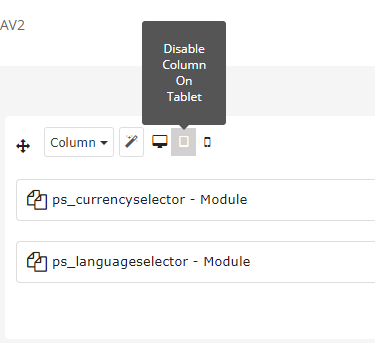 You can hide icons just by a click 

II. Advantages of the feature update Ap Pagebuilder Module 2.3 Enable Group, Column, Widget 
Compare to the previous versions, this updated version of the Ap Page builder Module 2.3 brings a lot of advantages for users. Apart from you do not have to use Class  and CSS to hide Group, Column, Widget, you can get benefits as to mention:
Easily manipulate without knowledge of CSS Code
When you hide Group, Column, Widget by this feature, all HTML structure of Group, Column, Widget will be removed in Frontend, which helps to optimize your website speed
Easily customize your website interface on Desktop, Tablet, Mobile
We hope this update feature of Ap Page builder Module version 2.3 will bring you more convenience. We wish you success with Ap Page builder Module.