Apollo Shopify Framework 5.0 is available! – Latest Shopify Framework to build a powerful Shopify website.
We are so excited to announce Apollo Shopify Framework 5.0 – the latest updated Framework version for Shopify, is now officially available!
It's been years since we launched the previous version – Shopify Framework 4.0. After a long time of development, today, Apollo Shopify Framework 5.0 is officially released. We hope you enjoy using it.
In this version, we still keep the important features of Shopify Framework 4.0 in improving code quality and website performance with many outstanding features in order to provide customers with a better experience, manage their online shops easier, and also help to boost online sales effectively. Shopify Framework 5.0 will bring features for products on the product page to bring a better view toward products on your website, and encourage customers to buy more products in the collection. Now, let's go over the features of Apollo Shopify Framework 5.0
I. The most powerful Apollo Shopify Framework 5.0 to build Shopify website
1. Apollo Framework 5.0 remains features of the previous version 4.0
As we know, Apollo Framework 4.0 was built with numerous unique features on the most recent versions of Shopify and Bootstrap 4.3.1. Many new technologies were used to improve page loading speed as well as your customer experience. This was not only a premium Shopify theme but also a powerful design tool that allows you to create expensive websites without having to spend a lot of money on design. It is the ideal solution for your existing or future Shopify stores. It includes all of the tools and functions required to create responsive web pages with excellent UX/UI and special features (without installing Apps). Those features have remained to Framework version 5.0.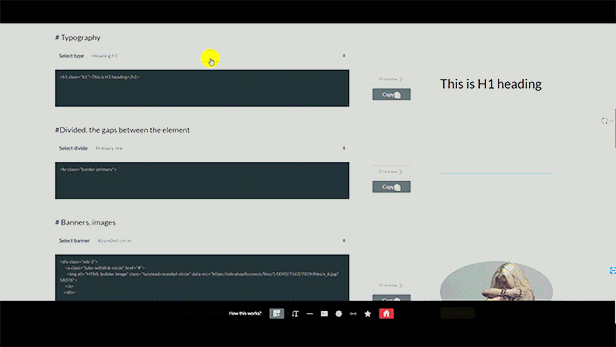 Operating on Bootstrap 5, the HTML builder is a powerful tool for creating content. We created it for developers, entrepreneurs, and shop owners can also use them, you just need a basic knowledge of HTML. This tool is in version 1.08 and we will update it constantly, to help you have more options for presenting the content to customers. It is not limited to the ability, which depends entirely on your creativity. Watch the video to know more.
We offer a free version so customers can experience the product before buying. This version will have a limited number of functions and support compared to the official paid version.
Please click this link to download free Shopify theme!
#Metafield integrated
The theme has been integrated with Metafields, so you won't need to install 3rd party apps to use the theme. You can easily edit your theme in Theme settings. We use Metafields for most of the objects in the store: products, collections, pages, blogs, etc. In the near future, there will be many more new features based on Metafields that will be updated to the owner.
#Shopify section ready, Drag & drop
The section launched by Shopify in late 2016, helps store owners easily customize the store's look with drag & drop. In the Apollo Framework 5.0, with the latest version of Shopify, our developer has made even simpler and friendlier customizations that you can customize and reposition for most objects in the theme.
#Multiple fonts for choosing
Include: Shopify's font library, Google's font library, Typography options
Apollo Framework 5.0 uses 3 available font libraries, Shopify font (250+ fonts), Google font (900+ fonts), and Additional user fonts. With simple settings, you can easily and quickly choose the best fonts for your store. In addition, all text content in the theme can easily be customized with the corresponding CSS class.
#SVG icon, Icomoon Icon with 80+ pre-made icons
This Framework uses the font icon as SVG code to avoid the use of heavy and unnecessary libraries. You can easily download, copy SVG code from sites like Flaticon, Icomoon, Font Awesome, … and many other font libraries. In addition, our development team has created and built a separate Icon library with some icons for you to use, they are fully listed on the HTML builder page, you just need to click to copy code.
#100+ pre-designed pages
In Ap 2020, all pages are designed based on the Shopify section, with drag and drop support, you can easily add, edit, and delete content without knowledge of code. In addition, for developers, with the built-in HTML builder tool, you can quickly generate HTML snippets to use and customize them.
#1200+ theme options
It has a lot of configurations in the theme, which you can easily customize, you can be creative to create new layouts. The ability to customize the theme is very powerful, requires absolutely no knowledge of the code.
#Great site performance
»Mobile optimized, Google Rich Snippet Tool, SEO optimized, Lazyload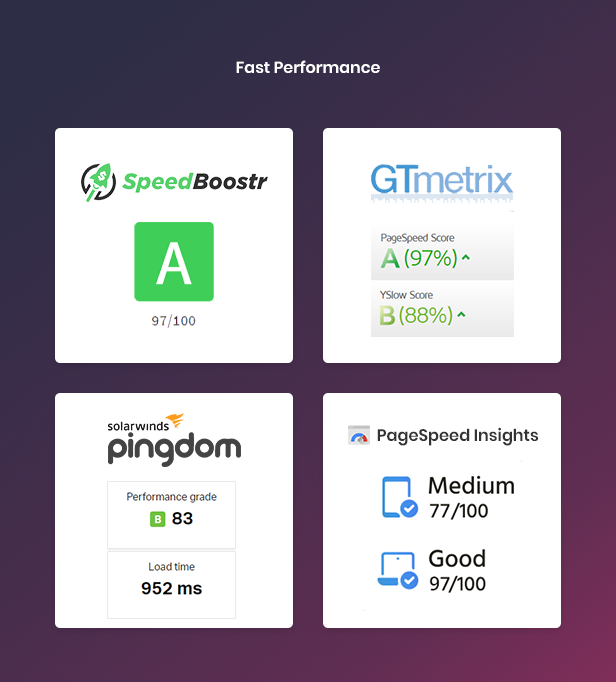 This Framework 5.0  is not only a highly customizable theme, it also passes all tests of speed as well as performance (performance) with very high scores. These are true parameters for the demo store without any intervention, so your store can absolutely achieve the same score, even higher. Along with compressing all CSS and javascript code, Lazyload technology integrated in Ap 2020 is to delay the loading of images before customers scroll to them, help to speed up website loading, and neither do you. You need to compress the images before uploading them. In addition, the topic is also optimized for SEO
You can click below to test:
#Perfect retina design
»Fully responsive, Mobile-first design, Multi-Purpose Design, Cross-browser compatibility
It is designed to be responsive on all devices (desktop, mobile, tablet) and most different browsers: IE (11+), Chrome, Firefox, Opera, Edge, Safari, …
At the time of launch, we have addressed all issues detected on different browsers.
#Unique featured in Apollo Shopify Framework 5.0
The powerful unique function without installing any other application.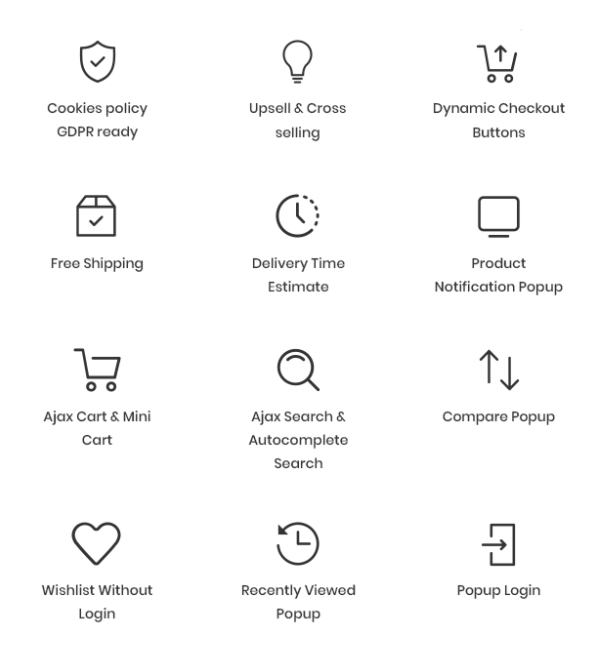 » 360-degree preview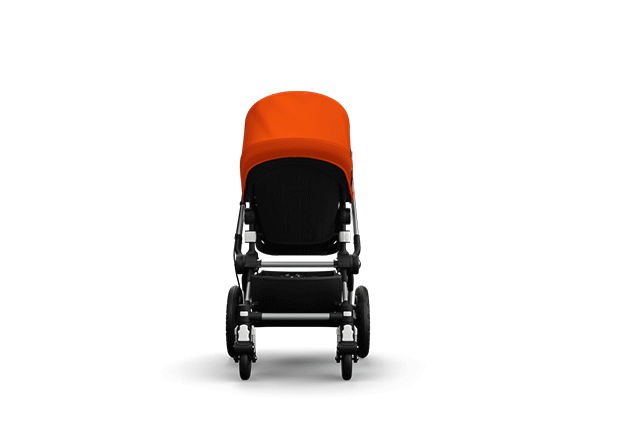 »Cookies policy – GDPR ready
The 2016/679 General Data Protection Regulation is a provision of EU law regarding data protection and privacy rights for all individuals in the European Union and the European Economic Area. This function is already integrated into the theme without using 3rd party applications.
»Upsell popup 
Suggest (recommend) customers to buy more products together with other existing products when customers access the page to get discounts (incentives, offer). If the customer clicks "Agree", the proposed product is automatically added to the shopping cart, you can customize the Upsell product as well as the message displayed on the popup. The theme supports showing 1 unique Upsell product on each product page.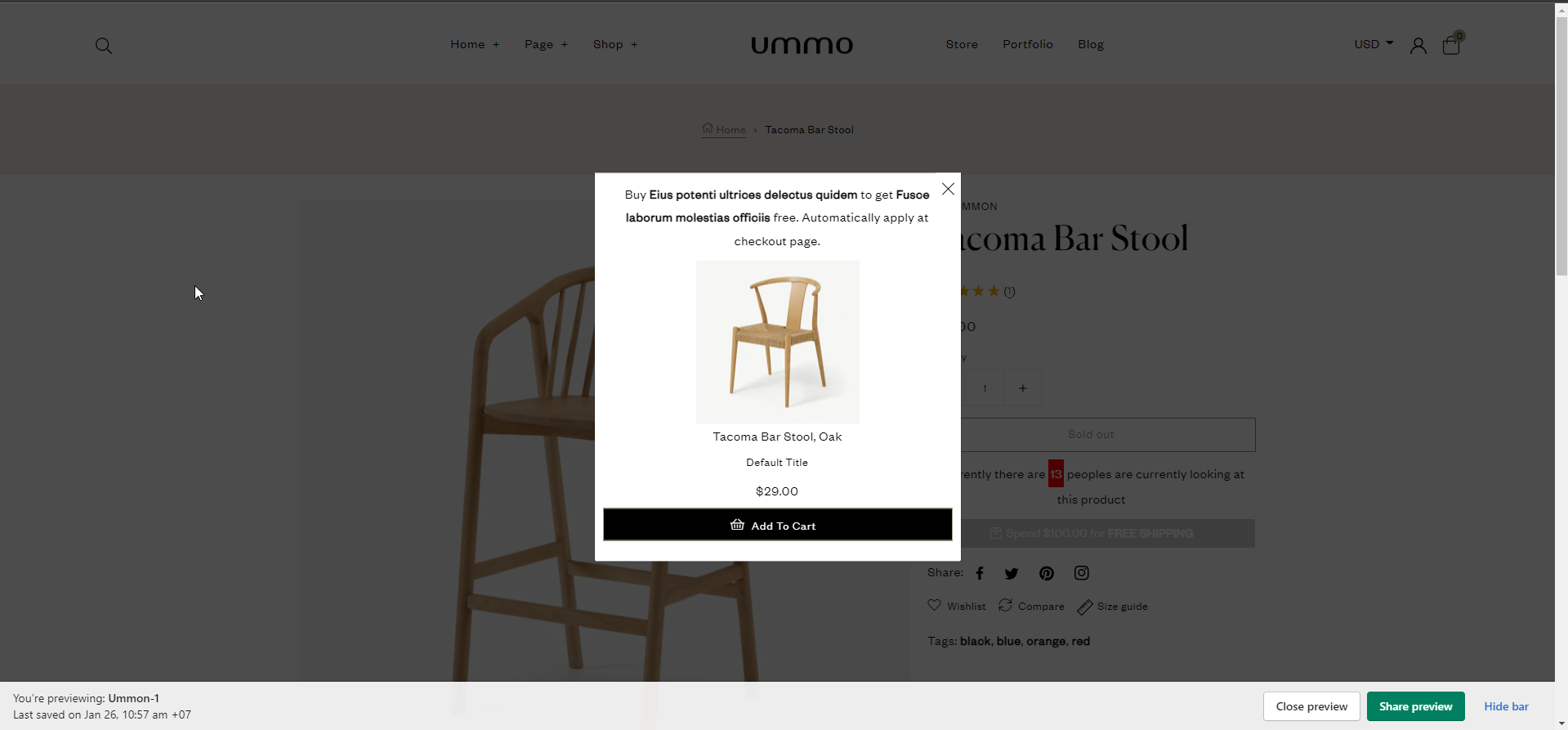 »Cross-selling
Suggest (recommend) more products when customers buy a certain product. The recommended products will appear different for each product, depending on your settings. The theme supports displaying up to 6 cross-selling products per product page.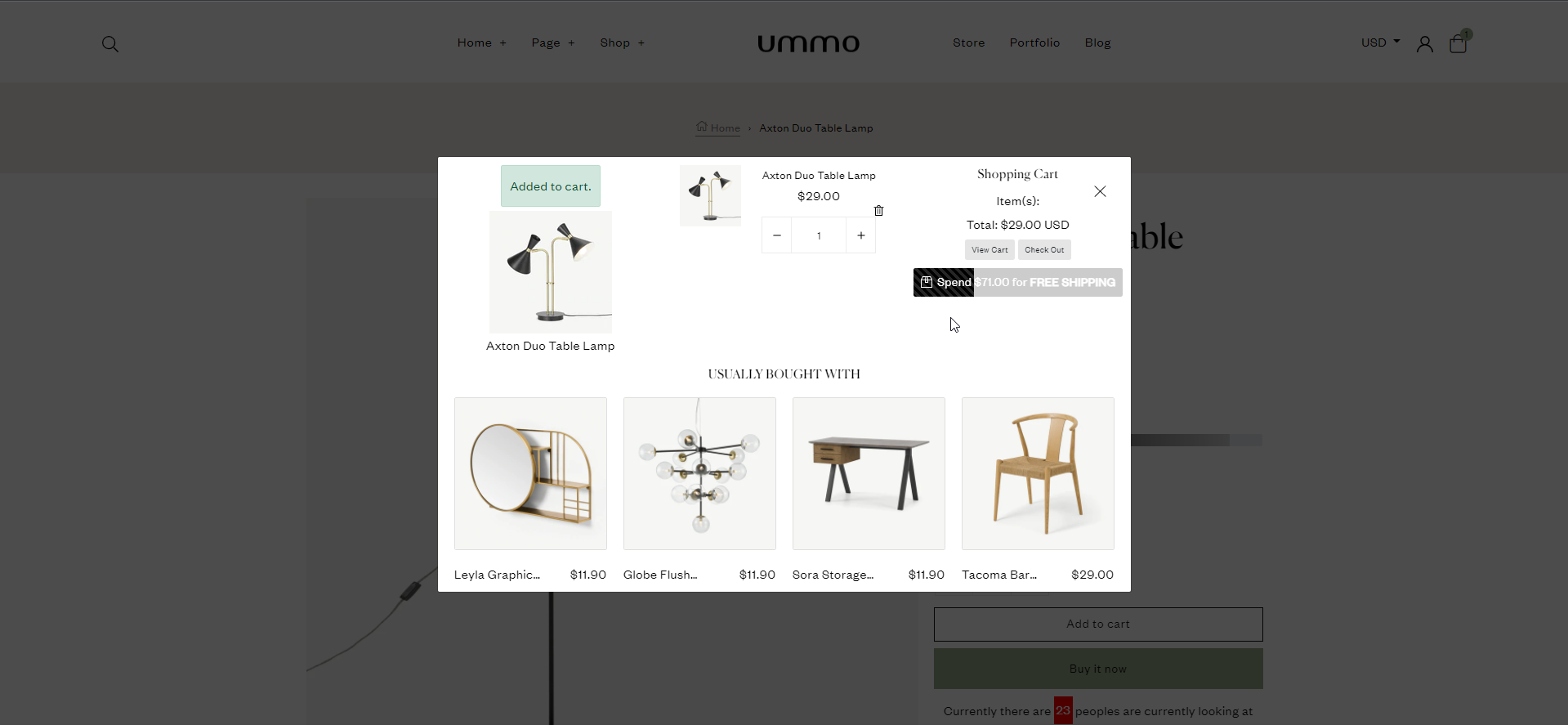 »Free shipping
You will need to set a minimum order value for customers to receive "free shipping". When the customer buys enough money, a notice will be displayed.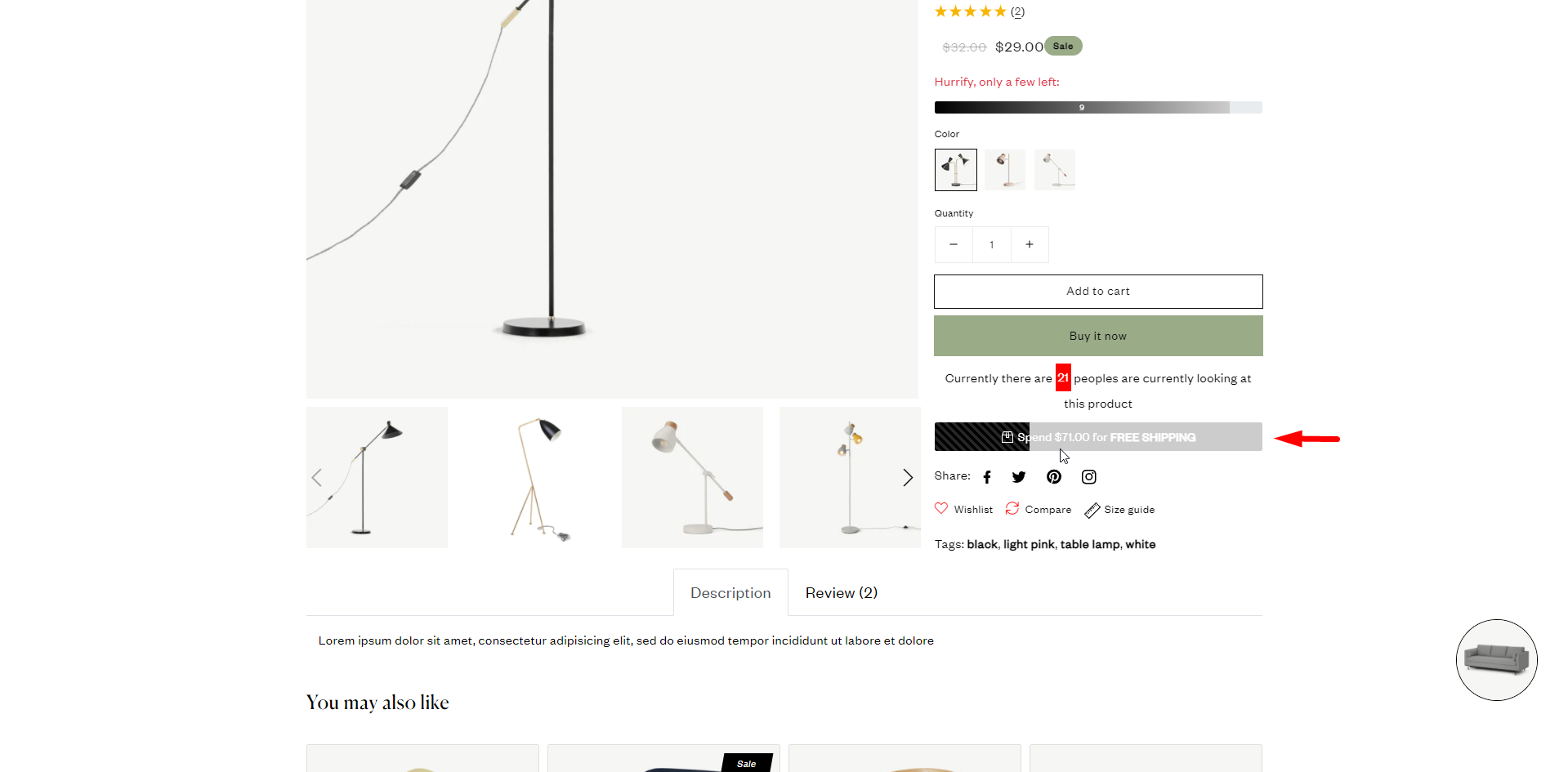 »Product notification sold popup
Display of products purchased by customers on the store, the number of products displayed is unlimited.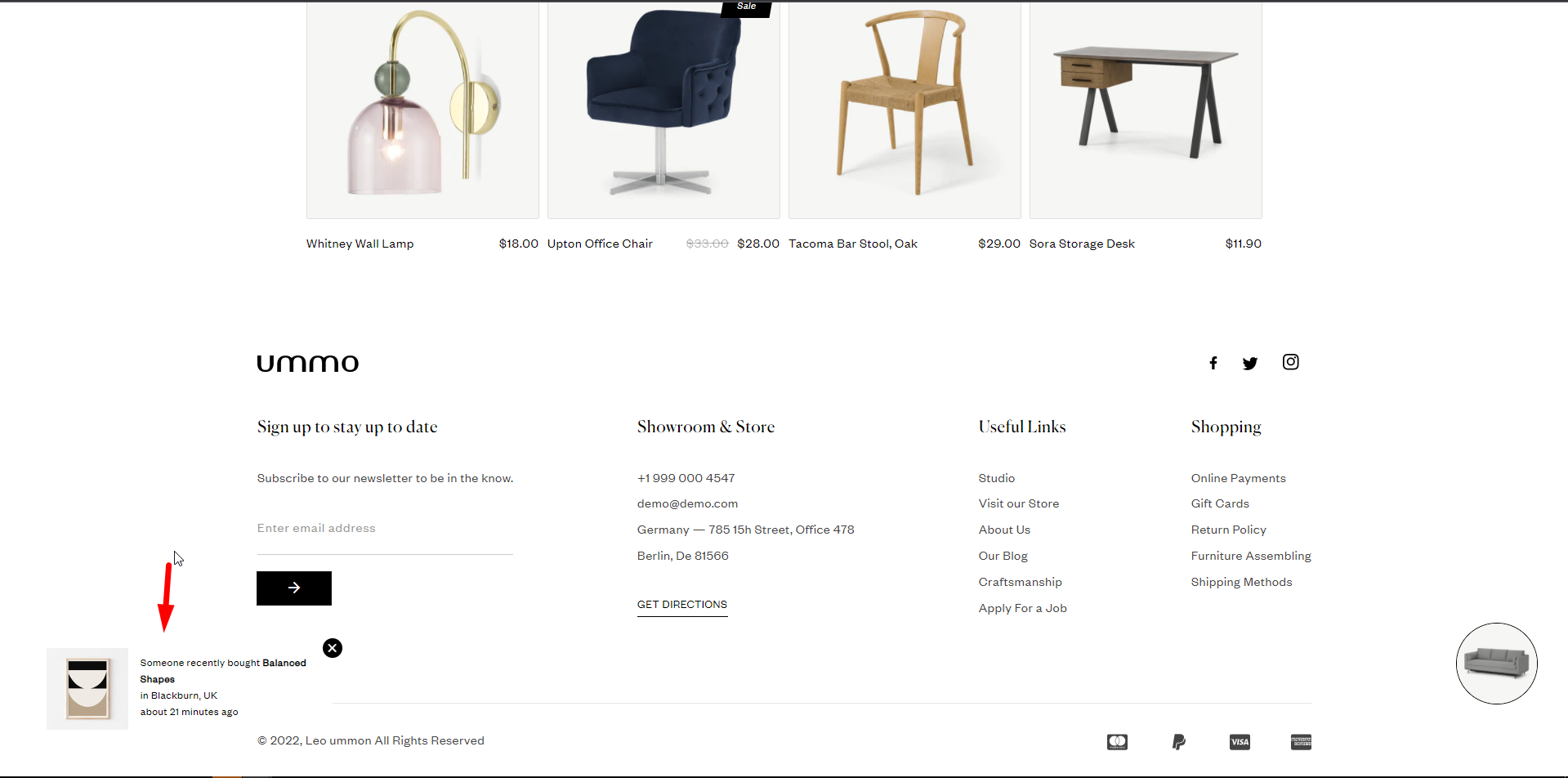 »Ajax cart, Mini cart
Search suggestions for products based on Ajax. Products will appear when they contain the search terms that appear in product tags, product descriptions, or in any product text.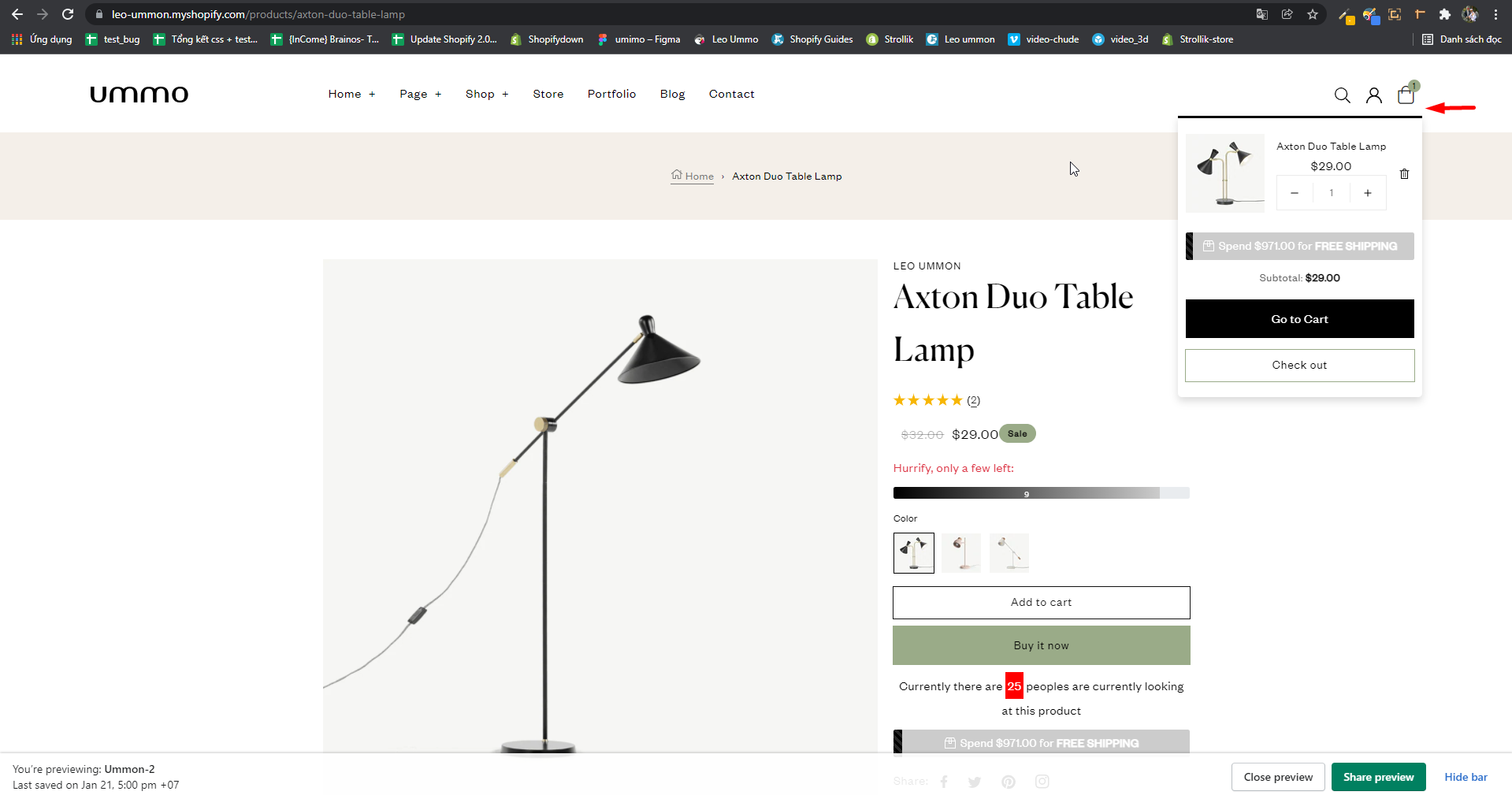 »Ajax search, Autocomplete search
Search suggestions for products based on Ajax. Products will appear when they contain the search terms that appear in product tags, product descriptions, or in any product text.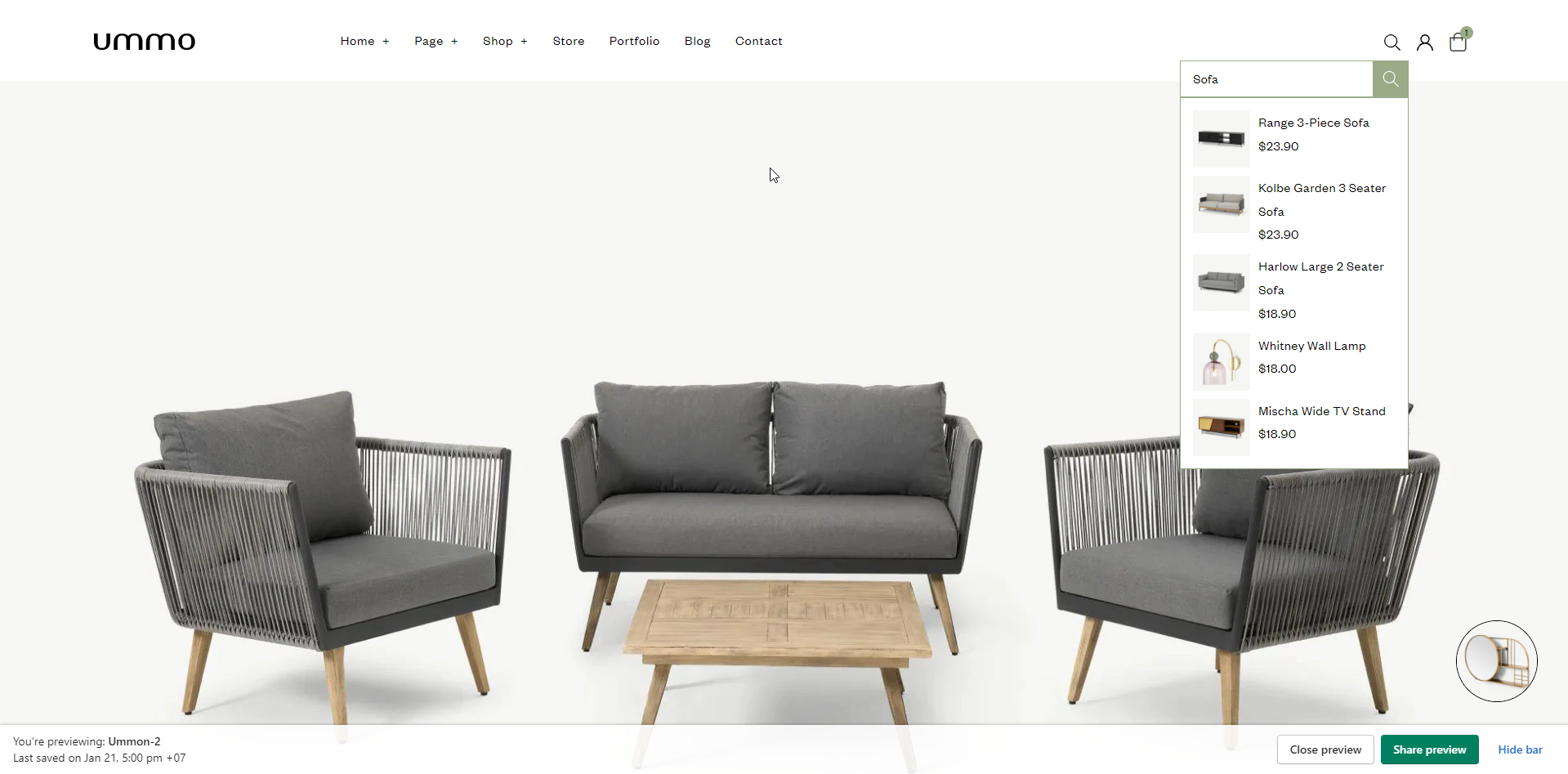 »Compare page
Compare products, Show on the desired list page.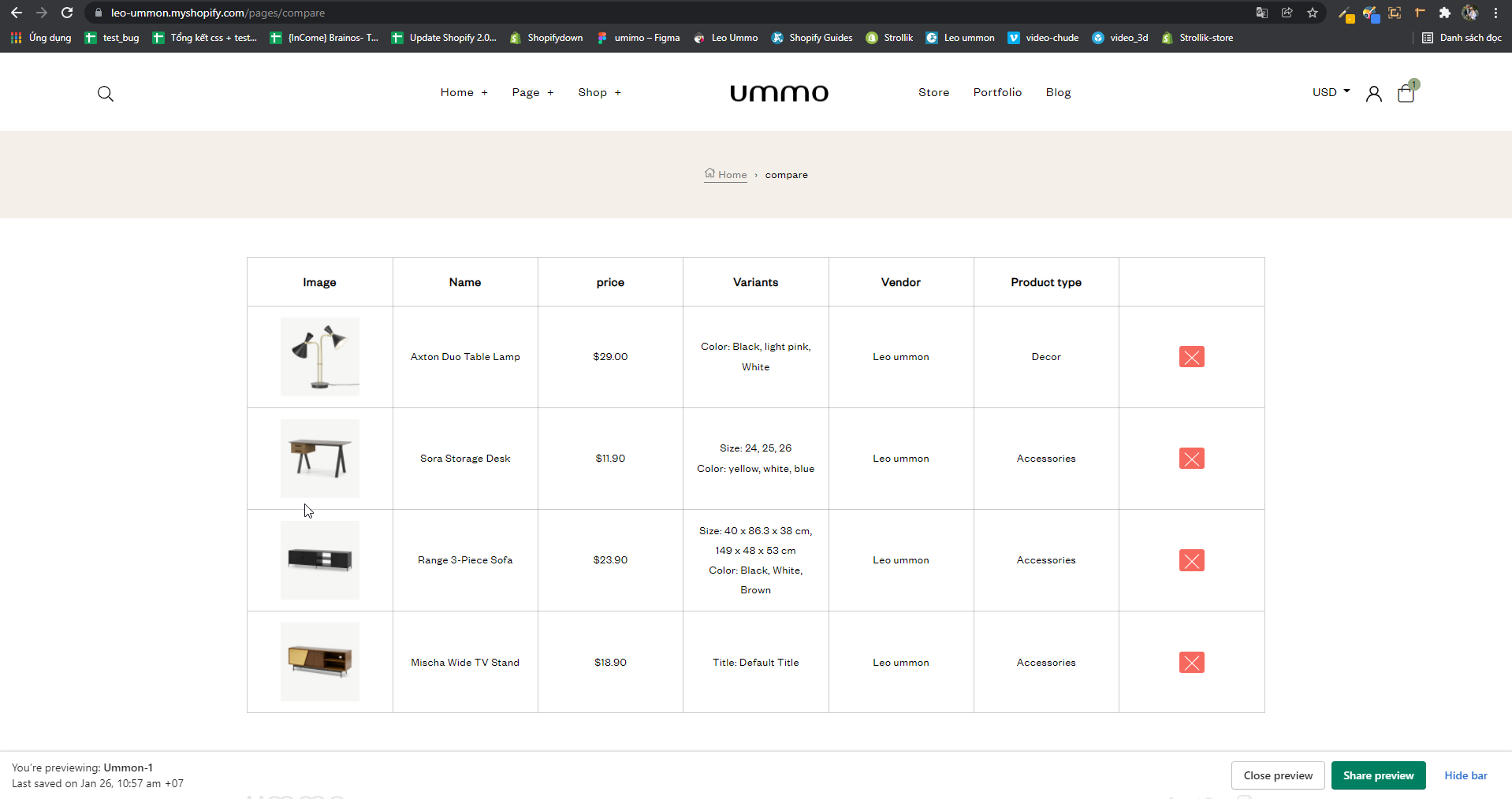 »Wishlist without login
The wishlist function works based on the browser cookies. Light, fast operation regardless of the number of products in your store. In addition, customers do not need to create an account or log in to use it.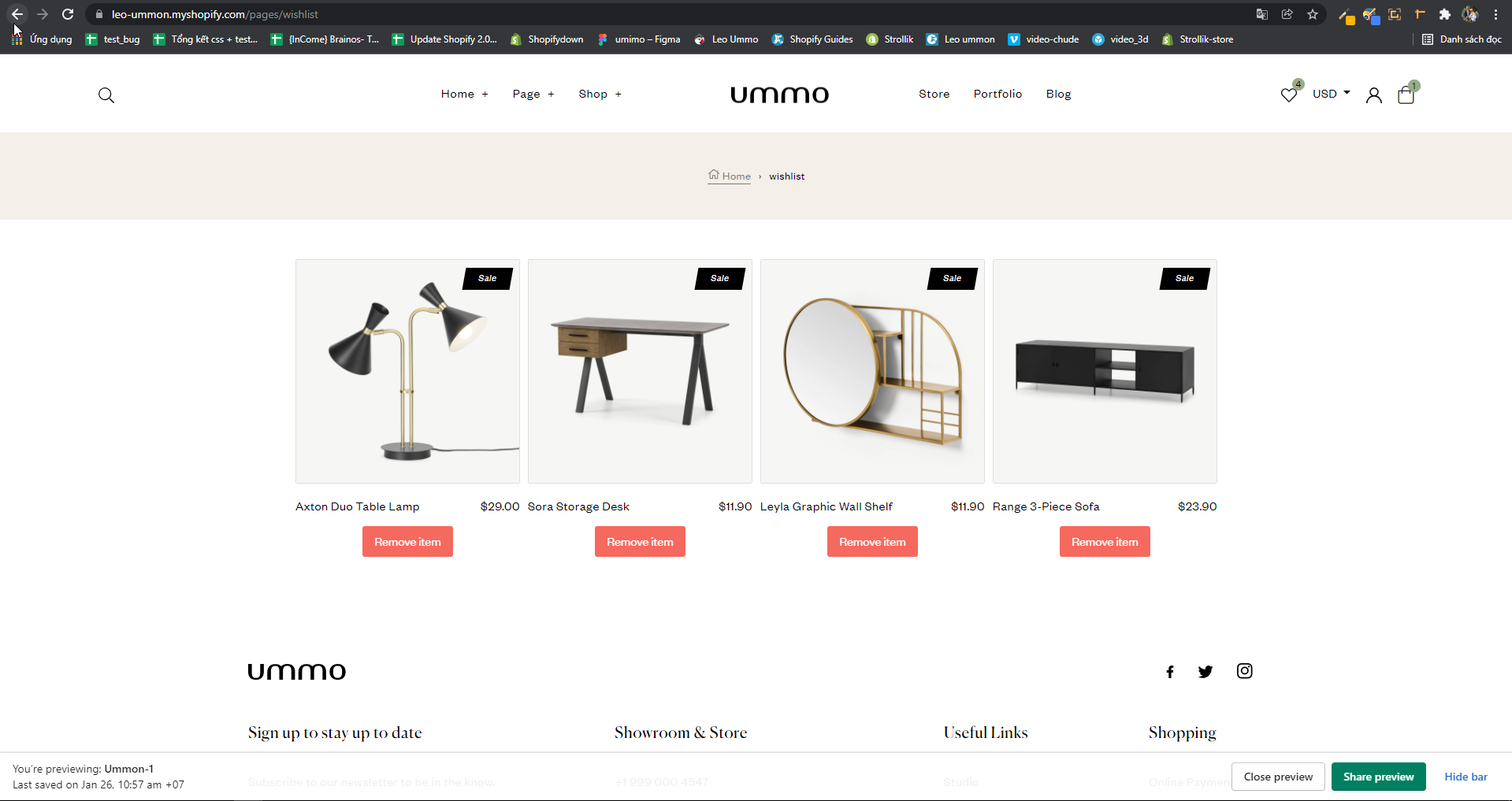 »Recently viewed popup
The "Recently viewed product" section is designed as a popup with a thumbnail of the product icon appearing at the bottom, the right side of the website on all pages of your store, it helps customers to easily review their recent product with just one click.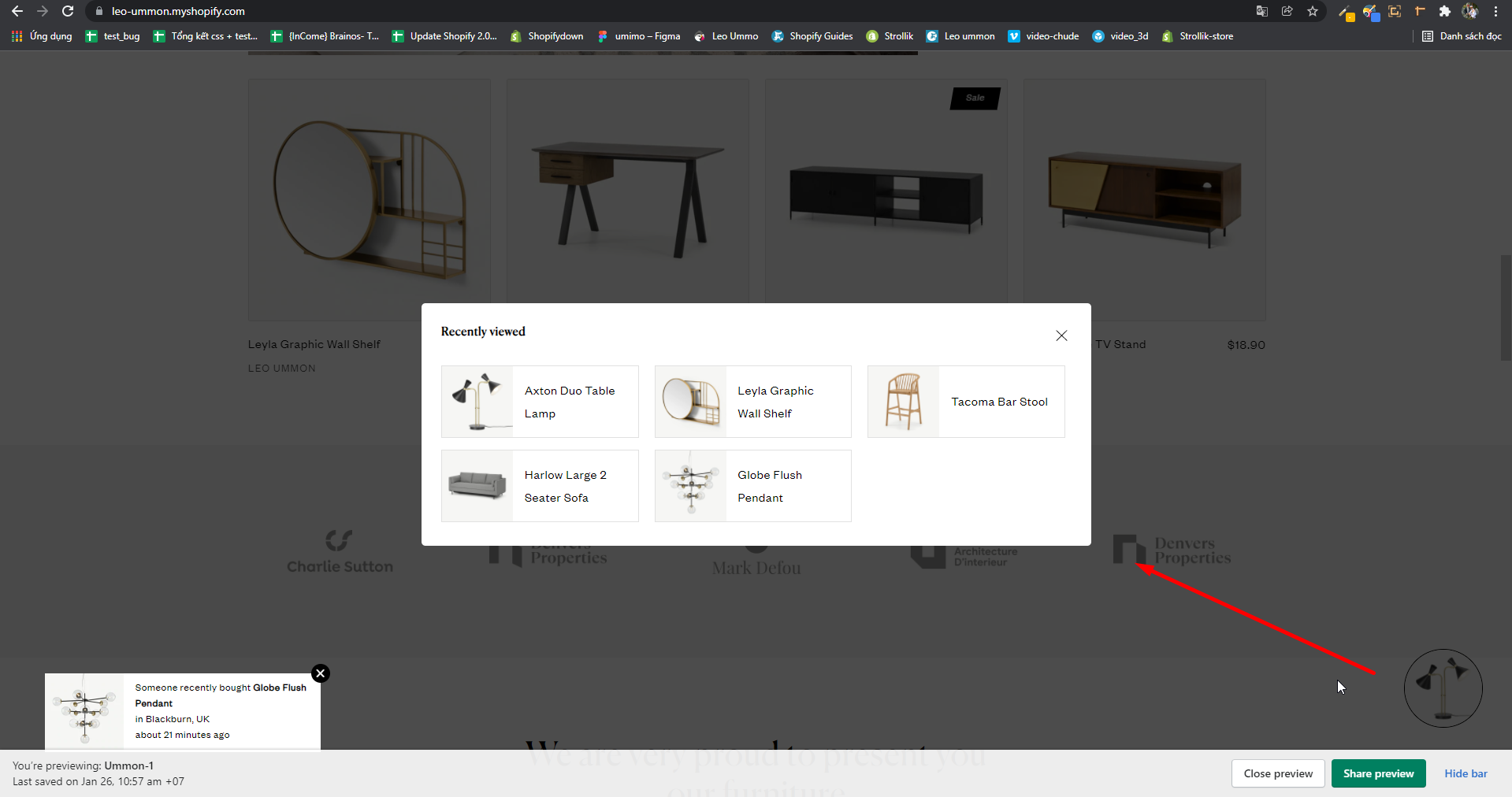 »Login Page
Your customers can easily log in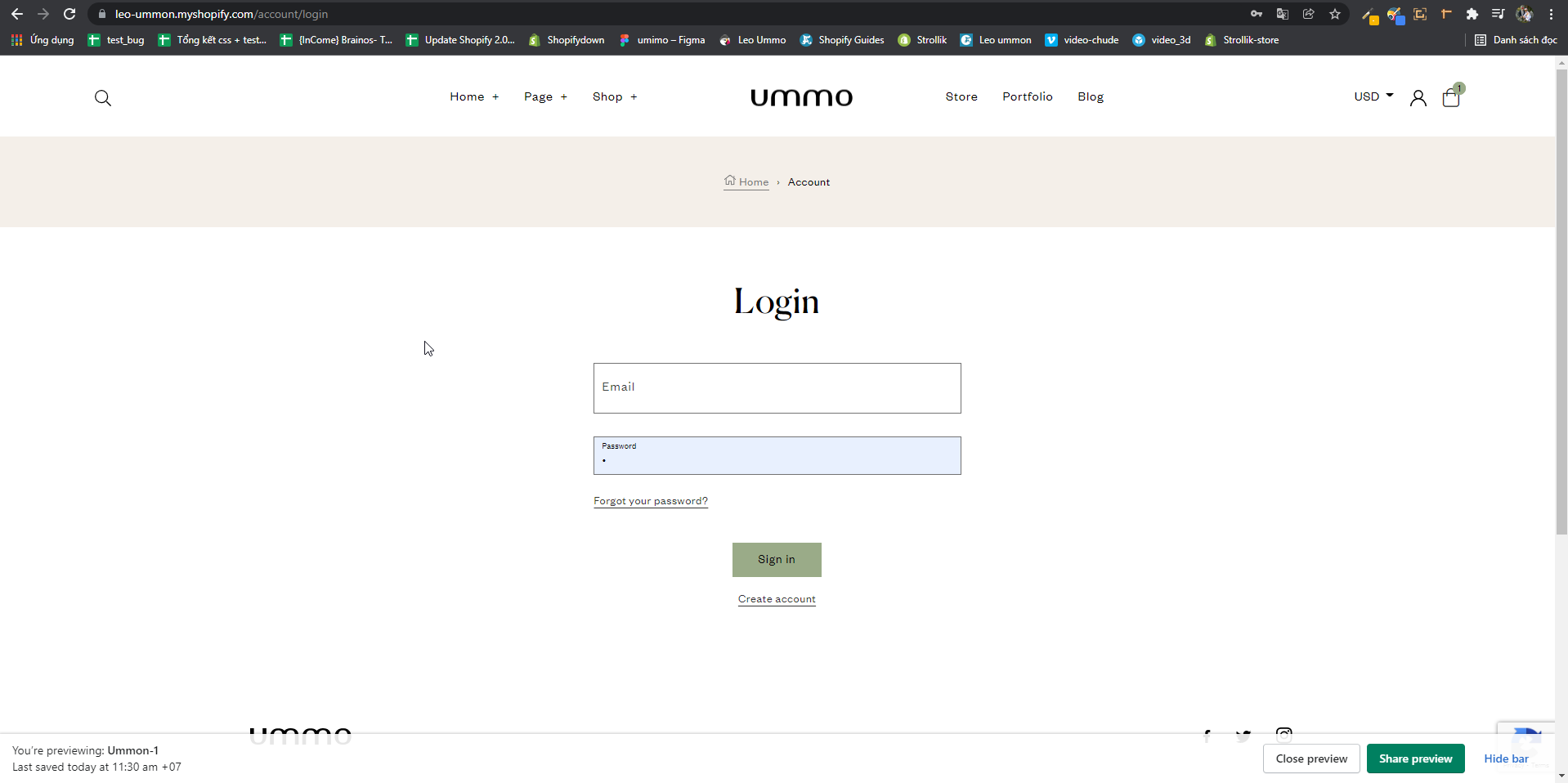 2. New features on Apollo Shopify Framework 5.0
Here comes the newly updated features on Apollo Shopify Framework 5.0:
»Coupon code
One of the most greatest features that you cannot find in other Shopify versions but Apollo Shopify Framework 5.0 is that you can add a coupon code for each collection (coupon code is displayed only when being set). When customers buy a product in the collection, the coupon code will be applied to the product as in setting.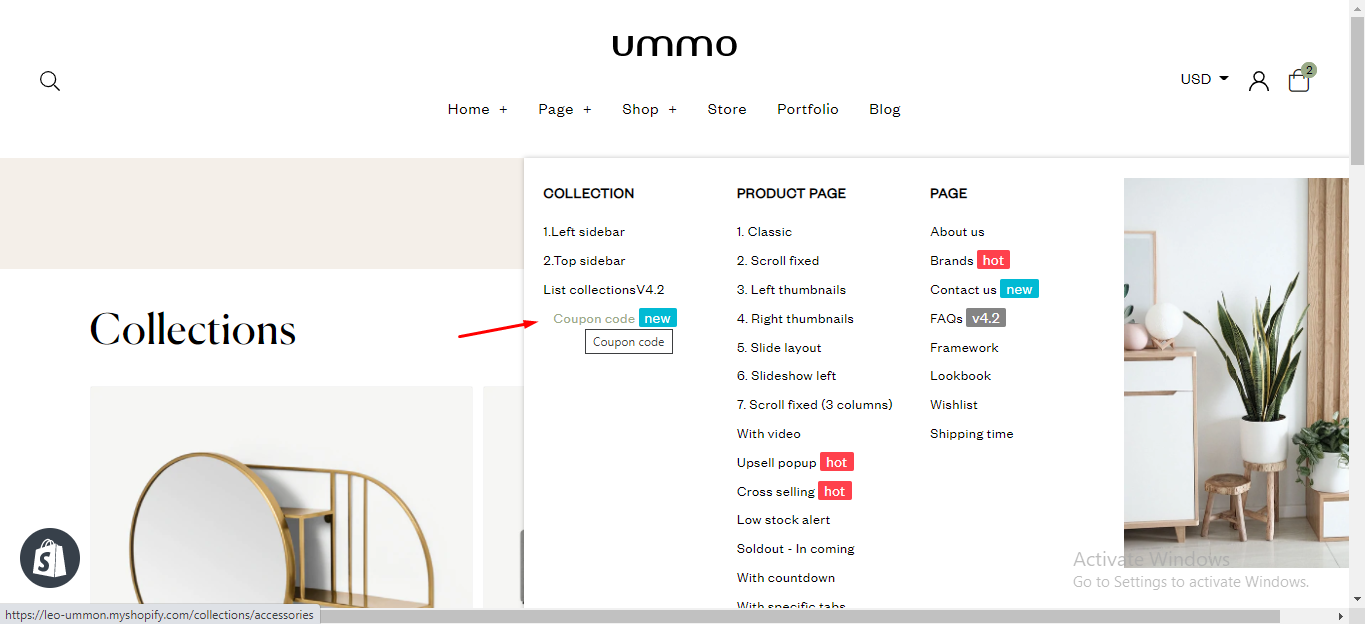 »Product tab
Product tabs are displayed on the product page when you want to add more information to your product.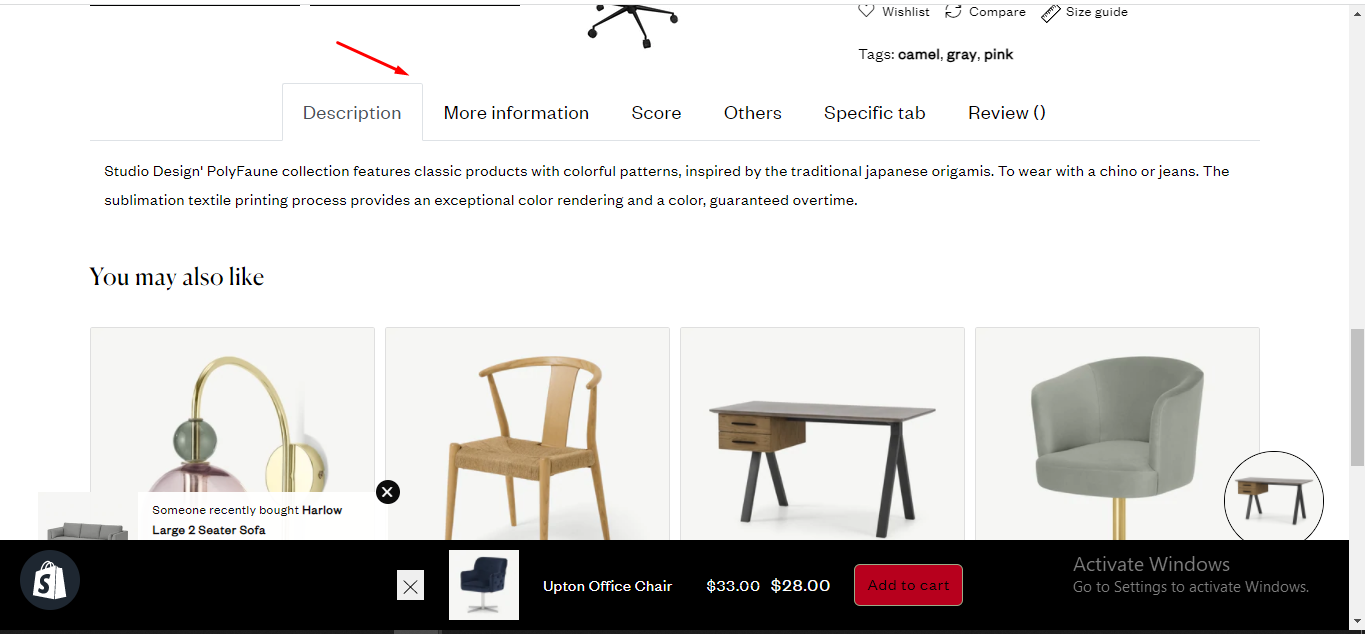 »Product-group
Product-group is displayed on the product page, which is to show related products in the same group. Customers can easily view and buy products in the same group.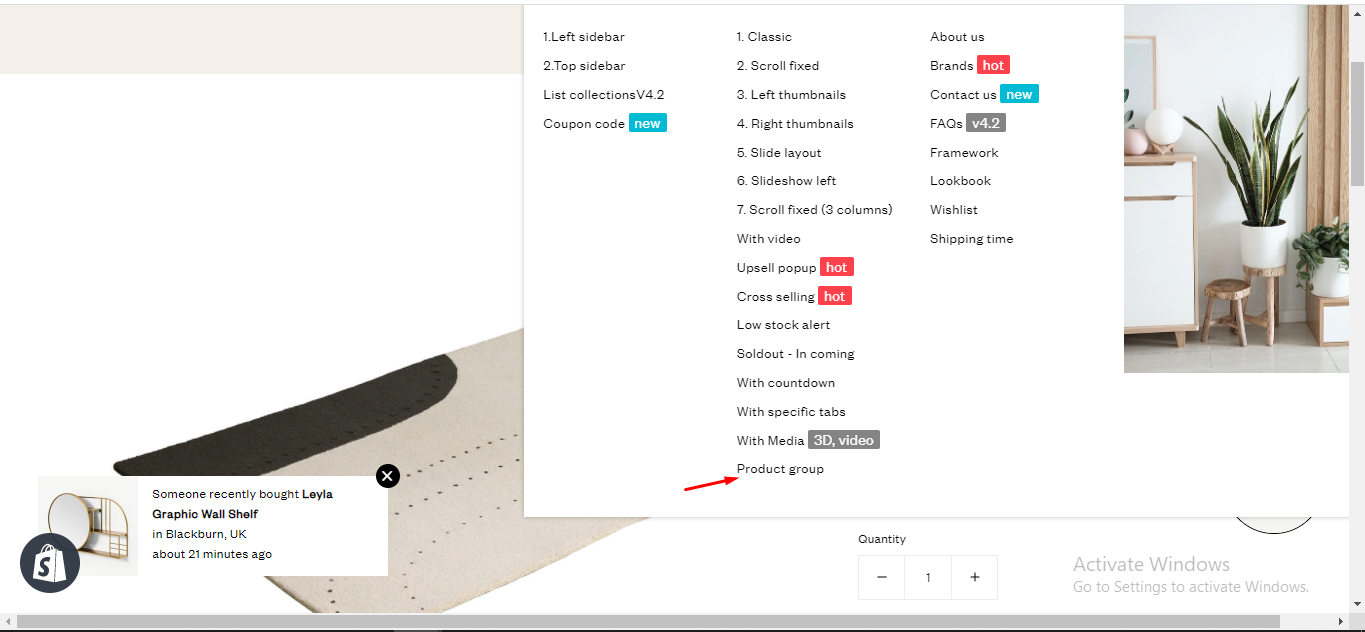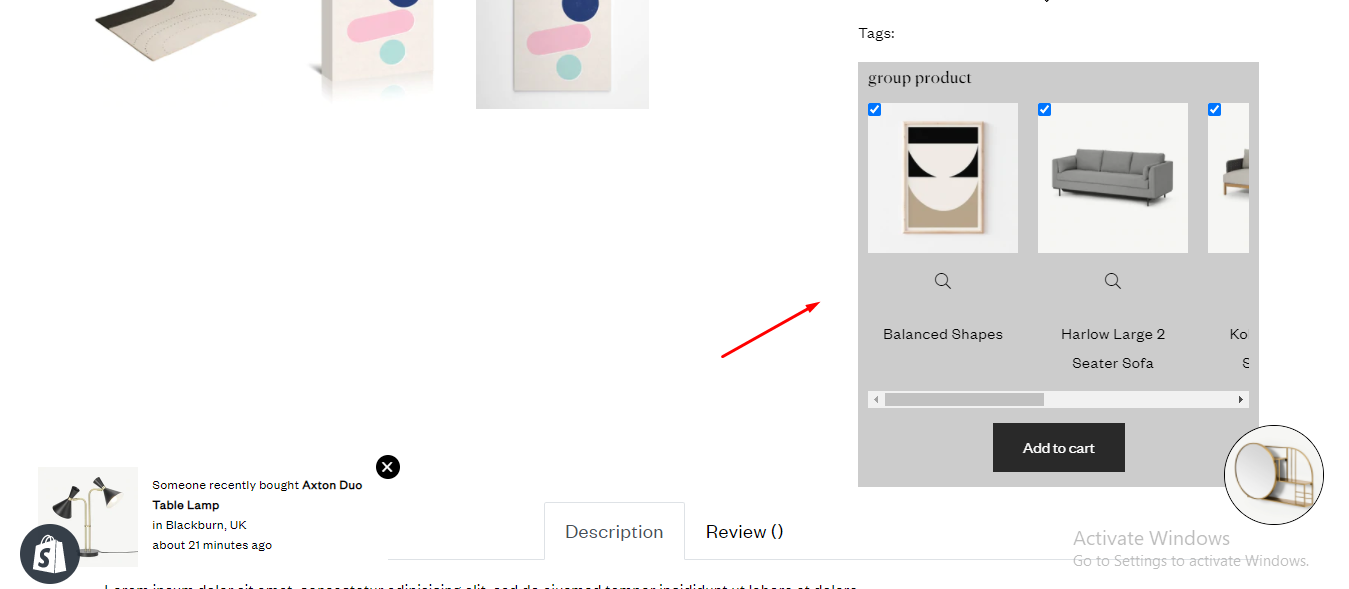 II. Why choose us?
Yes, Apollo Shopify framework 5.0 is still easy to use, manage and customize. A huge benefit & experience you can get at Apollo Framework 5.0 in Shopify
General Apollo Framework 5.0 Features and what we said is illustrated as below :
RTL and multiple languages support

Multiple currencies

Smart Megamenu

New, hot, sale labels

Localizations

Quickview

Newsletter

Popup newsletter

HTML5 video

, Product video, Youtube & Vimeo

Countdown timer

– Deal time

Google map

360 Degree Preview

Instagram, Social media, Social sharing

Promotion announcement bar

Sticky header

Transparent header

Promotional text on header

Isotope – Masonry with 2/3/4/5 columns

Slick carousel

Product list

Product tab

Testimonial

Team member

Timeline

Unlimited color options

Gradient color

Go to top button
»Collection Page
Ajax sorting

Ajax pagination

Ajax filter

Numerous product filters

Left sidebar

Top sidebar

Coupon code
»Product Page
Free shipping

Delivery time estimate

Fake viewer count

Dynamic Checkout Buttons

Previous/Next product navigation

Video to each product

Related products

Size chart

Low stock alert

Soldout alert

In coming alert

Waitlist popup

Affiliate product

Specific tabs with unique content

Scroll fixed (3 columns)

Product group
We hope those updates of Apollo Shopify Framework 5.0 will be a useful help for you in building a powerful Shopify website, managing your online trading effectively, attracting more customers, and bringing more utilities for you and your customers when shopping on site.
Thank you for reading this article. For any questions about our products and services, please shoot us an email at [email protected]. Helping you all is our great pleasure!