Web PrestaShop Templates and if you want in Marketplace theme then here is the best all PrestaShop theme. You already start an eCommerce store or if you want to start a fresh eCommerce website you can use both of them. Each website has its unique concepts and all have great features that are good to great stores.
Before we start anything just hope you know about prestaStashop. If you don't know then let me tell you something regarding PretaShop. PrestaShop is a ready made design for the start eCommerce website. PrestaShop is a freemium eCommerce solution. Meaning of Freemium is that PrestaShop provides free templates as well as cloud store templates like shopify, BigCommerce. It's called PrestaShop Ready.
If you want high quality website design then you can purchase any template from marketplace like Themeforest, TemplateMonster, Leo Theme, Webibazaar. All have great Ready Made PrestaShop themes plus trustable themes for your website.
Feature of PrestaShop Templates:
Complete Responsive Template – Theme is complete responsive and retina ready design. That looks perfect in every mobile design and every screen size. So people can easily purchase products from any device.
CMS Pages – You can easily create a CMS page.
Built in SEO Features – Yes, you can easily add any meta-keyword and meta-description and stand good position on Google search engine.
Complete Unlimited Products, Orders, Categories, Sub Categories – You can easily add any number of products and category and sub category.
Affiliate Program – Yes, you can refer to a friend and loyalty, wish-list in your website.
Other features also available like Edit templates, Some about built in real time analytics, Multi-Language, Multi-Currency, taxes, instant search many more..!!.
I think let's start with which are the best marketplace PrestaShop theme for your business. Here I mention a few links for you. You can visit each one and make a final decision for your store. Each has unique features related to design and features.
Well, do you know what is the meaning of Finnish Language word " Anoa " in Gujarati Language its Something about " Proof ". Yes, Theme is complete proof of trust, proof of prestashop, proof of Super Marketplace PretaShop theme. Anoa has a complete design of Clean and Professional looks with complete responsive theme and retina ready.
Leo Anoa Template is a complete store for multi vendor providers and they want to start a store with multiple vendor marketplace or supermarket. Leo Anoa template not only theme but it also mega menu, blog and complete functionality with editor and customization.
Great AP PrestaShop Marketplace module also you can include with Leo Anoa PrestaShop Templates. Its complete package for SuperMarket for selling food, electronics, fashion, everything as you wish.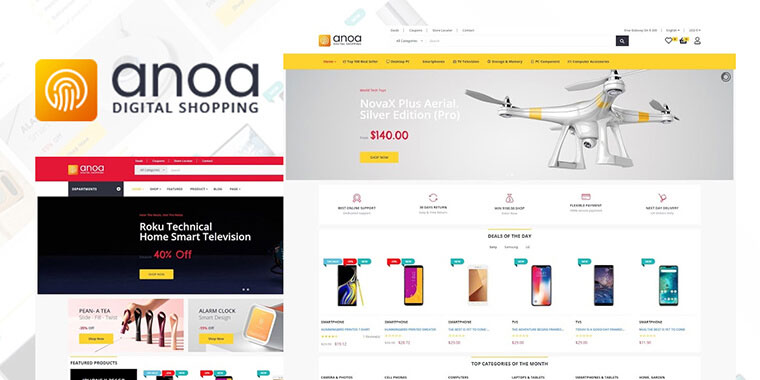 Leo Goldday it's a ready-made PrestaShop theme for hitech, digital, electronics, computer, multi store and many more..!!. Leo Goldday PrestaShop template is complete customized and attractive looks and fully responsive which means looks perfect on mobile device and every screen format.
Don't worry if you don't have knowledge of coding because it's a package of customized. The theme comes with products tab, trending products, product category and many others.
If I add some more theme comes with installation very easy and fast, complete documentation. Customers can easily connect with social networks like facebook, twitter, youtube and many others.!!.
Theme is totally customized from admin. Get started a multi store website with Leo Goldday.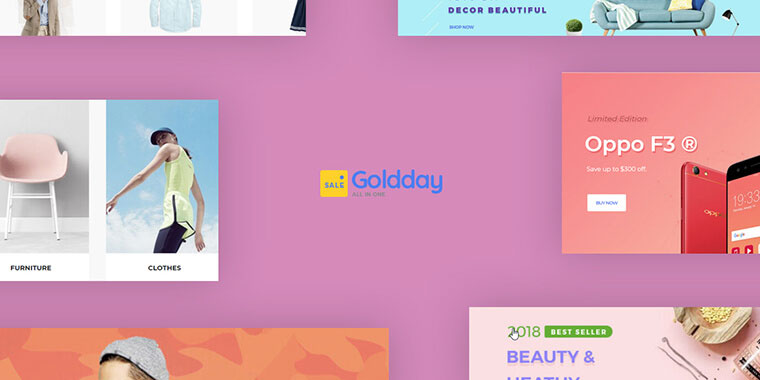 If you think about prestashop, if you think about electronics or computer prestashop theme then big  Market is best for your business. Big Market is complete full-width prestashop design included with 3 column design.  Left hand side logo looks pretty and great regarding color combination. The theme is included with a mega menu and also includes a slider with two banners.
The theme is also included with Trending Products, Featured Products, Best-Seller and many others like blog, Testimonial, Our Category. In the Left side bar you can also see one banner, new products, testimonial. The theme is also included with PSD Files, Custom fonts, colors, Ajax Cart, Custom Static Block and Many others.
Really, the theme is complete SEO Optimized, Using BootStrap, Google Web fonts, Google Rich Snippets and Vertical menu. You can use this theme in your website and really you can make your store as Web eCommerce Website ever.
Big Market PrestaShop developed by Webibazar Templates. It's very popular for the Selling Templates in PrestaShop, OpenCart, Shopify, BigCommerce and many more.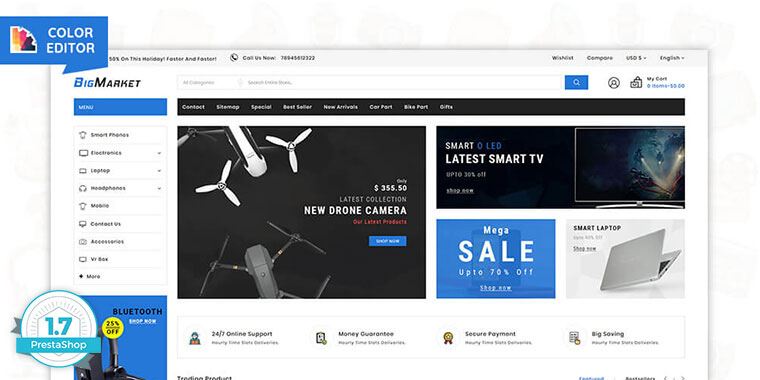 MaxCross is a wonderful responsive theme that you can use in Supermarket, Electronics, Computer, Mobile, etc..!!. The theme is a complete package of more than 9 languages included with the theme. The theme is completely built in BootStrap, CSS3, HTML5 and JQuery, JavaScript.
Simple design looks great for your website. This design is one of them. Popular Product and Top Products, PSD files supplied with the theme.
MaxCross all pages are customized as you wish. It's very nice, simple, clean and professional. The theme is integrated with a mega menu, social block, and custom page layout. The themes look great on mobile devices, desktop, laptop and many other devices.
The theme is developed with sleek code and function with great design for supermarket stores. Theme is included with a responsive slider and makes a final store for your business.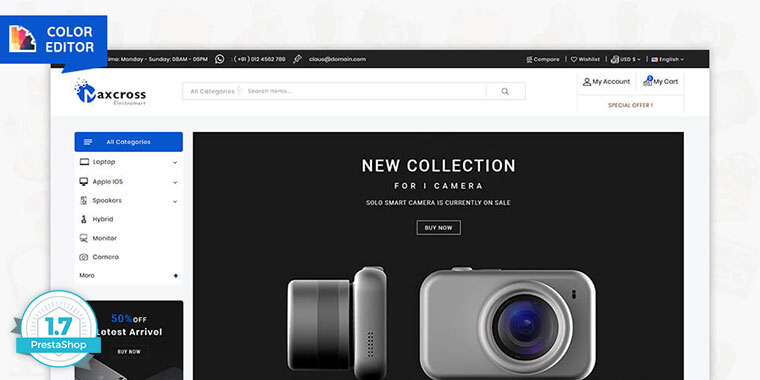 Really, one theme that includes every feature. Theme is include layout with the enticing eyes of your customer. Template included with great features like Responsive, MegaMenu, Blog, Slider or many others. See this theme in live demo.
Your customer or website visitor easily finds out what they want and what are the popular products in this store. You can also add customer review with testimonials and put any extra content on the blog that boost your site ranking on google
If you look at the horizontal and vertical menu that really looks great and the theme is perfect in the sense of color combination. As I told the theme included with every feature something like image zoom effect, Custom width, Search block and many more.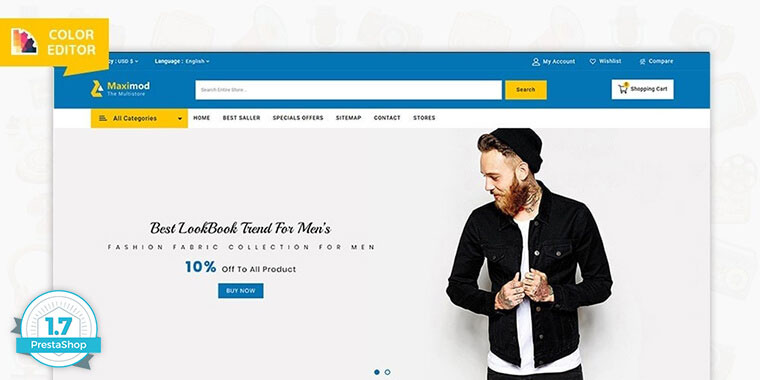 If you want to start an eCommerce store for the small inventory and you think something like simple design then mega store prestashop supermarket is the best theme for you. The theme design is a complete box layout. Horizontal menu looks great with an account box.
Theme is complete design with the Valid HTML, Detail documentation, with every step mentioned that you can easily alternate anything. You can easily editable layout, banner and complete customized all pages.
Ajax cart and wishlist, manufacturer, and brand slider including better experience of shopping.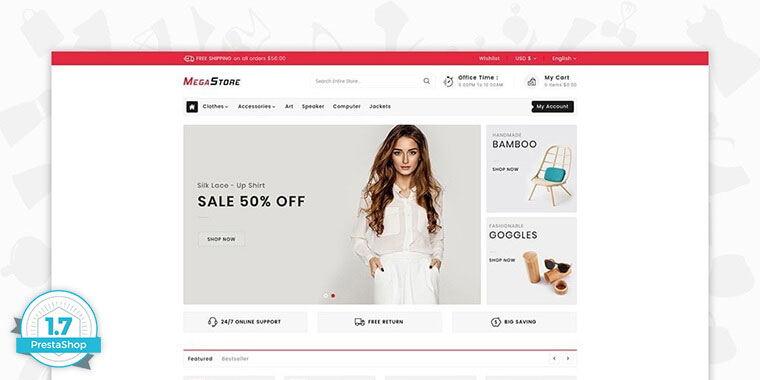 What I say about Multisupply everything is great. The theme includes every feature like responsive, full-width, color combination, full-width slider, left bar, banner everything in one design. The theme is very elegant design.
Some of the important features like Advance Menu, Product Timer Module, Blog, Footer. The theme includes the Ajax Search result that can easily get the customer to get the result before leaving the website. The theme is included with Sticky header, SEO Optimized, Multi-Language, Multi-Currency.
The theme design comes with PSD file Supplied, Custom Fonts, Custom Colors and many other features on product sale on each product. It contains a Standard 5 Page checkout that customers can easily purchase product easily with easy steps.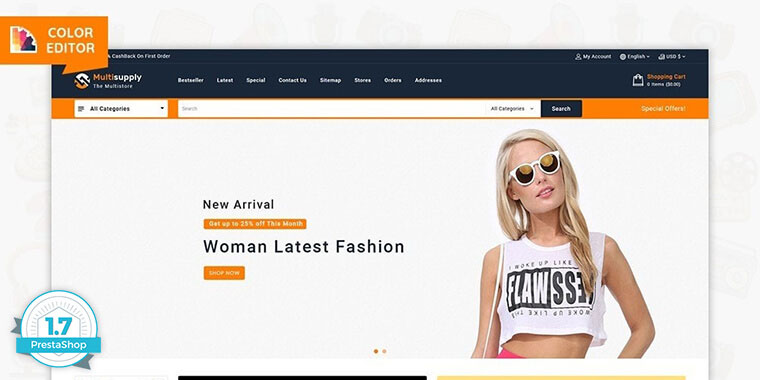 This Shopiox Super MultiStore PrestaShop theme design for marketplace, electronics, mega mart, supar mart, computer.  Webibazaar Template gives regular updates and very fast and friendly support.  You get the theme with Ajax add to cart, Social share buttons, Retina ready, Layered Navigation.
Shopiox – Unique Super Multistore PrestaShop Template has a powerful admin. Shopiox PrestaShop Template provides most of other features like 1-Click Installation, RTL-LTR Supports, complete SEO Optimized themes.
Shopiox SuperMarket store template fully customized store template that you can easily edit theme as your choices. It contains Features categories on the home page and also with products slider, product comparison, product wishlist.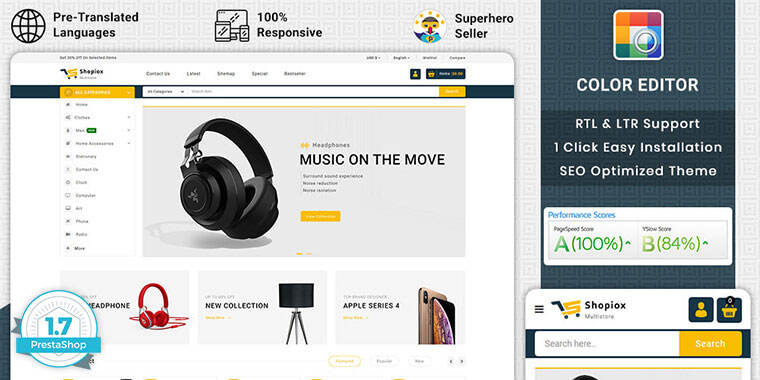 Leo Clark delicious prestashop template for your digital multi store website. The theme is complete clean and minimal design with attention to your visitors' high quality products. The template is a flexible and compatible latest version of prestashop.
The  theme includes features with a powerful mega-menu, clean and well structured website. Leo clark theme comes with a 6+ layout and every layout has unique features. If you look at the theme then you can see other theme features like leo mega menu, leo slider, leo smart blog and many more..!!.
Theme comes with Ajax add to cart to help customers easily add products on cart. Leo clark theme included features with promotion of week with category, new arrival, recent news, footer. if you not look at demo then look demo purchase the wonderful features of the PrestaShop template.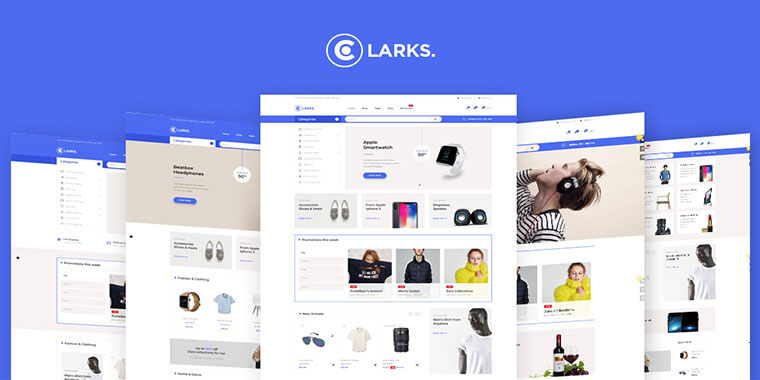 If you want to say " Wow factor " after look a theme then check the leo bicmart prestashop theme. bicmart is one of best prestashop template for Electronics, SuperMarket, Digital, hightech, multimart and many more..!!. Home page is dominated by a slider, left menu, top products, blog, footer.
Leo Bicmart prestashop theme comes with 4+ layout. If you look first demo then its comes with full-width, left menu, top deals, featured category, top products, blog, footer. Second demo include with features full width plus attractive slider, top new, sale off, top rated.
Third layout comes with a great slider, category – sub category, top deals, new arrivals, testimonials, banner, recent products and many more..!!. Last but note the least four layout slider, recent products, CMS options, and blog, footer.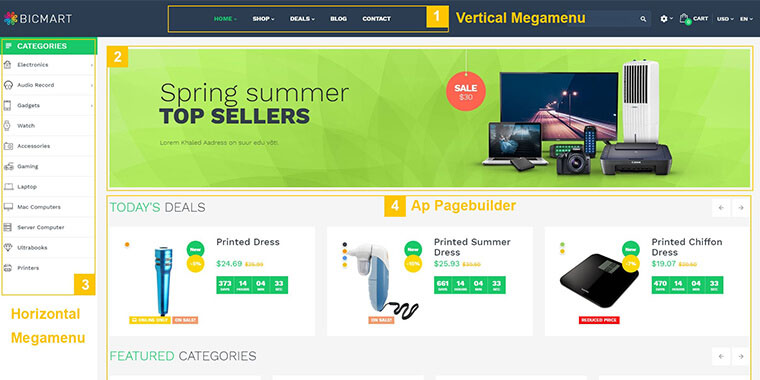 Conclusion: 
So, if you want supermarket prestashop templates and still you think something is not here. Then do the comment on the comment section. Or if you like any other PrestaShop Theme, please view more other Supermarket Theme, fashion or Beauty theme of Leotheme or from Webibazaar. Then surely you can convert it to a supermarket website. Just you want to like to design nothing else. All themes that I mention are completely trustworthy so download without any hesitation.
Don't worry  about service after purchase within one business day you get a perfect response from the author. And finally Just take a cup of coffee and click on add to cart from website url. Thank You.