Prestashop newsletter is a very proficient way to keep in touch with your potential customers. By adding newsletter to your store, you can interact more frequently with your customers. They can get notified of the latest information from your store, keep updated with the newest arrival products, hottest promotion or special events, etc or any updates that keeps them interested in your business. All these require your customers to fill out their email address in the newsletter block. This sounds simple but it is efficient in processing your marketing campaigns and boost online sales.
Normally, Prestashop newsletter block is displayed in the footer of your store. In case it's not, you will need to enable it.

To help you ultilize the most of this sale and marketing tool, in this tutorial, we will guide your some simple steps to configure newsletter block in Prestashop 1.7.
Firstly, you log in to your Prestashop account, and navigate to Improve section.
Modules > Module Manager
In the Modules tab, you search for Newsletter subscription
Click on Configure option in the drop-down to start configure the module.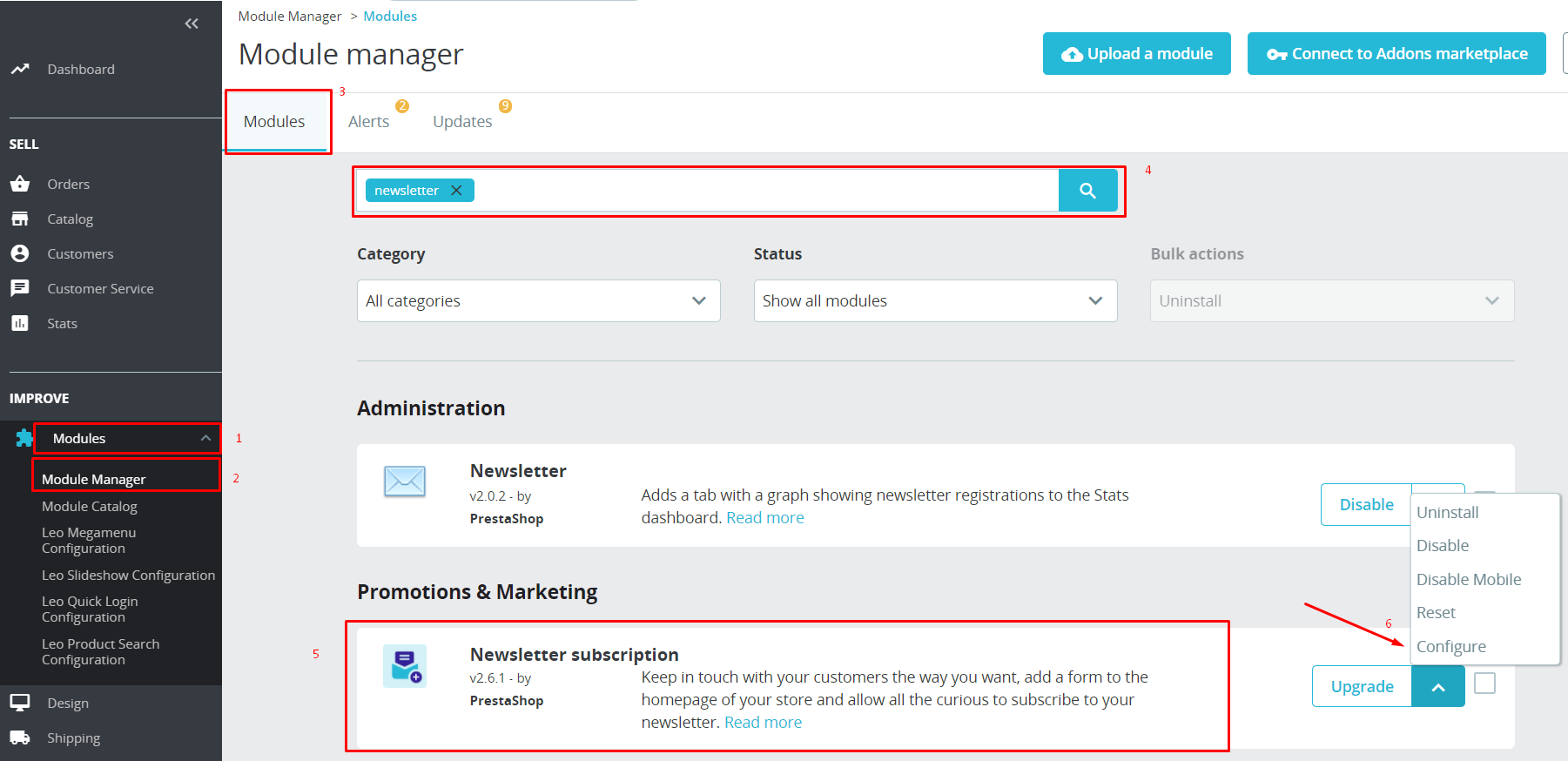 Now you are directing to configure newsletter subscription page. Here you will first face the Settings block.

Would you like to send a verification email after subscription? You can choose Yes or No to specify your needs. If you choose Yes, your subscribers will receive verification email with the link to verify the email address they filled in the field of the subscription block.
Would you like to send a confirmation email after subscription? Similarly. Your customer will receive a confirmation message. Read more Best email templates for Prestashop
Welcome voucher code. You can insert a voucher code, that will be automatically sent to a customer in the welcome message.
Newsletter conditions. Here you can specify any conditions, which will be displayed as a text message after clicking Subscribe button.
Please remember to click on the Save button to save your changes.
Ok. The next functionality block is Search for addresses:
Here you can find a subscriber or a customer by their email address. Just fill the email address in the field then click Search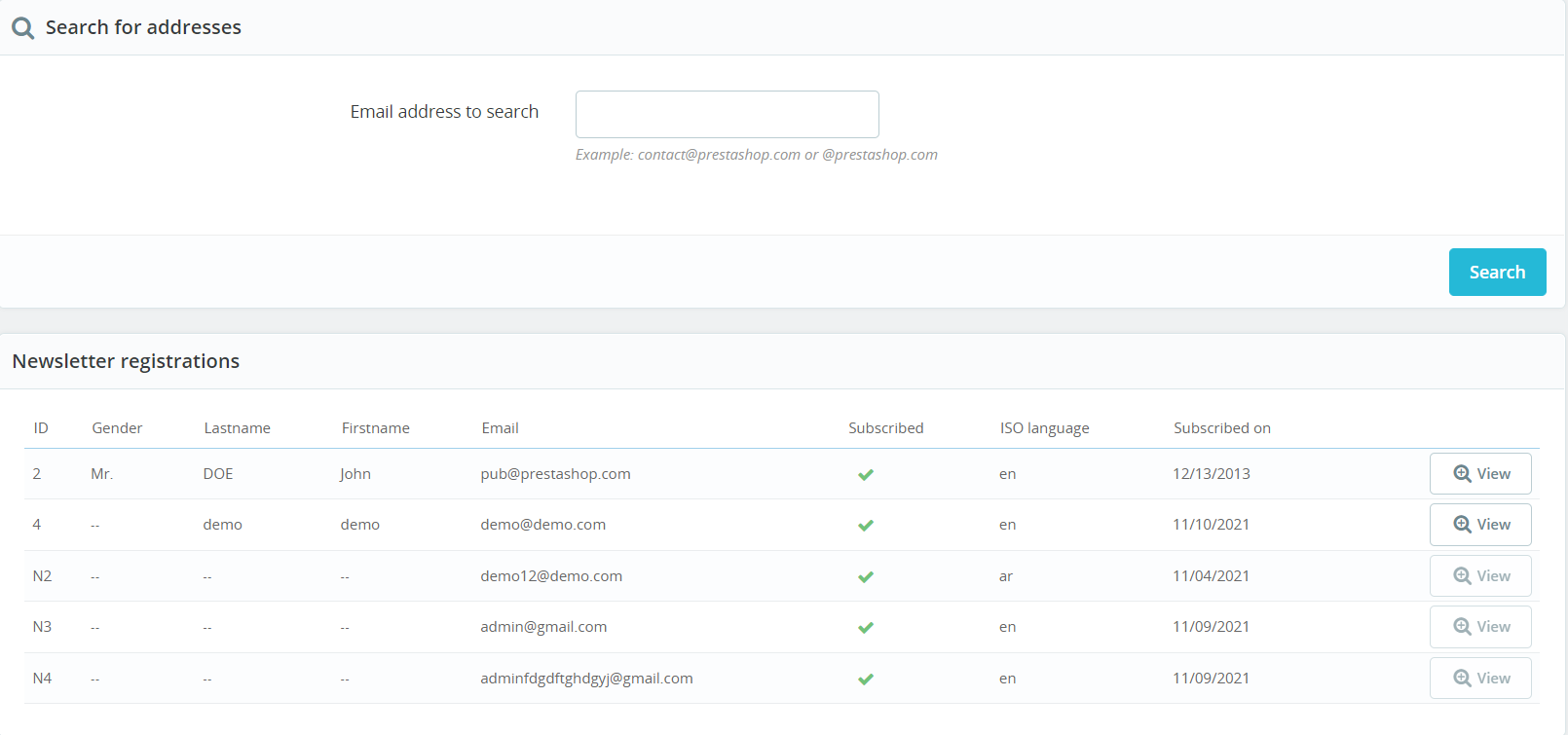 Newsletter registrations:
This is the list of all users that have ever made purchases on your store, registered or subscribed. Here you can find such information about them like Gender, Firstname, Lastname, Email, Subscribed or not, Date of subscription and View button to get more information about the certain user.

The last function in Prestashop newsletter configuration, it's Export customer's address:
You can filter by 3 filters
Customers' country. Filter by any country or select all the counties at a time.
Newsletter subscribers. Filter customers who have subscribed to the newsletter or not, and who have an account or not.
Partner offers subscribers.Filter customers who have agreed to receive your partners' offers or not.
Finally, you can click on the Export.CSV file button and save it to your computers.
Yes, it's all about how to configure Prestashop newsletter subscription block in Prestashop 1.7. If you need any help, feel free to leave your question in the comment box bellow.
Related articles:
How to manage Prestashop faceted search module in Prestashop 1.7 – Leotheme
Best PrestaShop Email Templates | Perfect Email Transaction Template for PrestaShop Store
Cannot install module ps_legalcompliance. The module is invalid and cannot be loaded.
[Announce] Plan to update Prestashop 1.7.8.0 Themes and Modules – Leotheme
Best Coffee Shop Prestashop Themes for Cafeteria & Drink store
5+ Tea Store Prestashop Themes 1.7 for Herbal, Detox, Organic Tea Shop