Among a huge number of products you are selling on your website, how quickly a visitor can find out the exact wanted items in your product categories will decide if he or she will become your potential customer or not. This is the reason why Prestashop offers a free, convenient and useful search module called Prestashop faceted search module, which enables your online store to provide a fast filter for products and lead more sales.
With a lot of benefit that this search module can bring to your store, it is one of the must-haves in eCommerce.
This blog will explain to you what is it, why you need Prestashop faceted search for your online shop and guide you how to configure this search module in Prestashop 1.7. Now, let's explore it.
I. What is Prestashop faceted search module?
Faceted search is a default Prestashop 1.7 module. It is usually found in product categories and displayed as a filter block in the sidebar. This kind of search allows you to select many criteria to filter category products, provide more information for products while not showing all the large number of products in category page.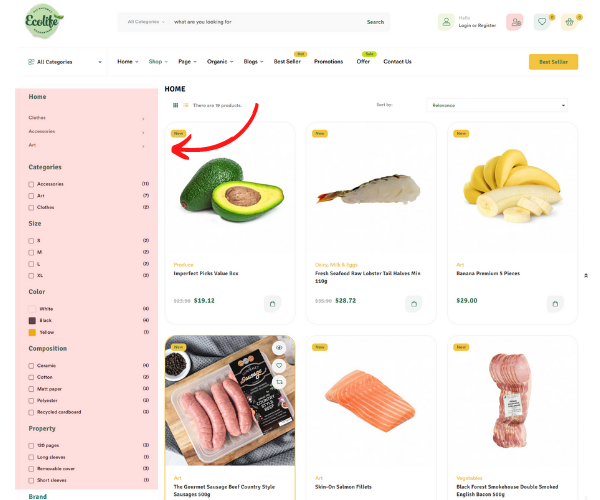 With too many similar products appear, user can find product they want easily by Categories, Size, Color, Brands, Price Ranges, Composition, Availability, Dimension, Type, etc.
This will save your customer a lot of time for them to find out the exact item instead of going through all products in category yet not sure if they can find out what they want after all.
For the website using Prestashop faceted search module, its appearance is more logical to customers, let them feel easier to search and shop on your web page, create good impression for potential future website visit.
Beside that, the search result coming out with similar products will also help to give suggestions for your customer incase there is not exactly the item they are searching for.
Obviously, Prestashop faceted search is very essential and useful for your website, helps your customer understand your category tree, browse your store with ease.
II. How to manage Prestashop faceted search module?
As this search module is free, you can easily find and configure it in the Prestashop backoffice.
Access Prestashop dashboard, go to Modules and Module manager.
Once you search for "Faceted search", you can start to Configure it if it is installed.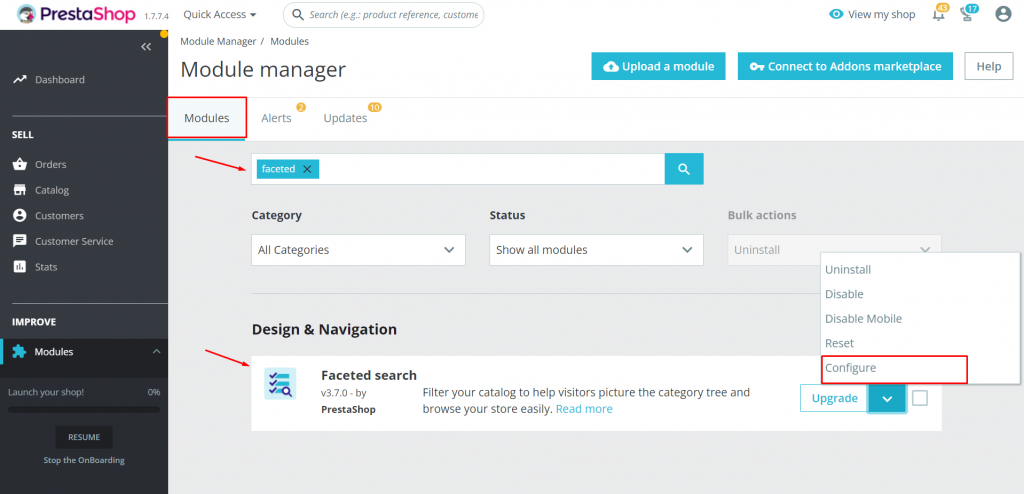 Now you can configure it in the Configure setting.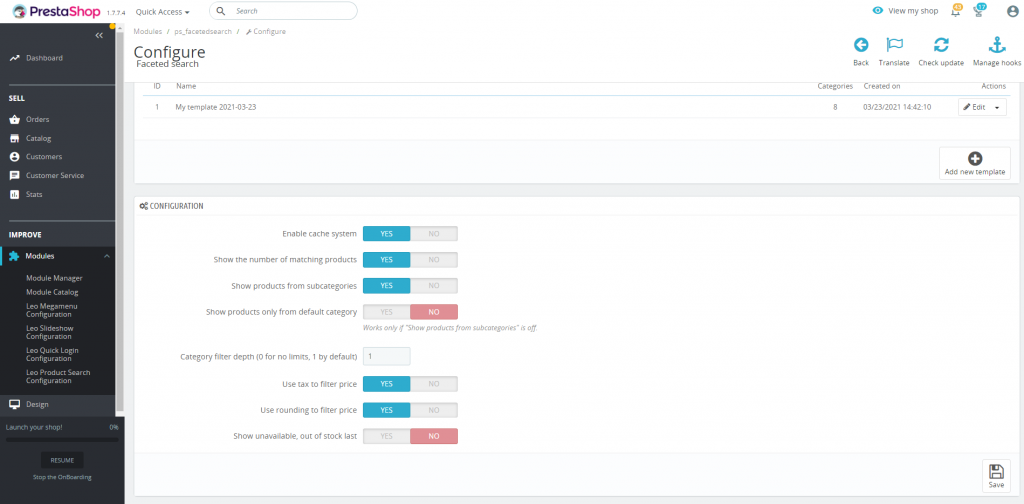 Show the number of matching products – display matching products and hide the filter option when no products are matching.
Show products from subcategories – show or hide products from subcategories.
Category filter depth (0 for no limits, 1 by default) – display filter depth.
Use tax to filter price – enable or disable tax to filter price.
Use rounding to filter price – enable or disable rounding to filter price ranges.
Click on Save button to save your changes.
Now you can see how the faceted search works in the front-end.
Related articles:
Cannot install module ps_legalcompliance. The module is invalid and cannot be loaded.
[Announce] Plan to update Prestashop 1.7.8.0 Themes and Modules – Leotheme
Best Coffee Shop Prestashop Themes for Cafeteria & Drink store
5+ Tea Store Prestashop Themes 1.7 for Herbal, Detox, Organic Tea Shop