Officially, Prestashop 1.7.8.0 releases with new features, which are said to satisfy both merchants & developers. Let check out what is new in Prestashop 1.7.8.0, what improvements have been made in this updated Prestashop version compared to the previous ones.
I. Prestashop 1.7.8.0 releases with new features
1. Support PHP 7.4
Prestashop 1.7.8.0 releases to be compatible with PHP 7.4. This will benefit you from bug fixed and security patches from PHP until the end of 2023.
Please note that PHP versions prior to 7.3 have reached end of life, and PHP 7.3 will only receive security fixes for one extra month, so you are encouraged to update it as soon as possible for safety.
2. New translations
Prestashop 1.7.8.0 makes it possible for you to export back-office, front-office, email, themes, and module translations.
Modules using the new translation system introduced in 1.7.6 now able to distribute translations for their modules using the XLIFF format.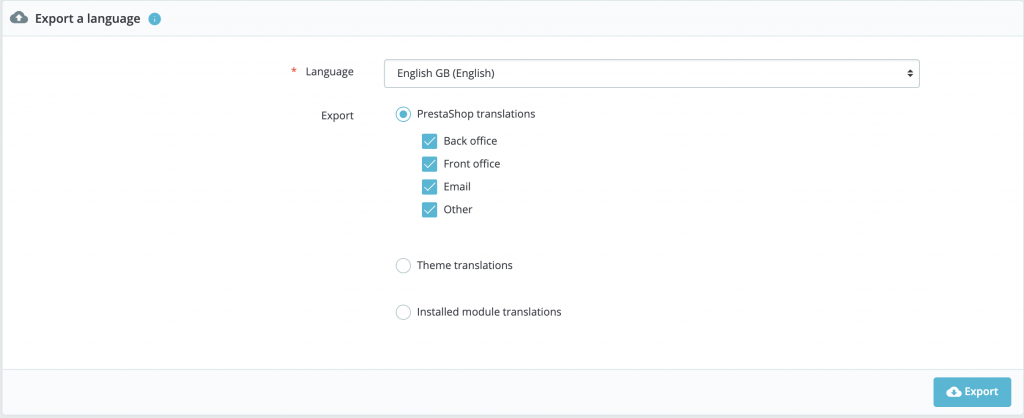 3. New color system and multistore header
New color system for multistore header: For each shop or group of shop, you can search for shop and customize the multistore header with a particular color.
In the previous Prestashop version, merchants used to face with difficulties when they were configuring multistore in the backoffice at the same time and might mistake on which shop they were working on. The new color system in Prestashop 1.7.8.0 releases has solved this problem. While creating or editing a shop or a group, merchants can customize the color for each shop, which will display in the new multistore header and be easy to recognize.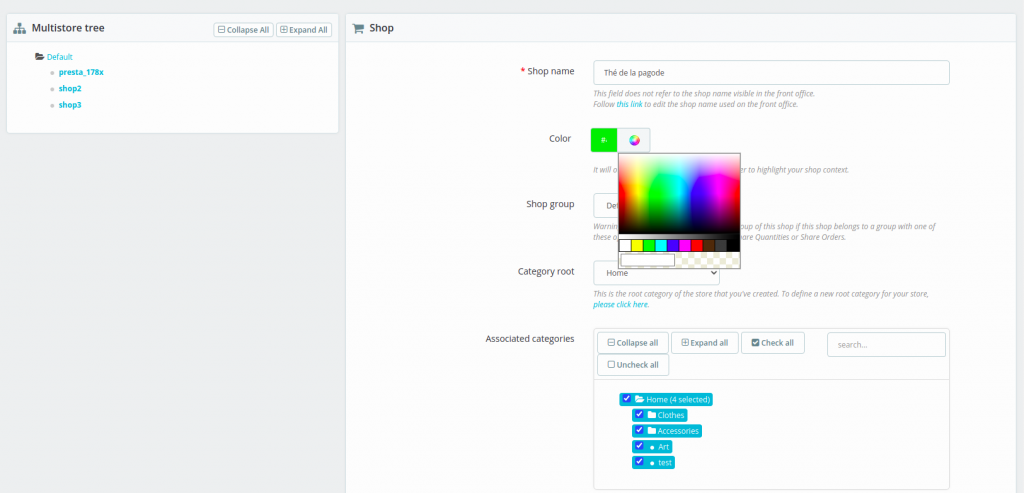 The new header: The new header offers a better multistore user experience for the merchants.
The new multistore header is displayed on Symfony pages and is more visible than the old shop context selector, still present on legacy pages. Merchants can find in this header everything related to the multistore feature and can perform several actions:
Changing context through the drop-down: Select "All shops" context to apply a change to all stores, select a group of shops to apply changes to all the stores of this group, or select a specific store.
Changing context through the search bar with autocompletion: allows you to search and select a shop or a group quickly, this is particularly helpful if you have a lot of shops.
Configure URL: This link is displayed if no URL has been configured, it redirects to the shop URL edition page and allows to add the URL of the shop.
View my shop: This link is displayed if an URL has been configured and opens the shop front office to quickly have access to your store.
4. Native Lazy Loading for images on Classic theme
Lazy loading is a technique that defers the loading of non-critical resources until the page load. All theme developers are recommended to use this technology to enhance their themes and to improve the merchant's store performances.
5. UI Improvements
Prestashop 1.7.8.0 has improved the UI. PrestaShop's Back office has been updated to harmonize the look of all pages. The UI Kit has been updated as well, with many subtle improvements to alert colors, font sizes, color contrast, and overall responsiveness.
II. Important reminder for Leotheme's users
We are planning to upgrade to version 1.7.8.0 for our Prestashop themes and we will announce it to you as soon. If you plan on upgrading your shop to 1.7.8.0, don't be rush! Please wait until we finish the upgrade plan!
We will inform you of the plan to update Prestashop themes 1.7.8.0, Prestashop Modules 1.7.8.0, Prestashop Email templates 1.7.8.0, and guide you to update your site in our upcoming articles.
Please follow us and keep updated.
Thank you for your time and support.
Related articles:
[Announce] Plan to update Prestashop 1.7.8.0 Themes and Modules – Leotheme
Best Fast Food Restaurant Prestashop Themes Free and Premium
Top 5+ Best Hunting & Outdoor Gear Prestashop Themes 1.7 for Camping, Adventure Store
Top 13+ Lingerie Prestashop Themes 1.6 & 1.7 for Sexy Men & Women Fashion, Adult Shop
Top 6+Amazing Prestashop Wine Store Themes 1.7 for 2021-2022
Best Prestashop Free Modules List For Your Online Store
Top 15+ Best Free Prestashop 1.7 Themes 2021-2022 for your eCommerce website
Top 4+ Books and Stationery Prestashop Themes 1.7| Perfect Book club and Office supplies store
15+ Best Men's Fashion Prestashop Themes 1.7 | Men's clothing & Accessory online store
Best Wedding Prestashop Themes Free & Premium| Beautiful Bridal Fashion & Accessories Store
Best Gifts Prestashop Themes 2021 for Presents, Souvenirs, Celebrations Online Store