The New Year 2021 is coming soon. There is no better time but right now to refurbish your store to attract your customers. For every trader, Christmas is truly a great opportunity to make a huge profit. But how and why? It is just so simple to answer. According to research, there is a high demand for shopping and people spend more money on these days than any other occasion of the year.  And on this special holiday season, people are willing to pay for every Christmas – related item, like food, clothes, or accessories to decorate their houses like Christmas trees, Christmas wreaths, or gifts, etc.  While thousands of traders make great efforts to take advantage of this shopping season, have you had any plan for your business yet? If not, here are the best Prestashop Christmas themes ideas for your eCommerce Website that surely helps you to increase your cash flow 2020-2021.  Let's get started!
1.Bos Biomart Gifts PrestaShop Theme For Christmas 2021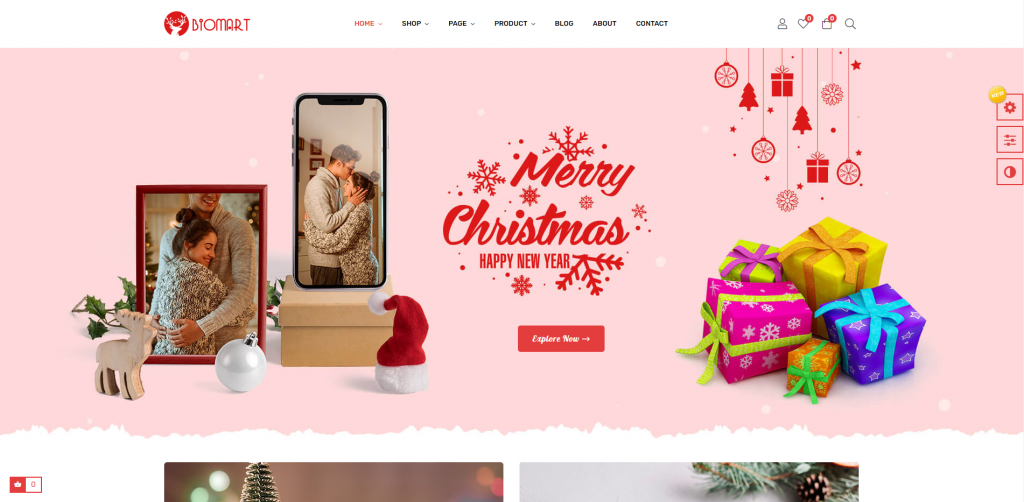 The first on the list is Bos Biomart – a perfect Christmas Themes for your website. This beautiful Template is recognized among the best Gifts PrestaShop Christmas Themes Ideas 2021 for Christmas, perfectly suited for presents, souvenirs,s or E-commerce shops. This PrestaShop theme can be used for promoting promotion campaigns for every special season like Christmas, Black Friday, Halloween, etc. It is easy to use, super functional, and no-code required. Comes with 05+ awesome homepage demos, you can get your website to look the same with 1-click-installation.  Bos Biomart Gifts Prestashop Theme gives you full control of your website, makes your website the best place to buy Christmas items to decorate their house online.
Current Prestashop version: 1.7.6.x
2.Leo Arroma Cosmetic and Beauty Christmas Theme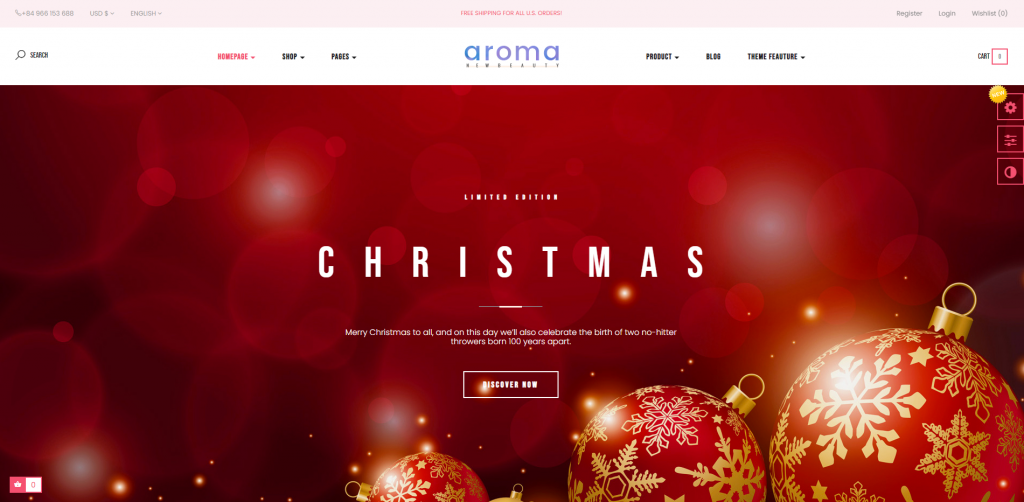 Leo Arroma is an impressive Cosmetics and Beauty Prestashop Theme with a wonderfully vivid design. Born with 04+ unique and gorgeous premade Christmas-theme to give you more choices for your online shop's appearance this holiday season to sell products like cosmetics, makeup, skincare, gifts, perfumes. Leo Arroma possesses all the needed functions of an online store. The large and full-width slideshow together with the attractive banners will make it possible for you to showcase the best of your store with the hottest products or special discounts or promotions. Let boost sale quickly with Leo Arroma.
Current Prestashop version: 1.7.6.x
3.Leo Lana Women Fashion Prestashop Theme for Christmas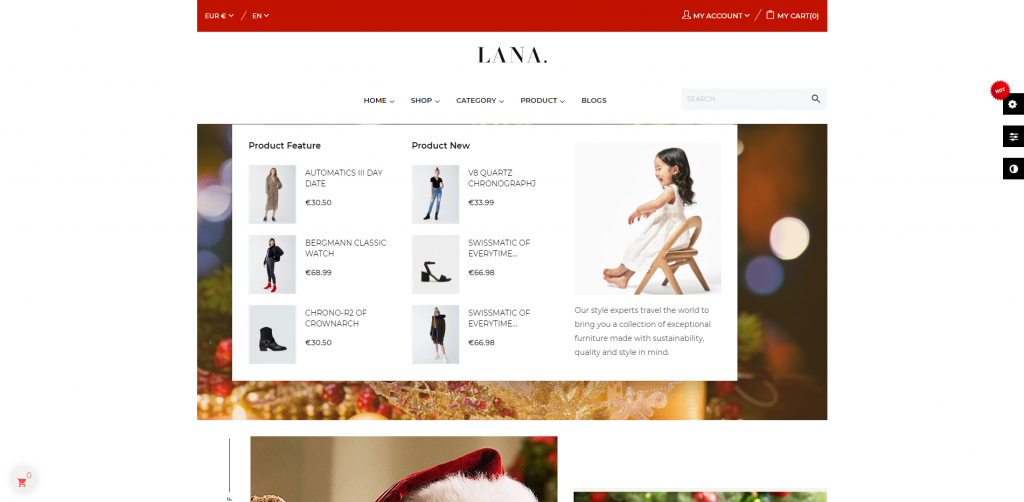 Christmas is not only about gifts, Christmas trees, or decorations. This is also a fashion consuming season for women. As a result, Leo Lana – a clean and advanced Fashion Prestashop theme in the latest version of Prestashop 1.7.6.x is born. It is designed to be perfect for any online shop to sell clothing, women's clothing, hi-fashion clothing, swimwear, underwear, lingerie, shoes, jeans, dress, etc. Moreover, Leo Lana comes with 06+ homepages with 6 unique layout designs to give you more alternatives for your shop's appearance. Especially, home 6 with a Christmas-themed design will be a surprise for you and your client the upcoming Christmas.
Current Prestashop version: 1.7.6.x
4.Leo Cosmetic Store Beauty and Makeup Prestashop Theme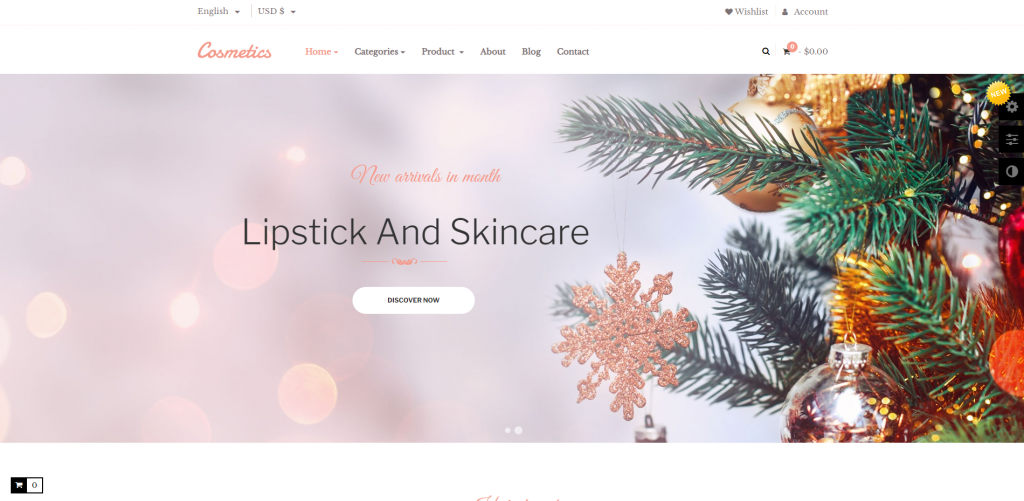 Cosmetics Store is a beautiful, clean Prestashop theme for Cosmetics, Health, and Beauty stores. Leo Cosmetics Store comes with 06+ available homepages, it is flexible and easily customizable with a huge number of rich built-in features that helps you to build a successful eCommerce website. Especially, Home 6 is pre-designed for a Christmas theme. this professional Prestashop theme is built on the wonderful Framework, Ap Page builder, you absolutely can custom your site with ease in the intuitive backend panel just by some drag-and-drop operations. This will be a great Prestashop Christmas Themes Ideas to attract your clients.
Current Prestashop version: 1.7.6.x
5.Leo Koreni Food and Spice Prestashop Theme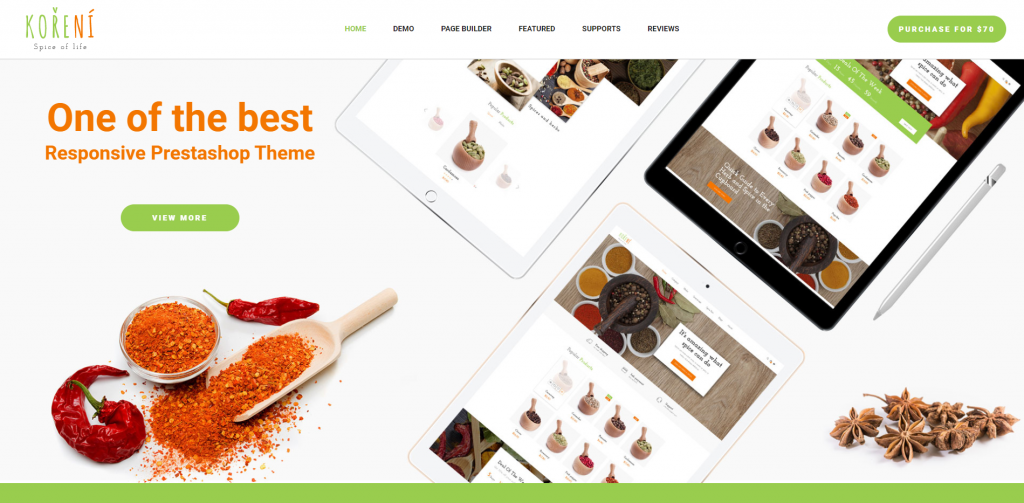 People love Christmas not just because it's time we can decorate our house beautifully and dress-up nicely, but it's time we gather and enjoy tasty food. Leo Koreni Food and Spice Prestashop Theme is built for this original idea. This wonderful theme has  06+ different homepages. It is designed for diversified commodities as Spices Store, Household store, Christmas store, and multiple stores. Koreni is suitable for any e-commerce site. Koreni is totally responsive so it is completely adjustable for any device (desktop, laptop, tablet, mobile phone) highly customizable Prestashop theme. Super-fast loading time, RTL language support, multi-currency support, and powerful Prestashop modules integrated. All of these have contributed Leo Koreni among the best Prestashop Christmas Themes Ideas for your website.
Current Prestashop version: 1.7.6.x
6.Leo Alaska Fashion Accessories Prestashop Theme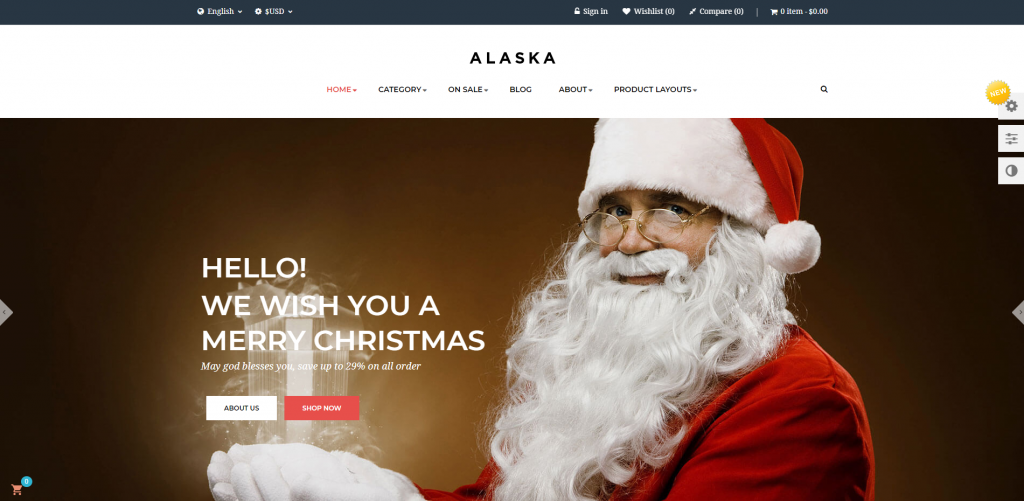 Leo Alaska is a clean and elegant Prestashop Theme Design that comes with advanced features of an eCommerce website. This outstanding template is for diversified commodities as fashion stores, shoe stores, lingerie stores, hat stores, bag stores, and multi-stores. Leo Alaska is highly customizable, comes with lots of built-in functionality which includes a powerful admin panel that will help you manage your site better, customize easier. It is built with 06+ predefined homepages with different layout designs, easily switch to your favorite layout anytime as you wish. Experience more wonderful features with its demo.
Current Prestashop version: 1.7.6.x
7.Leo Otis Digital Prestashop Theme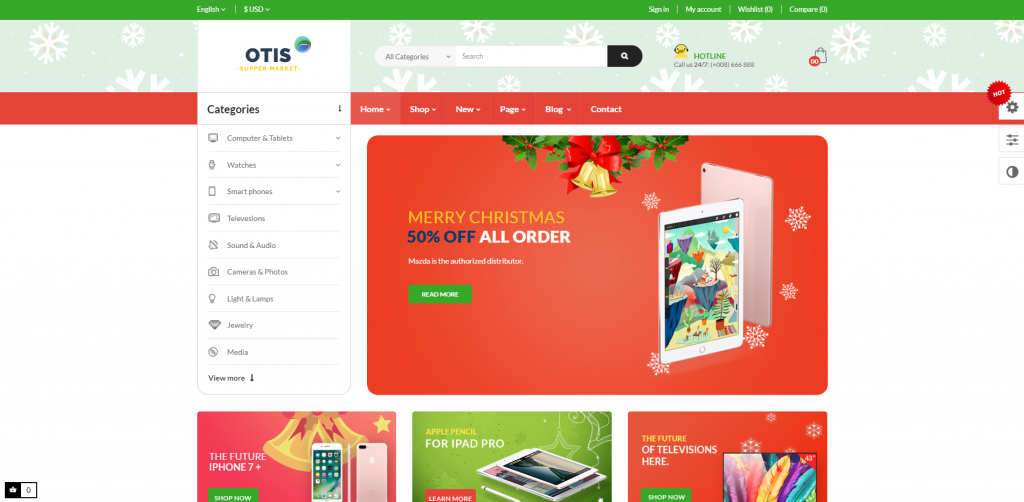 If you are a digital and electronic devotee, you cannot miss Leo Otis. This is a wonderful theme with 5 different homepages with a special Christmas Homepage. It is designed for diversified commodities as television store, mobile store, hi-tech store, and multiple stores. Leo Otis comes with a modern and stylish layout design, it also powerful with a lot of Prestashop modules integrated like Ap Page Builder Module, Leo Feature Module, Leo Slideshow module, Leo Blog, Leo Megamenu, etc. With Leo Otis, you can save a lot of money to start building your eCommerce website with ease from the scratch. Start your Prestashop Christmas Themes Ideas with Leo Otis now!
Current Prestashop version: 1.7.6.x
Top Best Prestashop Themes Electronics 2021 Trendy Design for Gadgets or Hitech Store
8.Leo Conosin Watch Souvenir Store Theme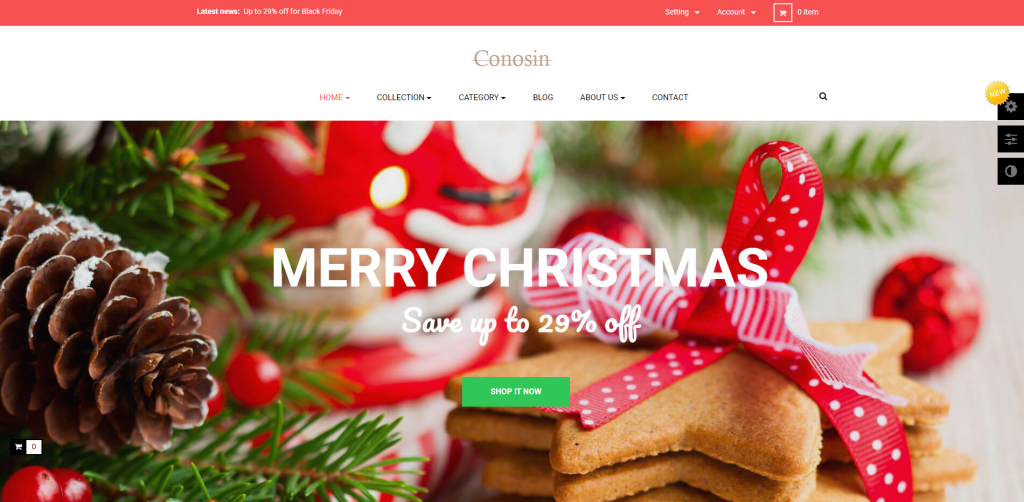 Leo Conosin for Watches Store, Christmas stores, Souvenir store, and multiple stores looks good with its luxury color combination and design. The clean and professional appearance makes it fit for any high-end product. Thanks to flexible banners and sliders, you can surprise your customers with the hottest products and items or shocking deals. Easily engage more customers with splendid blog space or broaden your potential customer net worldwide with social integration. The amazing web performance with smooth effects will bring your customers the most satisfying shopping experience. Let try it demo now.
Current Prestashop version: 1.7.6.x
9. Leo Xalem Hitech Store Prestashop Template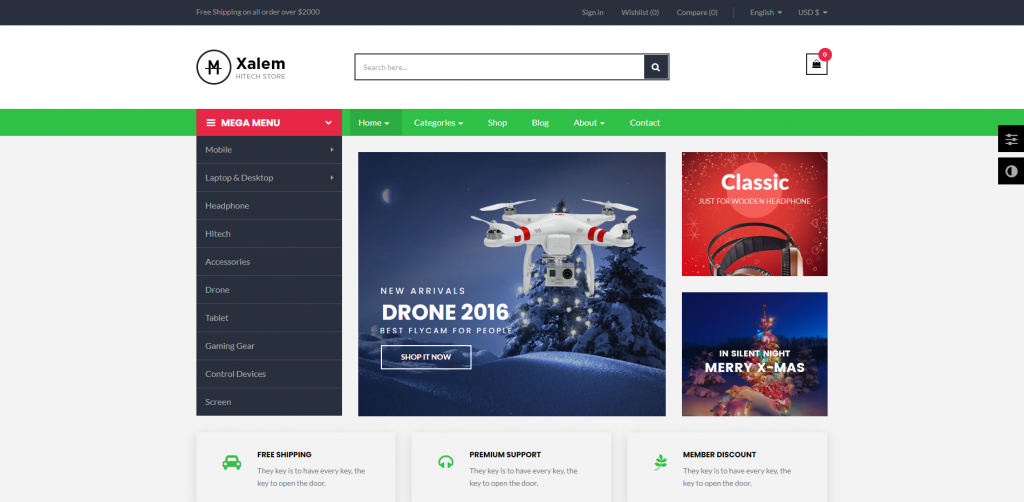 To the end of the list for Prestashop Christmas Themes Ideas 2021, Leo Xalem is developed especially for Hi-Tech store, Diversified store, Christmas-item store, and multiple stores. 6 homepages are designed with large and boxed slideshows with the smooth transition of text and attractive images. Besides, Leo Xalem Responsive Theme is designed with a modern, new style and new web technologies to fit with the latest eCommerce website design trend 2020-2021. The super-fast loading, premium modules, dedicated support, and much more. The theme is built with SEO optimized to make it friendly with search engines.
Current Prestashop version: 1.7.6.x
We hope these Prestashop Christmas Themes Ideas with being helpful for you to succeed in the coming shopping season. Mery Christmas!